Sony Xperia 10 II Review
19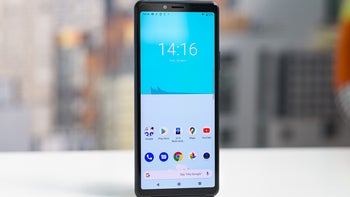 Summary
If you want a phone that looks like a flagship but doesn't cost an arm and a leg, you'll love the Sony Xperia 10 II. The Omnibalance design is back and there are no notches or cutouts in the gorgeous 6-inch OLED screen of this device. With its decent triple camera system on the back, the Xperia 10 II stands tall, in every possible meaning (metaphorically and literally), and shows what a mid-ranger phone should be.
It's pretty, very well built, and features some convenient "extras" of the recent past – a capacitive fingerprint scanner on the side and a 3.5 mm audio jack. If you factor in the IP68 protection, it becomes quite obvious that the Xperia 10 II is a really sweet deal with its $400 price tag. But let's dig a little deeper.
Design
Sony has had its own thing going since the launch of the Xperia 1, and this narrow and tall design gives the Japanese company's smartphones a unique look. You wouldn't call a 6-inch phone "compact", and yet, when you look at the Xperia 10 II, it seems fit like an athlete. Actually, the phone is narrower than the Galaxy S10e by almost a millimeter, making swiping from the sides a breeze.
The Xperia 10 II is very lightweight for its size at 151g, and part of the reason is the plastic frame. When you hold the phone in your hand, you don't get the cold premium feel of metal, but nothing screeches, squeaks, or bends. The front and back are Gorilla Glass 6 and prone to fingerprints as ever, especially on the black model.
The symmetrical top and bottom bezels are quite narrow and definitely more stylish than notches and punch-holes, at least in my book. The hybrid SIM/SD card tray has rubber seals, ensuring IP68 protection, but there are no covers over the USB-C port and the 3.5 mm audio jack.
The capacitive fingerprint scanner is found on the right side, right where your thumb lands when you take the phone in your hand. It doubles as a power button when pressed and it's quite accurate and reasonably fast. There's one front-firing loudspeaker at the bottom (no stereo sadly) and a discreet (small) notification LED in the top right corner.
Display
The Xperia 10 II features a 6-inch OLED display, a rare breed in this price segment. The resolution is 1080 x 2520 pixels, which equates to around 457 ppi, resulting in a sharp and crisp image. Brightness is also excellent, reaching peak values of nearly 600 nits. There are two image quality modes: Original and Standard. The former displays very accurate colors with average delta E of 1.6, while the latter boosts contrast and color saturation.
The overall color temperature is set a little cool by default, but you can adjust the white balance to your liking from the phone's display settings. Viewing angles are good, but there's a visible purple hue when you approach 180 degrees. Watching videos on this gorgeous OLED screen is a real treat, especially if they're shot in a 21:9 aspect ratio.
Display measurements and quality
Camera & Audio
The triple camera system on the back of the Xperia 10 II consists of a fairly common combination of shooters. There's a main 12MP wide-angle lens, an 8MP telephoto camera with 2x optical zoom, and an 8MP ultrawide snapper.
In good lighting conditions, the Xperia 10 II produces crisp and detailed images. Colors seem accurate, without added pop, and dynamic range is also good. There's some AI magic going on in the background, as the camera app automatically detects scenes and conditions. Little icons pop-up when you're moving, standing still, shooting a macro, etc.
The Night mode on the Xperia 10 II delivers pretty good results. Images don't get much brighter, but details become visible and zones with over- and underexposure get balanced quite well. You can shoot 4K video at 30 fps, and again, the results are satisfactory. All in all, the camera system on the Xperia 10 II can't rival the big guys and probably won't win you a Pulitzer in photography, but it will get the job done.
< Night mode OFF
Night mode ON >
The single front-firing loudspeaker at the bottom of the phone is nothing to write home about. It is loud enough to hear the phone ringing in a crowded street, but media consumption suffers from a lack of bass and some distortion when the volume is set above 80%. A stereo setup would've made the Xperia 10 II a much better multimedia device, considering the excellent display, but it is what it is.
Software and performance
Sony decided to equip the Xperia 10 II with a Snapdragon 665 chipset, coupled with 4GB of RAM and 128GB of storage. It's a midrange setup that raises some concerns, but during my time with the phone, I didn't notice any lag or stutter. I even launched PUBG Mobile and Minecraft just to test the Xperia 10 II gaming capabilities and both games ran smoothly and looked nice.
On the software side of things, the Xperia 10 II comes with Android 10 out of the box, sprinkled with Sony spicing here and there. The bloatware is kept to a minimum, but the side-sense interface is still here. You can use a designated zone on the edge of the screen and bring up a menu of apps with a double-tap. Using this feature is far from trouble-free, but you can tailor its settings to your liking or turn it off completely.
Battery life
The 3,600 mAh battery of the Sony Xperia 10 II doesn't inspire confidence, given the large and bright screen, but our tests have shown that battery life is excellent, actually. The phone scored a respectable 11 hours and 28 minutes result in our browsing test. It lasted through 10 hours and 58 minutes of YouTube streaming, and 6 hours and 9 minutes in our 3D gaming test.
You can get a full day of heavy use out of this phone easily and stretch it even further if you use it moderately. The OLED display technology and the mid-range Snapdragon 665 chipset definitely contribute to these numbers. Xperia phones have a good overall reputation when it comes to battery management, and the Xperia 10 II doesn't disappoint.
Best Sony Xperia 10 II alternatives
There's really not much competition in this unique 21:9 form-factor segment. If you really want to buy a 6+ inch phone in the sub-$400 price range but don't need the 21:9 aspect ratio, the broad portfolio of Samsung is at your disposal. The
Samsung Galaxy A51
tops best-selling phone charts and for a good reason. It ticks the AMOLED box, and it's even cheaper at $350 with similar hardware performance and specs.