Sony Ericsson Xperia mini Review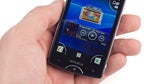 Introduction:
Ultra-compact smartphones may not be as popular as their large-screened counterparts, but that doesn't mean there isn't a nice, cosy place in the market for them, be it a bit smaller. At least, that's what Sony Ericsson tries to convince us in, by unleashing the successor of its last year super-mini, the
Xperia X10 mini
. The new model is identically named, except for the dropped "X10" part.
But how has the
Sony Ericsson Xperia mini
changed, in order to cater to this year's user requirements? Well, we guess the manufacturer has made the right moves by upping the screen size a bit, to 3", as well as installing a faster, 1GHz processor. Is this enough to make the Xperia mini a worthy challenger in the mid-range Android space? Let us explore that!
Sony Ericsson Xperia mini
Wall charger with detachable microUSB cable
MH410 GreenHeart handsfree
2GB microSD card
Additional back cover in different color
Lots of papers
Design:
This is where the Sony Ericsson Xperia mini should shine. The handset is designed to be stylish and compact, and it's safe to say that the goal has been achieved. We have the all-black variant, but there are also all-white, as well as black with a blue or pink back cover for a fresher styling. While we found the Xperia mini pro (the QWERTY-enabled variant of the mini) a bit chubby, the Xperia mini's measures render it slightly more tolerable to wear in a pocket. In addition, it is the perfectly-sized handset to be carried in a handbag, given its very compact dimensions.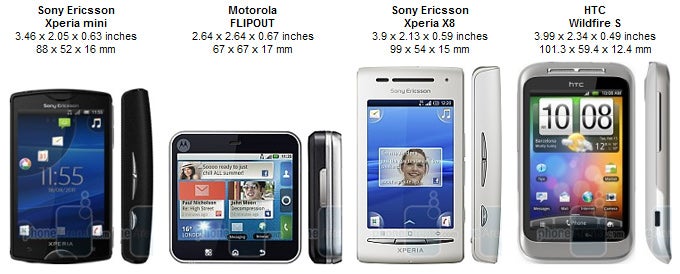 You can compare the Sony Ericsson Xperia mini with many other phones using our
Size Visualization Tool
.
Sony Ericsson has done a remarkable job with upgrading the Xperia mini so that it fits today's standards. The
display
is up from 2.55" QVGA to the much more bearable 3" of HVGA goodness, all the while keeping the dimensions of the device in tact. The display itself is pretty decent in terms of colors and viewing angles. Unfortunately, the ambient light sensor cannot be turned off, so you definitely lack some flexibility in terms of brightness. Outdoors, you'll have to shield your device with your hand, in order to get a readable view. Thankfully, the HVGA resolution plays well with this screen size, and thus the Sony Ericsson Xperia mini delivers fine details, although not Retina Display-quality.
The screen is also blessed with
Sony's Mobile Bravia Engine
for enhanced photos and videos, which is something we do appreciate. Finally, while the 3 inches of screen real estate are good enough for simple everyday tasks like checking the mail, hardcore smartphone users will have to look elsewhere and find a bigger option.
buttons around the device
are well made for the most part. We particularly like the home, volume, and power keys, while the camera shutter's first step is a bit softer than what we like. The context menu and back keys are touch-sensitive, and may cause you some headaches due to possible accidental presses.
Overall, we can say that Sony Ericsson has done a terrific job in creating an overly compact, yet usable handset. The screen of the Xperia mini is now big enough for comfortable execution of everyday tasks, while, at the same time, the phone is kept small and attractive.