Samsung Galaxy Young Duos Preview
3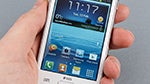 Introduction:
The
Samsung Galaxy Young Duos
arrives at the bottom low of Samsung's 2013 Android lineup, at a place where it can replace devices like last year's Galaxy Y. A smartphone for those on budget, it might not feature the bleeding edge of technology, but it is rather about compromise for price.
Good news is in 2013 you have to compromise less at the same low price points and now the bottom low of Samsung's Android lineup brings you a 3.3-inch display, a 1GHz processor and an (almost) up-to-date version of Android, 4.1 Jelly Bean.
Samsung is also delivering both a single and dual-SIM versions of the Galaxy Young Duos from the get-go which is good news for those in emerging markets where the second SIM card is always of good value. With all this in mind, is the new Galaxy Young Duos a good compromise, and how does it fare against its rivals? Read on to find out.
Design:
With a slightly elongated compact body with rounded edges and built out of plastic, the Galaxy Young Duos is a typical Samsung, like it or not. That approach to design with plastic build and similarly styled devices from the top-line devices to the most affordable like this one here has proved practical for Samsung, which is capable of quickly releasing new models.
The Galaxy Young Duos in particular feels surprisingly solid in the hand with its nearly 4 oz of weight (112g) and it looks that way too with its chromed plastic siding that might fool onlookers into thinking it's metallic.
The device is fairly thick at 0.49 inches (12.5mm), but at its compact size that's not much of a problem.
In terms of
buttons
, you have a single physical home key in the front and a capacitive back and menu key around it. The Galaxy Young Duos ships in white, deep blue, wine red and metallic silver.
Display:
The handset features a
3.27-inch
(further rounded up to 3.3" for convenience) screen with a
320 x 480-pixel resolution
. While that might sound paltry to those used to hearing about large 720p and 1080p displays, it is a move up in the affordable segment where last year's Galaxy Y for instance only had a 3-inch 240 x 320-pixel screen.
With a
pixel density of 176ppi
you can definitely see the jagged edges of pixels, one important compromise for the low price.
The display has
262k colors
only and you'd notice this in gradients where the borders between colors do not flow smoothly.
Viewing angles
were mediocre at best and reflections were also a hurdle in using the device on a bright sunny day.