Samsung Galaxy Tab 3 7-inch Preview
3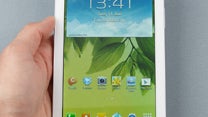 Introduction
The
Samsung Galaxy Tab 3 7-inch
is the third generation 7-inch Android tablet by Samsung, but that does not mean it brings a lot of innovation to the table. In fact, it is a mild upgrade with only slight improvements among which the biggest is the fact that it has a thinner bezel making the whole device much easier to hold. The version we test in this preview has an earpiece so you can use the tablet just like a smartphone to make phone calls and use cellular data when you insert a SIM card.
Unfortunately, the tablet did not get a better screen yet again – while other extremely affordable tablets like the Nexus 7 use a much better screen, Samsung decided to go with the same uninspiring low-res display it used nearly three years ago! Technology however has moved a lot. Let's see whether the Galaxy Tab 3 7.0 moved along or stood still.
Design
For its design, the Galaxy Tab 3 has adopted the new "Samsung look". That means it is all plastic with a single physical home key surrounded by a menu key on the left and a back button on the right (on-screen buttons are gone), and the rear camera is positioned in the top center.
Design and dimensions
are where the Galaxy Tab 3 has evolved the most as it has gotten lighter with a weight of 0.66 pounds (302 g) compared to the 0.75lb (344 g) on its predecessor. It's also gotten a narrower bezel, saving you a total of 0.44 inches (1.13cm) on the Y axis. Having a slightly lighter and slightly more compact device seems like a small benefit, but in reality it make a huge difference in daily use. You can hold the device longer and easier with one hand - great for those who love to take long strolls on the web, watch a movie or read a book.
Otherwise, the 7" Tab 3 is a fairly thick slate by today's standards measuring a considerable 9.9mm (0.39 inches). On the
sides
there is the lock key and volume rocker on the right and a microSD and SIM card slots on the left.
Display
One thing we wish Samsung upgraded in this tablet is the
600 x 1024 pixel 7.0 inch display
. Sadly, the screen has not changed and this year again users have to detail with a fairly low level of detail that is especially noticeable when you try to read text when zoomed out. Pixel density comes at around 170 ppi.
What we have in our hands is
an early prototype of the Galaxy Tab 3 7.0
so we could not really draw any conclusions about the screen quality.
Otherwise, at the time being, colors look punchy and vivid, and viewing angles are wide, all things that we like about this screen.
Recommended Stories