Samsung Galaxy Tab 3 7-inch Review
24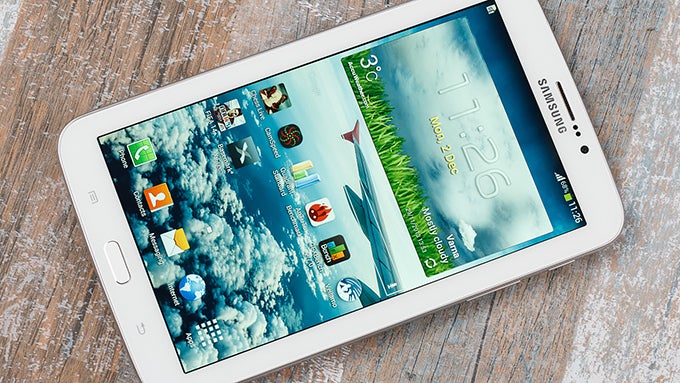 Introduction
The
Samsung Galaxy Tab 3 7-inch
(also known as the Tab 3 7.0) is the smallest of the three Tab series slates the Korean company released this year, and it is the most affordable one as well. It's a mild upgrade over earlier 7-inch tablets by Samsung, and it does not add much in terms of hardware raw power, but what it does do is shrink in size becoming narrower, with smaller bezel so as to fit in most jacket pockets and easier to hold single-handedly.
Unfortunately, with all the good news for ergonomics, the Tab 3 7-inch arrives with a screen with very low resolution and is a bit chubby compared to all its peers. At first sight, it does look like a device of the recent past rather than present. Let's not just rely on first impressions, though, and explore the device in-depth to see if it's worth even the relatively low price Samsung asks for it.
Design
The Galaxy Tab 3 7-inch has that typical "Samsung look" of pre-Note 3 times and that consists in glossy plastic that easily smudges and stains. The tablet is solidly put together and does not squeal or screak. Still, its nearly 0.4-inch (9.9mm) profile definitely makes it one of the chubbier tablets on the market today. It ships in three colors: white, gold brown and black, and the white one we had is particularly prone to attracting fingerprint smudges.
The biggest progress over earlier generations of Samsung's 7-inch tablet series is the diminished in size side bezel, making the Tab 3 7-inch easier to hold single handedly and fitting in more pockets. Still, jacket pockets seem like the right fit rather than jeans pockets (it would be too big for them).
The buttons are also a standard Samsung affair: a single physical home key surrounded by two capacitive Android navigation buttons reside right below the screen. The lock and volume keys on the right are made out of plastic and a bit too recessed making them harder to press. On the left are two lid-protected slots - a microSD expansion slot and a SIM card slot for cellular data connectivity. The latter is only present on pricier Galaxy Tab 3 7.0 that support data and can also take and make phone calls like a regular phone.
Display
Unfortunately, the Galaxy Tab 3 7.0 display fails to meet the expectations even for a cheap device. The tablet ships with the same resolution as the first Samsung tablet released back in the dark ages (circa 2010). Sarcasm aside, it's really disappointing to see a 7-inch screen ship with a resolution of just 1024 x 600 pixels on a tablet nowadays. It lacks sorely in sharpness.
After you've swallowed the nasty pixelized icons and jaggy text, you might start noticing that colors are also visible off, with a very prominent bluish tint applied to everything that's displayed.
On a more positive note, viewing angles are good (but not great), and brightness can get very high making the tablet easier to read and use outdoors. Still, even this advantage is offset by the high reflectance of the screen that tires the eye, especially outdoors.
Recommended Stories