Moto Z Force Droid vs Samsung Galaxy S7 edge
22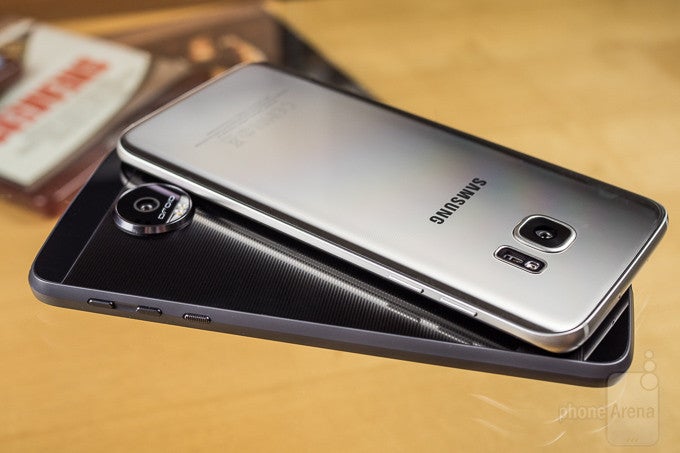 Introduction
The smartphone market gets a lot of criticism for a lack of innovation: this year's hot new phones are all too often a rehash of last year's models. Sure, new hardware delivers better performance, but those gains are usually incremental, and it's rare that we see a new phone that instantly becomes a must-have item. When Samsung releases a new Galaxy S model, it's super-easy to take for granted that the phone will be well-made, powerful, and a market success. But will it also be innovative, and inspire other phone makers with its daring design? That's a much more difficult ask.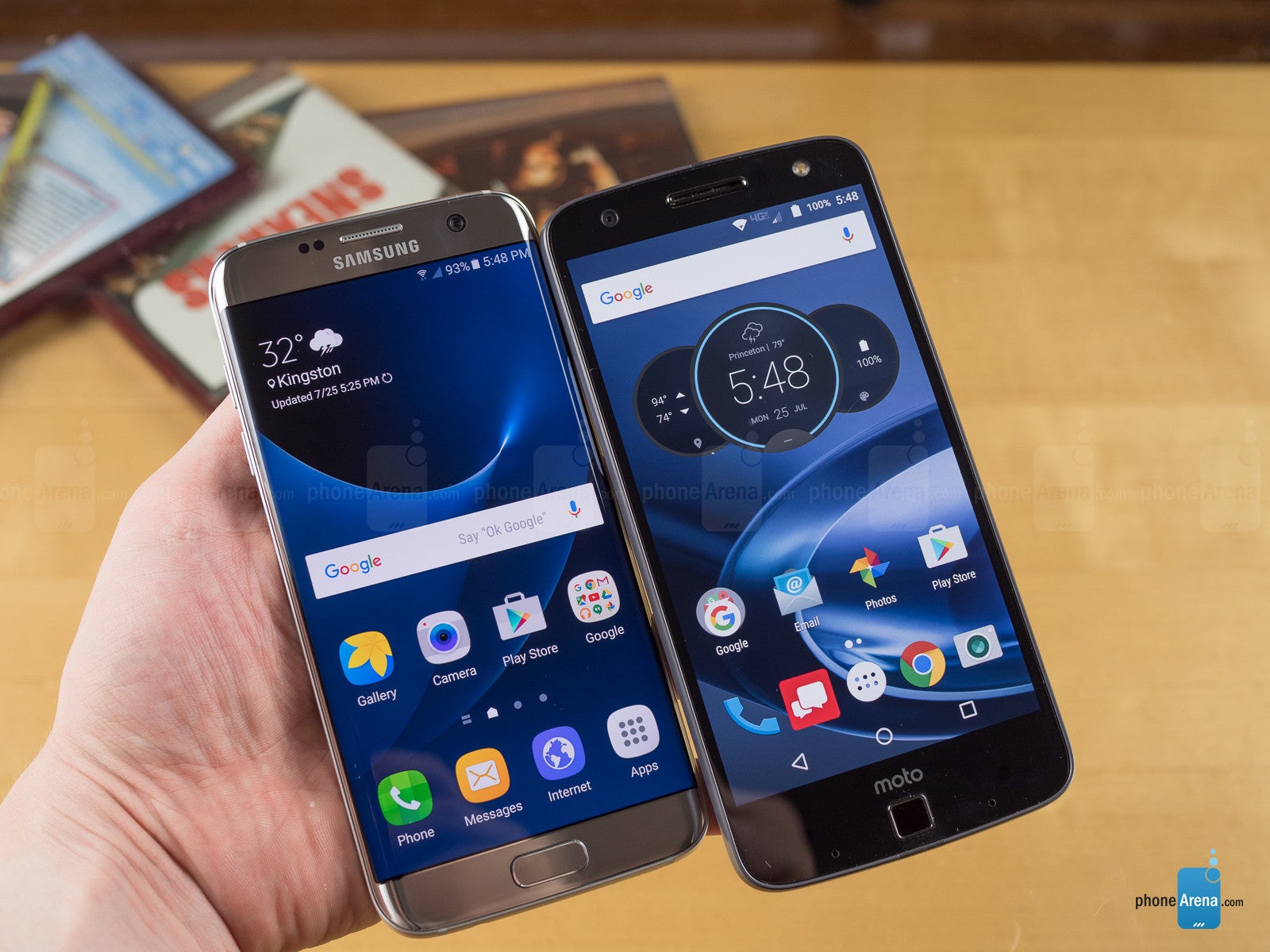 Our expectations are much different with Lenovo's Motorola phones, and historically the Moto flagships have long looked for that one "hook" that would help them stand out from the smartphone crowd. Customizing phone hardware with a variety of colors and materials has been a lot of fun, but it's failed to translate into a pronounced shift in market share. This year, with the introduction of the new Moto Z family supporting Moto Mods hardware add-ons, we really might have the chance to see whether or not innovation can help steer sales away from safer, more predictable flagships.
We've already taken a look at how the
Moto Z Force Droid Edition
measures up against Apple's iOS heavyweight, last year's
iPhone 6s Plus
, and now we're eager to see how the modular smartphone similarly compares to Samsung's early-2016 effort, the
Galaxy S7 edge
.
Design
Sleek and stlyin' vs. cold and utilitarian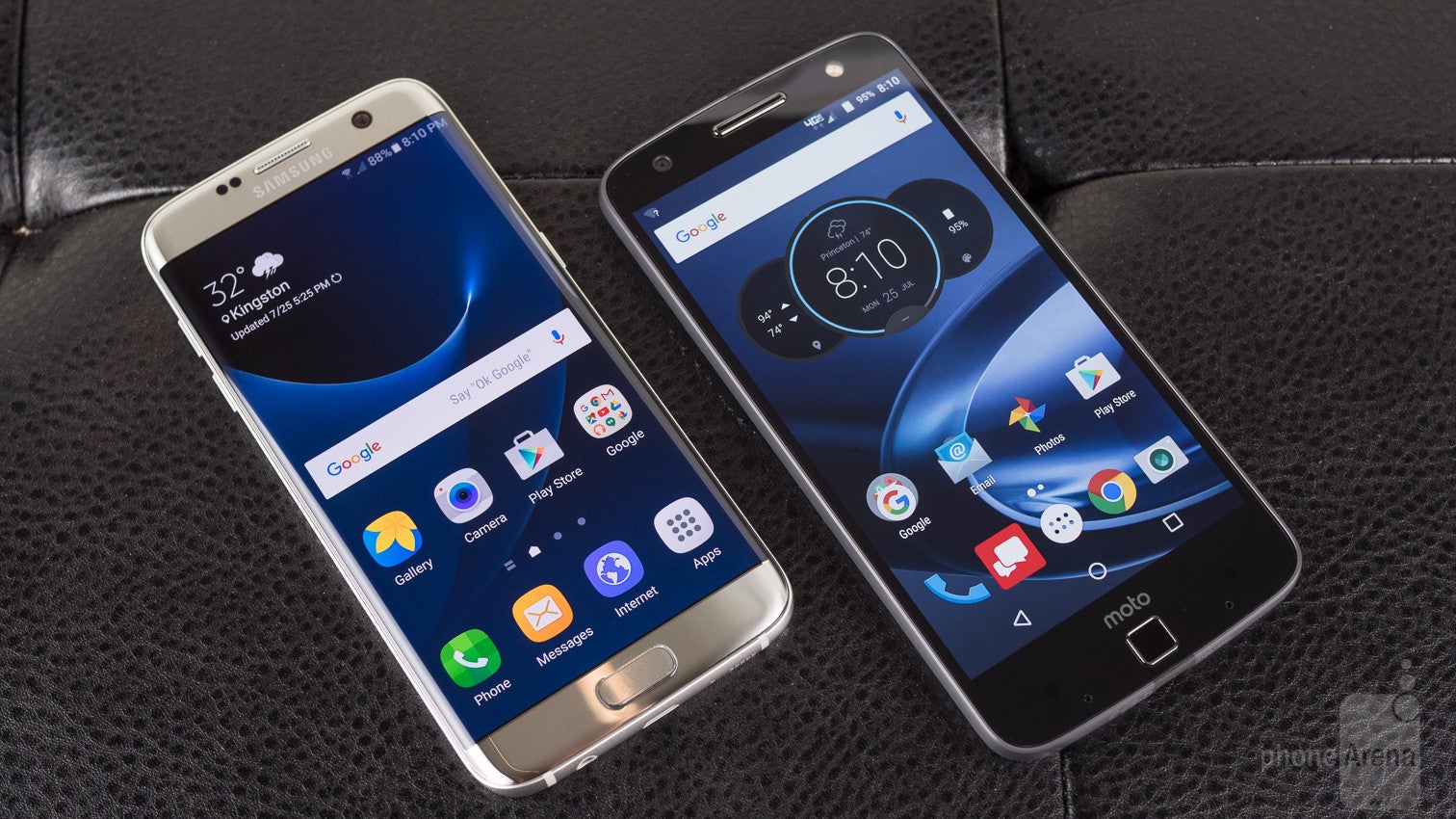 Samsung's phone places a premium on aesthetics, and it shows. The Galaxy S7 edge blends metal and glass in a handset that's both attractive and functional – in this case, enabling the phone to offer its over-the-edge curved display. The whole look is one we've seen before (with varying degrees of screen curvature), and the GS7 edge can be thought of a bit as the offspring of the Galaxy S6 edge and GS6 edge+, splitting the difference in sizes. All told, the handset's remarkably sleek, especially in comparison to the Moto; even the phone's camera bump is barely there, blending with ease into the handset's glass back panel.
The Moto Z Force Droid, meanwhile, is a phone built with a sense of utility. As a consequence of its support for Moto Mods interchangeable backs, the handset itself has a flat rear panel that abruptly transitions at the edge; it's not an unattractive look, but it's one that's far removed from the GS7e's graceful lines.
It's also a handset that's taller and wider than Samsung's, and while the Moto is officially slightly thinner (to the tune of 0.8mm), you wouldn't know it, even holding the handsets at the same time – they really do look and feel just about the same thickness. Honestly, the GS7 edge comes across (perceptively) as the slightly thinner of the two, thanks especially to its lack of a pronounced camera bulge.
Display
A tale of two gimmicks – but is one more valuable than the other?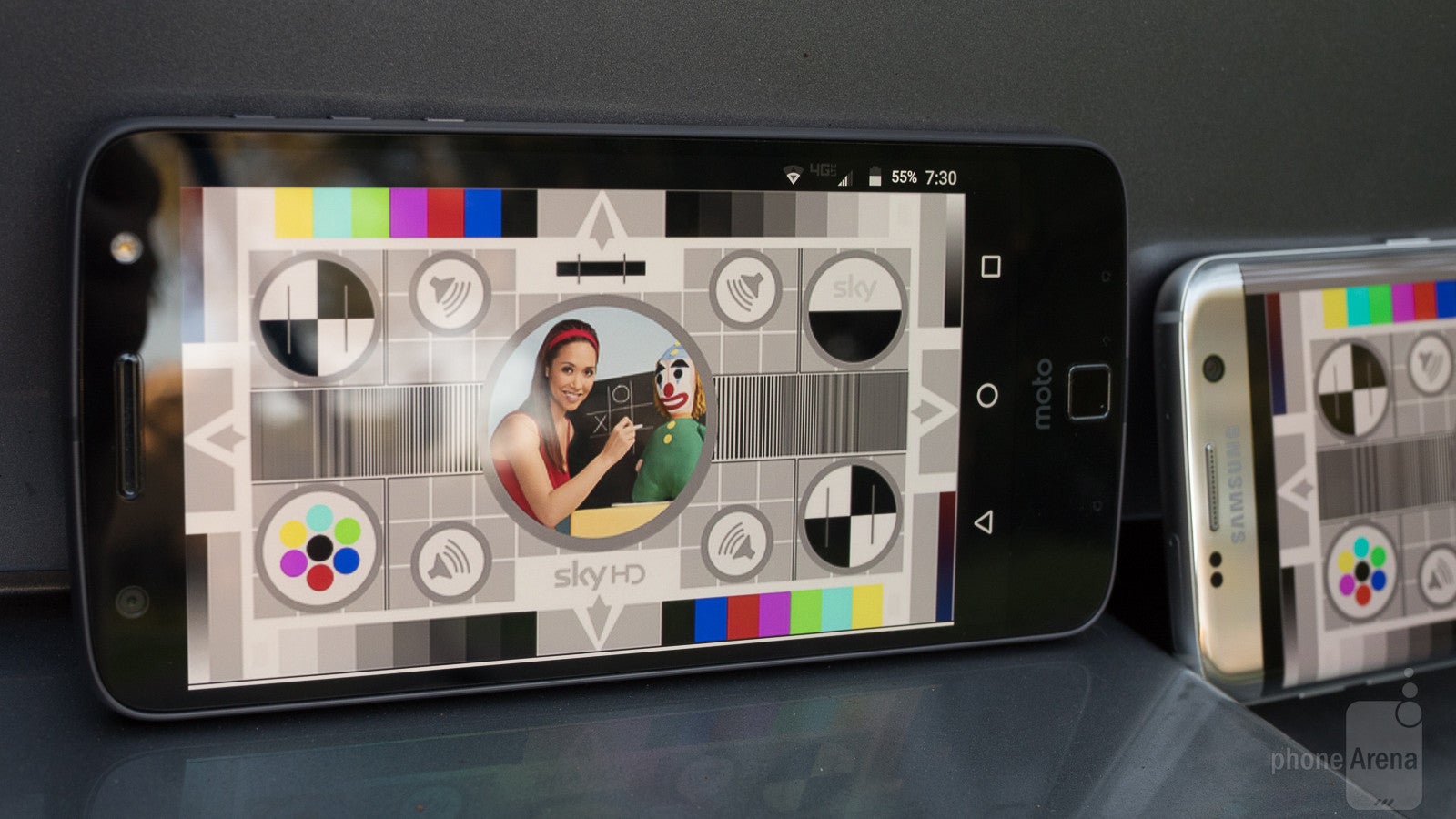 Both these screens start out superficially similar: a pair of 5.5-inch AMOLED display with quad HD (1440 x 2560) resolutions. On smaller panels, a resolution that high might be a questionable decision, but this is just about the right screen size with which to really appreciate it.
But it doesn't take long for these handsets to start diverging, and we need look no further than Samsung's curved screen.
We can't deny that the Galaxy S7 edge's dual-curved screen is eye-catching and a remarkable feat of engineering, but in day-to-day use it's a bit frustrating. Screen-filling videos look distorted as their content spills over onto these edge areas, and when looking head-on at the display, there's a distracting "shadow" effect as brightness drops off around the curve. As for Samsung's own software taking advantage of the tech, maybe special edge-area enhancements made sense for models like the original Note Edge with a much more extreme curve, but here they feel like distracting (and not particularly well-executed) afterthoughts.
The Moto Z Force Droid's screen has its own gimmick, in the form of its shatter-resistant construction; while an unexpected drop may mar the phone's finish or scratch up its display, the panel itself should avoid succumbing to a catastrophic failure, thanks to a combination of protective layers and a flexible AMOLED screen.
Output from the two panels is comparable, with a variety of color-profile modes to accommodate varying viewing situations (and users' preference), and screens bright enough to be viewed comfortable even on sunny days. Unfortunately, both phones exhibit one particularly annoying trait there, where maximum brightness can't be achieved by manually controlling the brightness slider, forcing users to rely on the phones' auto-brightness setting for the purpose.
Display measurements and quality