Samsung Galaxy S6 vs Google Nexus 6
21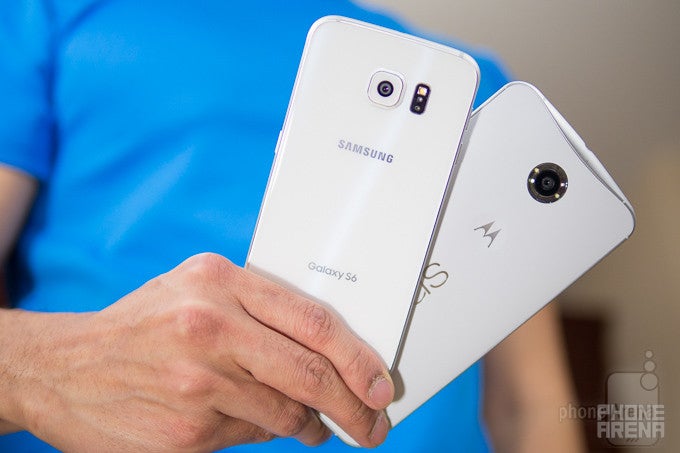 Introduction
Earning the beloved Nexus moniker isn't something that can be achieved so easily, so when a company is given the opportunity to build one, there's a lot of expectations riding on the back of it. The
Google Nexus 6
managed to charm many folks thanks to its phablet-esque size, incredible specs, and the latest iteration of Google's always evolving mobile platform – Android 5.0 Lollipop. In a way, the Nexus 6 was a departure from the more humble-looking Nexus 5, by taking everything to a bigger scale.
Similarly, the
Samsung Galaxy S6
follows the same approach by being a significantly different phone than its predecessor in the Galaxy S5. Some folks vouch that it's more of an evolutionary thing, while others deem it more revolutionary, but whatever the case, we can't deny that it's a formidable thing that has jump-started 2015 with a bang. No doubt, they target totally different demographics, but at the end of the day, we can't help to wonder which of the two will have more of the star power to continue being a relevant thing throughout the rest of the year.
Design
They're two very differently designed phones catering to different audiences, but the Galaxy S6's design steals more glances and looks from people with its premium design.
Staring at them longingly, there's no denying that the two are just two very differently designed phones – crafted to appeal to certain demographics more than other. In terms of aesthetics and appeal, we'd give the Samsung Galaxy S6 the nods on achieving more glances and looks from bystanders, mainly because it has the luxurious qualities that cater to a wider audience.
Brandishing one sharp design, thanks in part to its Corning Gorilla Glass 4 surfaces and metal trim bezel, the entire package is enhanced even further by the way light reflects off the glass, producing this cool shimmering and dazzling effect. Add to that, it's incredibly skinny, super lightweight, and far more compact, it all translates to an unprecedented change we're happy to experience from a company that wasn't all that notable for its smartphone designs.
Conversely, the Google Nexus 6 is pretty much on the other side of the spectrum with its gargantuan size. That alone, will probably keep some folks at bay, but then again, others favor its phablet-esque dimensions. Yes, it's obnoxiously large, which, surprisingly enough, can catch the attention of some people. However, it's just a handful to operate – requiring two-handed operation more than anything else. Visually speaking, it's a bit more contemporary with its design language, comprised out of mostly durable plastic.
Impressively enough, even with its compact stature, Samsung is able to stuff several other goodies into its already tight package – like an improved finger print sensor, wireless charging, IR blaster, and heart rate senor. Meanwhile, the Nexus 6 also boasts wireless charging, in addition to dual front-firing speakers, but that's all. For having so much real estate to work with, you'd imagine that Motorola would've been able to crap a few extra features in the process. Guess not.
Display
Quad-HD resolution is in full effect here, but Sammy's Super AMOLED panel shows why it's one of the best out there.
In being true pioneers in the space, it's wonderful to know that the two handsets tip the scales with their quad-HD resolution displays – something we feel that's necessary to stand head-above-water over the rest of the high-end crop. For the Galaxy S6, it's fashioned with an incredibly sharp, 5.1-inch 1440 x 2560 Super AMOLED display, which achieves a higher pixel density count of 577 ppi. The figures alone paint something exquisite with the Galaxy S6, but we can't neglect the same level of attention paid to the Nexus 6's 6-inch 1440 x 2560 AMOLED display – one that still pulls in a respectable 493 ppi pixel density.
Seriously, the two panels cram a ton of pixels, giving plenty of detail in everything that's being displayed. Whether it's viewing them up close and personal, or from a normal distance, we can't argue that they deliver sharp visuals that make it easy on eyes to decipher the most miniscule of things. All told, it purely boils down to size preference – where the Nexus 6 carries more real estate, which some can find useful for specific occasions.
Even though they both rely on AMOLED technology, the S6's Super AMOLED panel produces higher quality results. To be fair, however, we have to applaud both companies for getting the displays very close to that ideal color temperature reference value of 6500K – giving them a very neutral tone, neither too warm, nor too cold. Still, the S6's screen drives away with its stronger brightness output of 563 nits, versus the Nexus 6's poor mark of 270 nits. Naturally, the vast discrepancy between the two becomes apparent outdoors when viewing the displays under the gaze of the sun. The Nexus 6's display is just unviewable.
Moreover, Sammy has calibrated its display perfectly in Basic mode, so that it's one of the most color accurate screens out there, which is something noteworthy for AMOLED technology in general. With the Nexus 6, it's evident that it favors a more saturated color production, made more profound as it doesn't technically hit each of the target values in the color gamut chart below.
Display measurements and quality
Recommended Stories