Samsung Galaxy Note5 vs Google Nexus 6
14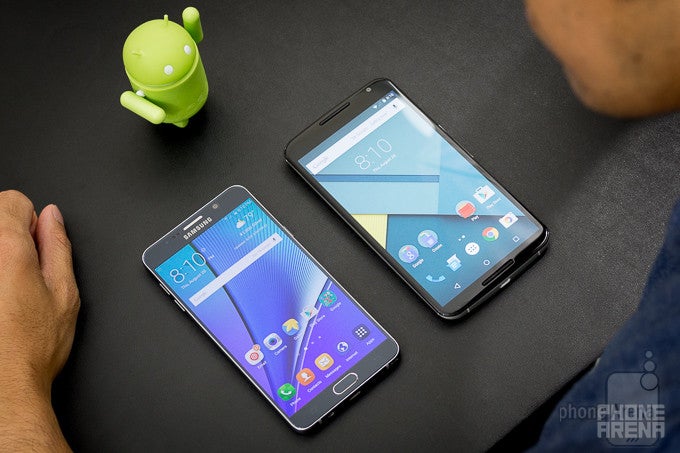 Introduction
The
Samsung Galaxy Note5
is the new kid on the phablet block: a 5.7-inch phone that showcases the best of Samsung's innovation including the latest Super AMOLED panel and a Samsung Exynos-branded system chip. It's only natural that it gets compared to the device that Google itself used to debut stock Android 5.0 Lollipop on a phablet - the even bigger
Google Nexus 6
.
Both are superficially similar in terms of display tech, as they come with AMOLED screens, but apart from that, it's all about the differences: Samsung's TouchWiz against stock Android, the modern Samsung glass and aluminum design versus a more conservative plastic back, and two fairly different cameras.
At the end of the day, though, one may wonder: which is the overall better phone? We take a deeper look of the features and performance of the two to find out.
Design
We love the sleek, stylish new design of the Galaxy Note5, which is a huge factor in making the device easier to use. The Nexus 6 is not in the same league - it feels too big, and its plastic back gets messy easily.
The Galaxy Note5 features the new design language that Samsung introduced with the Galaxy S6 earlier this year: a metal frame sandwiched between two pieces of tempered glass, and all of that feels solidly put together, thin, and good-looking, making for a true premium phone. The Google Nexus 6, on the other hand, is much less refined: it features a metal frame and is also put together with no moving parts, but its back is made of plastic that catches fingerprints so easily that the whole phone turns into a gigantic mess after a few minutes of use.
When it comes to size, Samsung has done a great job on making the large, 5.7-inch display of the Note5 fit in a relatively compact body for this size: side bezels are extremely thin and the device has a slight curve on its back, so that it fits more comfortably in your palm. The Nexus 6 - in stark contrast - is large and feels large. The 6-inch giant barely fits in a single hand. As a matter of fact, it's hard to even fit in a pocket, and while we're all used to seeing big phones, the Nexus 6 remains on the extreme side of things, and it will definitely feel uncomfortably large for many people.
In terms of buttons, there is the signature Samsung physical home key on the Note5 (with integrated touch-type fingerprint reader) with two capacitive keys, and then you have a power/lock key on the right and two volume buttons on the left hand side. The Nexus 6, on the other hand, lacks a fingerprint scanner, and uses on-screen navigation buttons.
This being a Note series phone, it also comes with a new and improved stylus. In terms of pure mechanics, you can now gently press the slightly protruding tip of the stylus and it automatically pops up thanks to a new, built-in spring mechanism. A neat little touch! The Nexus 6, on the other hand, lacks a stylus.
Display
The 5.7-inch Quad HD screen on the Galaxy Note5 shows the best of Super AMOLED: a bright display with a very well calibrated 'Basic' mode. The Nexus 6's 6" Quad HD screen is also AMOLED but pales in comparison.
Samsung has been improving its AMOLED displays at an amazing pace, and while just a year and a half ago there were severe issues with color quality, these days AMOLED screens on top Samsung phones look much, much better.
The Galaxy Note5 is no exception with its 5.7-inch Super AMOLED display with Quad HD resolution (1440 x 2560 pixels). The Google Nexus 6, in comparison, also comes with a Quad HD resolution and AMOLED tech, but the actual quality of the display is vastly worse. We're not talking about sharpness here: both screens use the Diamond PenTile matrix, and appear very sharp and pixelization-free (pixel density is 515ppi on the Note5 and 490ppi on the Nexus 6).
The difference is in color reproduction. The Samsung Galaxy Note5 comes with the option to switch between different screen modes: 'Adaptive' is the default mode, but for most accurate color reproduction the 'Basic' mode remains the most appropriate choice with its adherence to the sRGB standard. In simple terms, sRGB is the color space of everything on the web and on Android, and that's why it's important for phones to support such a calibration profile. Unfortunately, the Nexus 6 does not adhere to this color standard, with colors that look plain weird: oversaturated and unrealistic, something that is especially noticeable when you look at skin tones that look carrot-orange, but it really is an issue that affects all colors. The Note5, on the other hand, has a well-calibrated display with whites that are near the reference 6500K temperature, with accurate colors and gamma just slightly south of the 2.2 reference value at 2.09 (such a lower gamma may result in slightly washed out images). Those values are way off on the Nexus 6, as you can see in the table below.
Brightness reaches a very high 470 nits at its maximum on the Note5, while the Nexus 6 is noticeably dimmer at a peak brightness of just 270 nits. This translates into one key advantage for the Note5 - its screen is much more legible in outdoor use. Keep in mind that with AMOLED screens, brightness varies depending on the colors displayed, and these are values that we have estimated by measuring an all-white image. Finally, we should also note that viewing angles are excellent on both devices.
Display measurements and quality
Recommended Stories