Samsung Galaxy S10 Lite review
10
We may earn a commission if you make a purchase from the links on this page.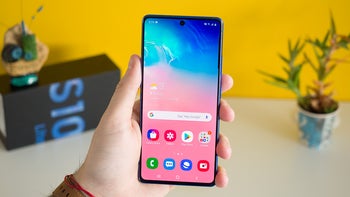 Summary
The Samsung Galaxy S10 Lite is a weird device. There's nothing "lite" about it — it has the hardware of a 2019 flagship and it certainly holds its own as an upper-tier phone. You could say that it has been launched as a cheaper alternative to the Galaxy S20, but the fact is that Samsung is now selling the regular old Galaxy S10 phones, which are still quite nice in their own right, at discounted prices as well.
So, the Galaxy S10 Lite is slightly larger than the Galaxy S10+, it has very similar specs, and is somewhat in the same price range. So, who's the S10 Lite for?
Well, for one, it has a flat screen, so you might prefer the Lite if you don't like Samsung's signature edge screens. It provides a larger display area for less money, if you compare it directly against the Galaxy S10 phones. It also has a different camera module, leveraging Samsung's new stabilization system, which eventually made it to the S20 series. But it doesn't have a telephoto lens, so if that matters to you — look for a Galaxy S10 instead.
Buy Samsung Galaxy S10 Lite from:
Design and display
The Samsung Galaxy S10 Lite is a rather hefty device, with a huge 6.7-inch screen. It has a 20:9 aspect ratio with a resolution of 1080 x 2400 pixels. This does bring the pixels-per-inch density down to 393, but rest assured the screen looks sharp enough.
It's a Super AMOLED panel and its colors look as gorgeous as we are used to seeing from Samsung. The Settings menu holds two color profiles — Vivid, for those that want saturated colors, and Basic, for users that prefer natural colors.
Dark Mode, Blue Light Filter, and Always On Display all make a return for the Galaxy S10 Lite, making sure you don't miss out on anything in the Samsung flagship feature set.
Everything about the design is very "Samsung". The glass back panel curves nicely towards the edges for a comfortable hold, the metal frame is cold and smooth to the touch, and the buttons are clicky. The screen has a single cutout for the selfie camera in the top-center (a.k.a. Infinity-O), keeping in line with Samsung's latest design language. Just like the S10 of 2019, the S10 Lite's power button shares functions with Bixby. Unlike the S10 of 2019, the Lite has no headphone jack.
Display measurements and quality
Camera
Compared to other S10 series phones, the Galaxy S10 Lite has an all-different camera module. It introduces the new Super Steady OIS tech by Samsung, which makes sure that videos are much more stable, even if you are quaking, trembling, or shaking.
There's no telephoto lens on board. You've got a regular camera with a 48MP sensor , an ultra-wide, 12MP camera, and a new macro camera with a 5MP sensor. If you want to, you can take full-resolution, 48MP images with the main cam, but by default, it is set to take 12MP shots. The selfie camera has 32MP, making us nervous that it will show a bit too many imperfections. It takes 6.6MP photos by default.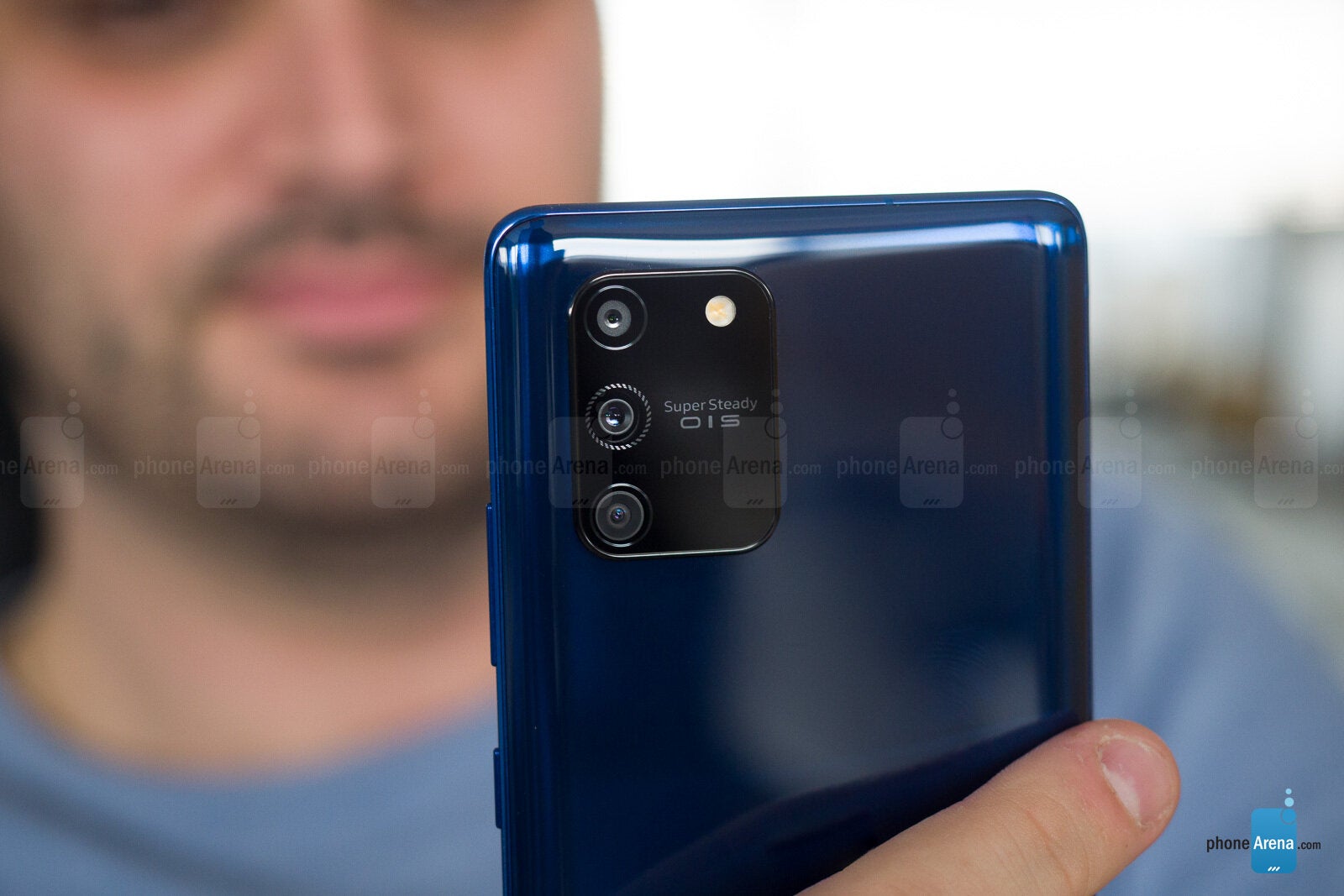 So, how's the image quality? The cameras perform quite well in both light and dark environments. There is some shutter lag, which becomes very prominent when you move indoors and even more so when shooting at night. This didn't inspire much confidence at first, but we were relieved when we saw natural photos with sharp detail and pretty colors.
Well, the details do edge on being a bit oversharpened at times, but we think it's to a manageable level. Night shots do have that inescapable yellow tint to them, but we are willing to forgive that considering how well the camera is doing in utter darkness.
We are extremely impressed with the Live Focus mode on this camera. Whether you use it for selfies or for the main camera from the back, the phone is very good at picking out the correct depth fields and applying the virtual bokeh accurately, without cutting into edges or missing out foliage.
That macro camera is… pretty meh. Its 5MP sensor introduces a lot of noise in the shot and the lens' wide angle distorts the subject's features quite a bit. We tried it, we weren't impressed, we stopped using it.
There is also Pro Mode in the camera app, but you will quickly find there is no manual control over focus. You only get ISO, white balance, and exposure controls. We know the hardware can do it (it has the same internals as the S10 phones), so this is an obvious omission just to "cheapen" the Lite's camera experience. Low blow!
When it comes to video, the phone performs quite well. The footage is detailed, sharp, and colorful, auto focus is fast, and even night time performance is satisfactory. The new stabilization — a mix between physical and digital stabilizers — seems to be doing quite well at clearing out trembling hands effect, but we weren't blown away by it — it still has its limitations.
There is even a Video Live Focus mode, which is probably the best one we've seen yet, as the phone is able to keep up with our moving subject with ease with minimum glitching in the back.
Audio
This is where the Galaxy S10 Lite earns a "lite" badge. As opposed to top-tier Samsung phones, this one doesn't have stereo speakers. Instead, you are relying on a single, bottom-firing driver. It doesn't sound… bad, but it's nothing to write an essay over either. It's honky in the mids and doesn't really provide much depth and clarity. It does get up to a good volume level, so you will still hear rings and alarms well.
Also, no headphone jack.
Software and performance
The Galaxy S10 Lite comes with Samsung's OneUI 2.0 built on top of Android 10. There are no corners cut from the software — you get the same feature set as the regular S10 series and the new S20 series. From Bixby to display modes, themes, the useful Game Center, Knox Security, and Digital Wellbeing.
You will also find that the phone has Edge Panels — a transparent handle on the side, which will let you open a drawer with favorite apps or special widgets. This feature used to be an exclusive to curved-edge Samsung phones in the past. Now, we finally get it on a flat display.
Being armed with a Qualcomm Snapdragon 855 and 8GB of RAM, it delivers flagship-grade performance, which kind of goes against that "Lite" suffix next to its name. Nonetheless, we are satisfied with the performance, both while browsing the web and playing the newest games on the Play Store — Shadowgun War Games, Call of Duty Mobile, Brawl Stars, to name a few.
The cherry on the cake is software updates. While it's too early to say if Samsung will follow through on this, but the company has gone official in saying that the Galaxy S10 Lite will get security patches every month and two major Android upgrades post-release. In other words, this phone will be updated up to Android 12, Samsung-guaranteed.
Battery life

Samsung sure made use of the space within the Galaxy S10 Lite's large body — it fitted a 4,500mAh cell inside and yes, it can keep the lights on for quite a while! In our use of the phone, we found that you can last two days with just typical average use. If you tend to game and watch one too many YouTube videos on your phone, that cell will still last you through the day. Thankfully, OneUI will always let you know how much time you have left, based on your usage patterns, which it will learn over time. One thing that's missing though is wireless charging.