Samsung Galaxy Chat Review
20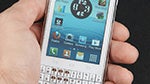 Introduction:
We haven't seen too many BlackBerry-style Android phones hit the shelves, so every new model with a portrait QWERTY keyboard gets examined with interest. One new handset of this form-factor is scheduled to come out pretty soon – the Samsung Galaxy Chat.
This is not the first Samsung handset with the "Chat" monicker. However, the first Ch@ts were simple feature phones that were mainly targeted towards teens who text a lot. Now, with the new Galaxy Chat, Samsung is bringing the Chat family to the world of smartphones, where it might become appealing to a significantly larger group of users.
Let's see if the cramped front-facing QWERTY keyboard still has a place in this modern landscape!
Design
:
With the Galaxy Chat, Samsung proves that it too can make good-looking phones. We were nicely surprised by the device's stylish looks, as well as solid feel. Of course, it's all plastic, but this phone somehow manages to feel more reliable than something supposedly more premium like the Galaxy S III, for example.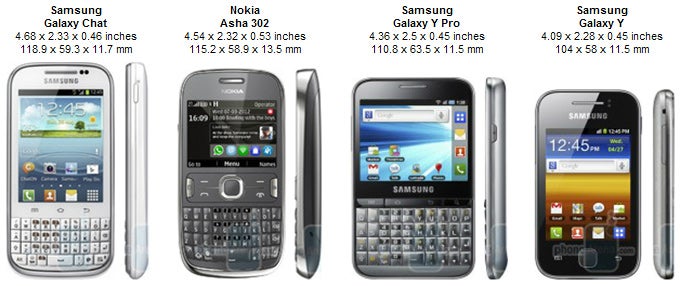 You can compare the

Samsung Galaxy Chat

with many other phones using our Size Visualization Tool.
The

screen

is one of the weakest aspects of the Samsung Galaxy Chat, not because of its relatively small size, but because of its low resolution. The panel measures 3 inches, but its resolution is only 240x320 pixels, resulting in a pixel density of 133 ppi. Needless to say, this display doesn't look very good, and reading is quite difficult with it. Viewing angles are also poor, and so is outdoor visibility. But after all, it's an entry-level model, which has to be easy on the budget, and such compromises are unavoidable if the manufacturer wants to hit a very low price-point. That's why, we forgive you, Samsung!
The small

QWERTY keyboard

below the screen is awesome. Naturally, the keys are so tiny that you have to press them with your nails, but they make the perfect clicking sound and give wonderful feedback. You won't be a speed-demon with this QWERTY, but pressing the wrong key seems to be a bit more difficult with it, than it is with an on-screen one, thus saving you some frustrating moments.
The volume rocker and power/lock buttons are also very well made and will not cause you any trouble.


Recommended Stories