Galaxy Buds 2 Pro vs Galaxy Buds 2: Can you hear a difference? Or even see it?
4
We may earn a commission if you make a purchase from the links on this page.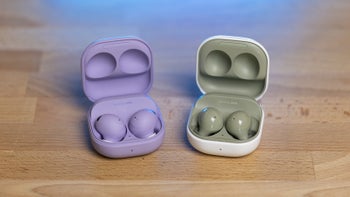 Samsung recently unveiled the Galaxy Buds 2 Pro, further complicating its true wireless earbuds options. The Korean company already had plenty of Buds and Buds Pro models, in addition to Live models, so which should you buy? This newest one?
And more importantly, what exactly is different between the new Galaxy Buds 2 Pro and the 2021 Galaxy Buds 2, other than the price? They sure look quite similar.
Well, we've taken both sets of earbuds and compared them for you – here's what you should know…
Also check out:
Jump to:
Price and availability
The brand new Galaxy Buds 2 Pro are currently available for pre-order for the price of $230.
The Galaxy Buds 2 have been available since August 2021 for a retail price of $150, although there have been discounts for them, dropping the price to around $130, or even down to $90 on Samsung's website, if purchased with eligible trade-in.
So we've established that the Buds 2 Pro are much more expensive than the Buds 2; now let's find out why…
Design and colors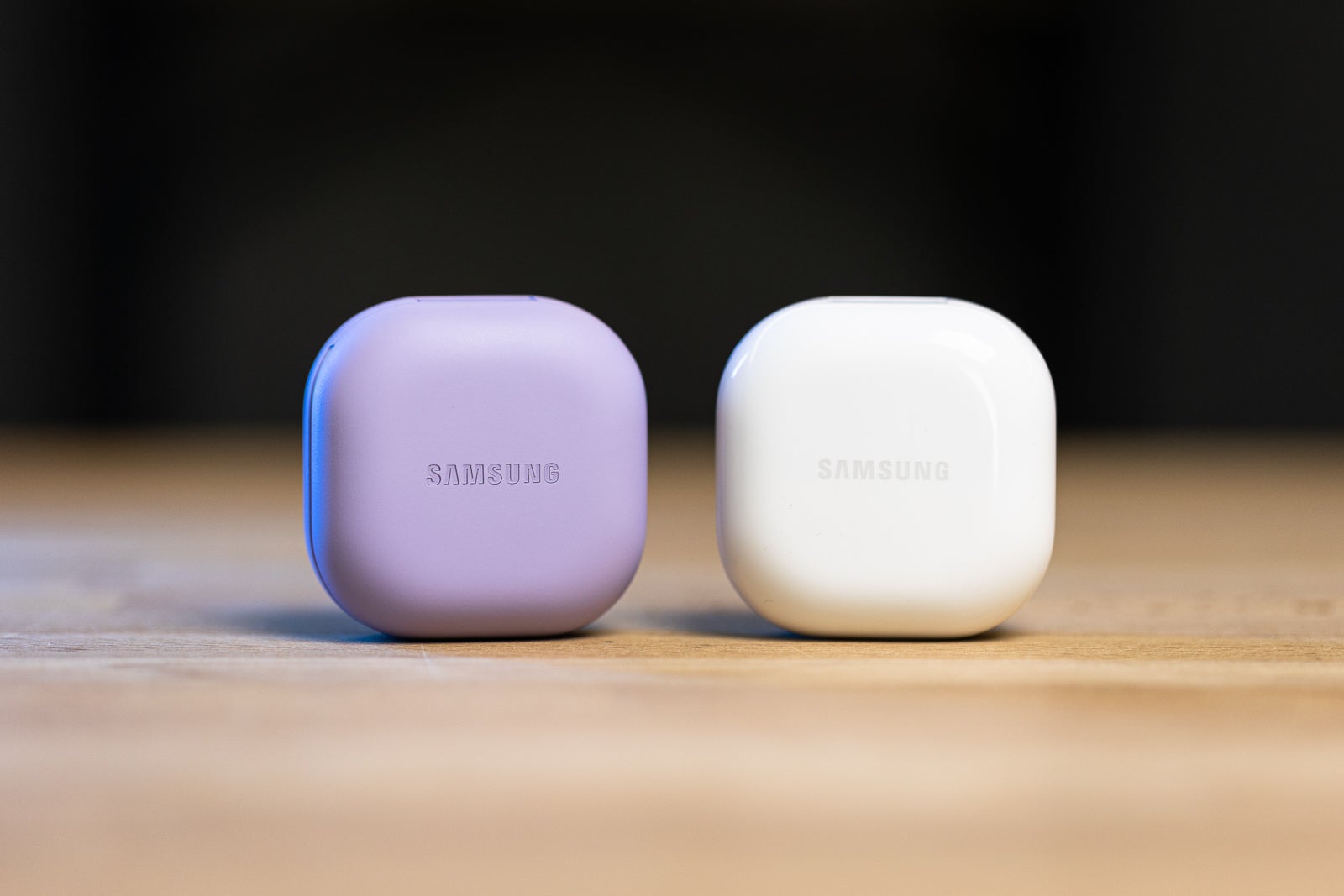 (Image credit - PhoneArena) Galaxy Buds 2 Pro (left) and Galaxy Buds 2 (right)
The new Galaxy Buds 2 Pro are very similar to the Buds 2, creating some understandable confusion online. The two models have virtually identical charging cases, with the same LED light up front and USB Type-C charging case on the back.
The earbuds themselves are slightly different, though. The Buds 2 Pro earbuds have a few elements, like the little black grills on the sides, that the Buds 2 do not.
Most notably, the new Galaxy Buds 2 Pro are made out of matte plastic – both the earbuds and the case, in and out.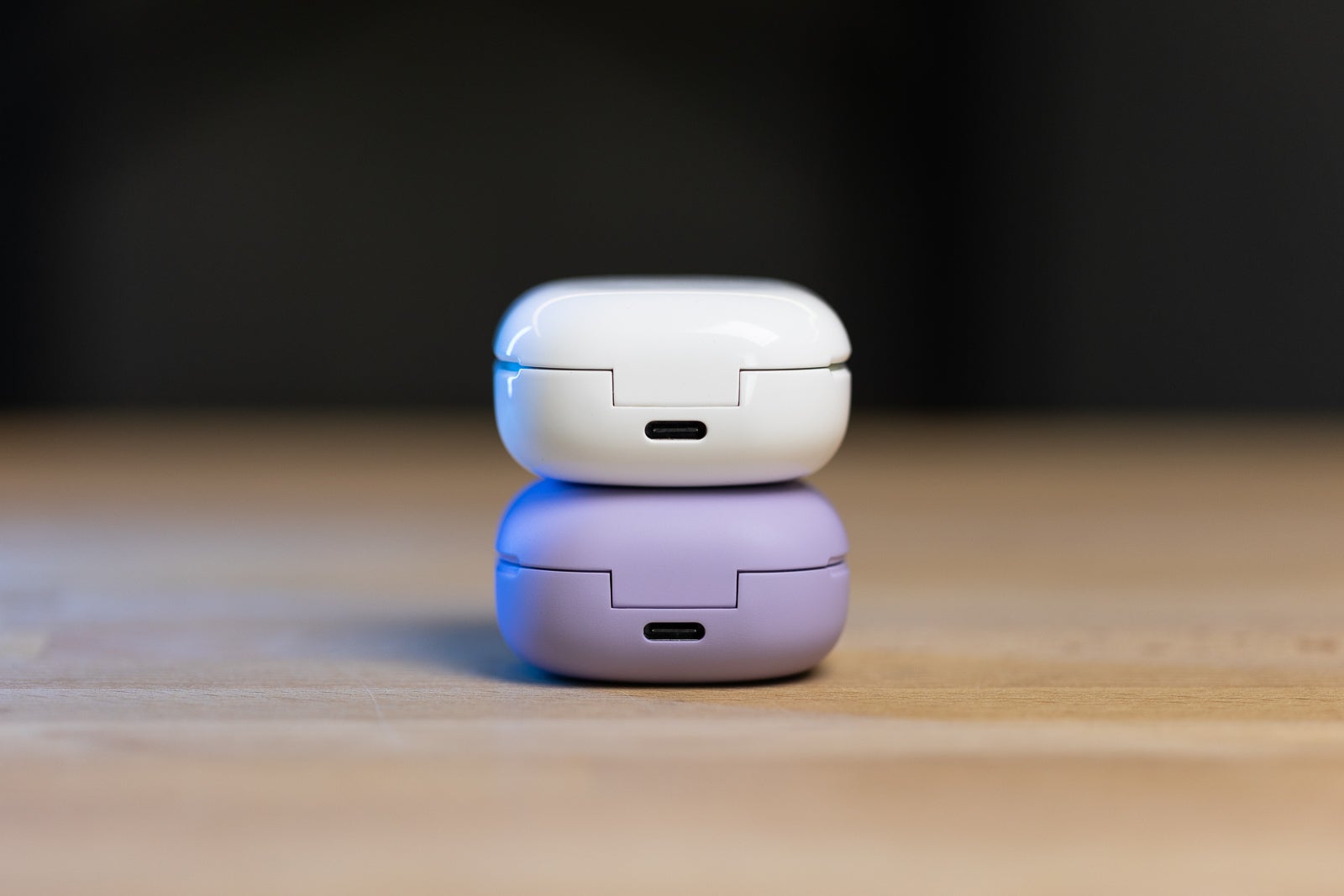 (Image credit - PhoneArena) Galaxy Buds 2 Pro (bottom) and Galaxy Buds 2 (top)
The older Buds 2 are glossy – the earbuds, and the case on the outside. Only the inside of their case is matte.
To my eye, the new, matte Buds 2 Pro look much better, and feel nicer to hold, thanks to that matte plastic, but that's a subjective thing.
What matters is that both of these earbuds do look pretty stylish and minimalist, and are light and comfortable in the ear. Both come with three sizes of eartps for you to choose from, and both stay securely in the ear.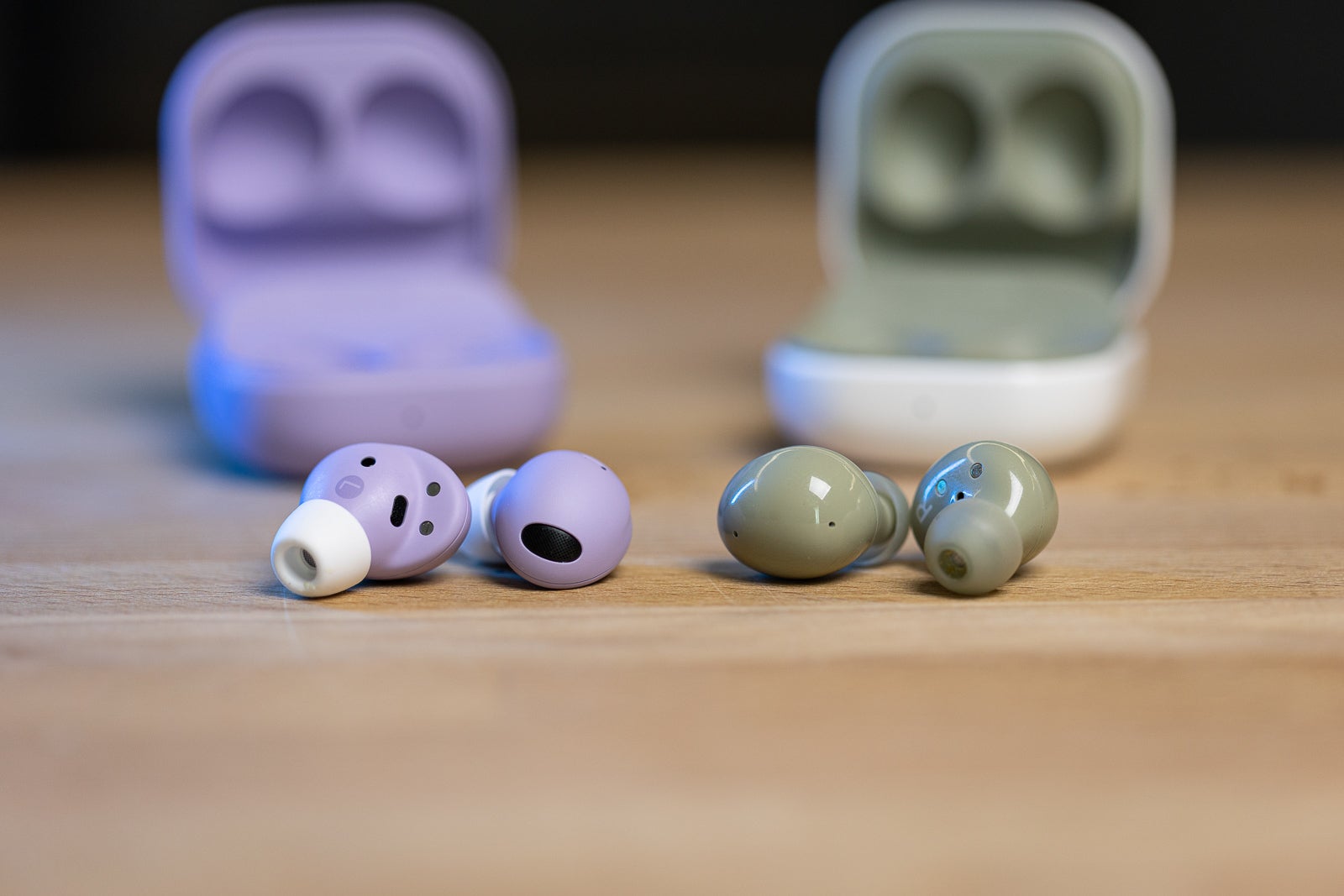 (Image credit - PhoneArena) Galaxy Buds 2 Pro (left) and Galaxy Buds 2 (right)
And since both have essentially the same wedding ring-style charging case, you can be sure either one should fit in a reasonably-sized pocket just fine. Nothing major in the design department worth mentioning, other than the matte vs. plastic build.
As for colors, the new Buds 2 Pro are available in:
As you can see from our photos, we have the Bora Purple variant, as the other two are essentially generic black and white, and this purple does look quite nice.
The Buds 2 are available in the following colors:
Graphite
White
Lavender
Olive
Unlike the Buds 2 Pro, the Buds 2's case is dual-color, ours is the Olive variant, but its outside is white nonetheless.
Sound quality and active noise canceling (ANC)
< Galaxy Buds 2 Pro
Galaxy Buds 2 >
Here's the most important bit – how these true wireless earbuds sound, and how good their ANC is, which both have on board. I tested them side-by-side, same volume, playing the same songs with ANC on.
The new Galaxy Buds 2 Pro sound pretty amazing, particularly if you listen to modern electronic dance music or hip-hop, as they have clean, fairly flat sound (which is a good thing), with strong, punchy sub-bass. No complaints.
The Galaxy Buds 2 also have strong bass, but it's not as deep, covering higher frequencies and making things sound ever slightly more muddy. So the mids and highs are not as pronounced, although honestly, the differences are extremely minor. It's pretty fair to say both the Buds 2 and Buds 2 Pro sound great, but the former are notably cheaper.
Let's talk about the ANC situation. Maybe here's where the Buds 2 Pro will justify their higher price.
The Galaxy Buds 2 Pro do have impressive ANC, Samsung has seemingly caught up with Apple in that aspect. Anything but some high-frequency noises from your surroundings gets blocked when ANC kicks in, so whether you're on an airplane, a crowded bus, or in a busy workplace environment, you shouldn't be bothered by the noise around you. Especially with your music playing at mid or high volume.
Here's the interesting bit – the way I hear it, the cheaper Buds 2 actually have slightly stronger ANC, blocking even more of the high-frequency sounds from, say, a fan blowing right in your face. So once again, it's hard to justify the Buds 2 Pro's higher price.
But if we look at the specs, we'll quickly discover the reasons for the price difference, and what that "pro" name is all about.
Spec differences



Notable Buds 2 Pro specs:
Bluetooth 5.3
Enhanced 360 audio
24-bit Hi-Fi (requires a Galaxy device)
Intelligent ANC
IPX7 water resistance (earbuds only, not the case)
Battery life: up to 29hrs with case (ANC Off)
Wireless charging case
Notable Buds 2 Pro specs:
Bluetooth 5.2
360 audio
16-bit Hi-Fi
ANC
No water resistance
Battery life: Up to 20hrs with case (ANC Off)
Wireless charging case
So there we have it. Even though I failed to notice any significant differences between their sound and ANC, the newer Buds 2 Pro are technically superior to the Buds 2 in some key areas.
If you care about 24-bit audio, you'll want the Buds 2 Pro, but keep in mind that it only works if they're paired with a Galaxy phone or tablet, and not all music streaming apps support 24-bit audio.
If water resistance matters to you – again, only the Buds 2 Pro have that. Their case isn't water resistant, but the earbuds themselves should be able to survive a walk in the rain, or a super sweaty gym session.
And in terms of battery life, the Buds 2 Pro do last a lot longer than the Buds 2.
Touch controls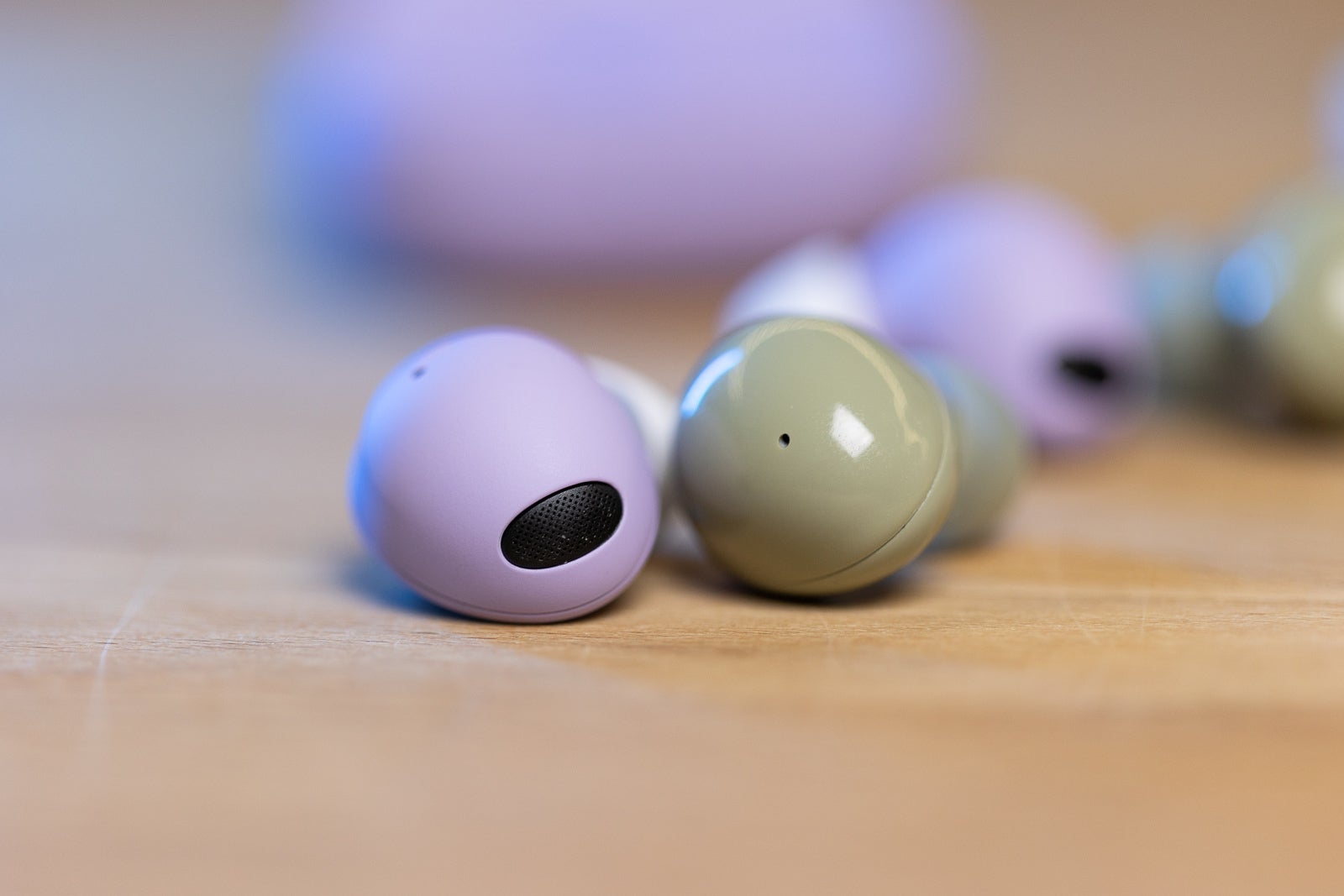 (Image credit - PhoneArena) Galaxy Buds 2 Pro earbud (left) and Galaxy Buds 2 (right)
Both the Galaxy Buds 2 Pro and the older Galaxy Buds 2 have exactly the same touch controls. The sides of the earbuds are touch sensitive, and tapping those once or several times would do the following…
Galaxy Buds 2 Pro and Buds 2 touch gestures:
Press and hold – switch between ANC and Ambient sound
Single tap – play or pause
Double tap – next song
Triple tap – previous song
Which should you buy? The Galaxy Buds 2 Pro or Galaxy Buds 2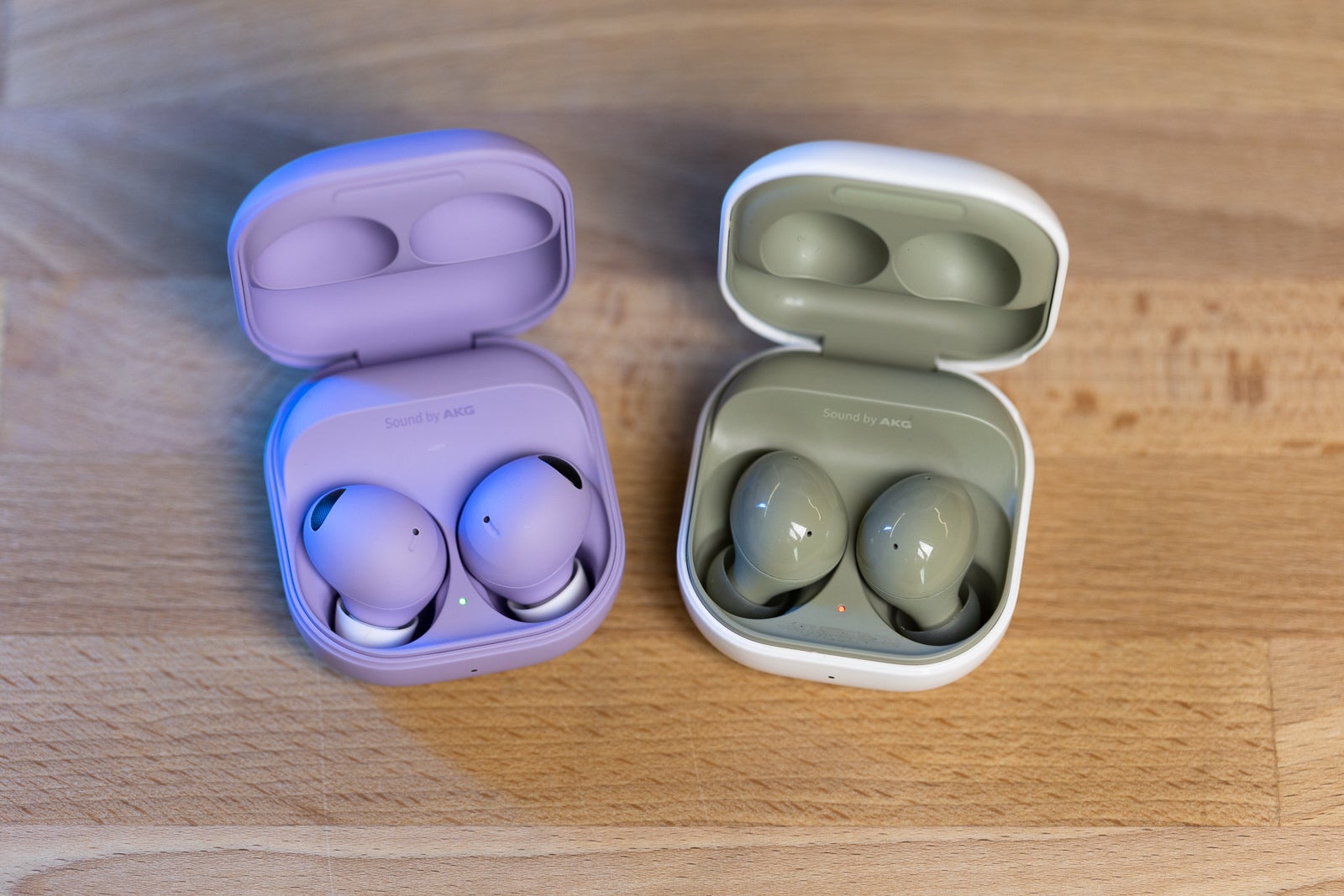 (Image credit - PhoneArena) Galaxy Buds 2 Pro (left) and Galaxy Buds 2 (right)
The Galaxy Buds 2 Pro do look a bit nicer, with their matte finish. According to Samsung, they offer better battery life too. Their sound is nice and clear, with a nice sub-bass. The ANC is on the level too. The earbuds have water resistance, and their audio can go up to 24-bit if you pair them with a Galaxy device.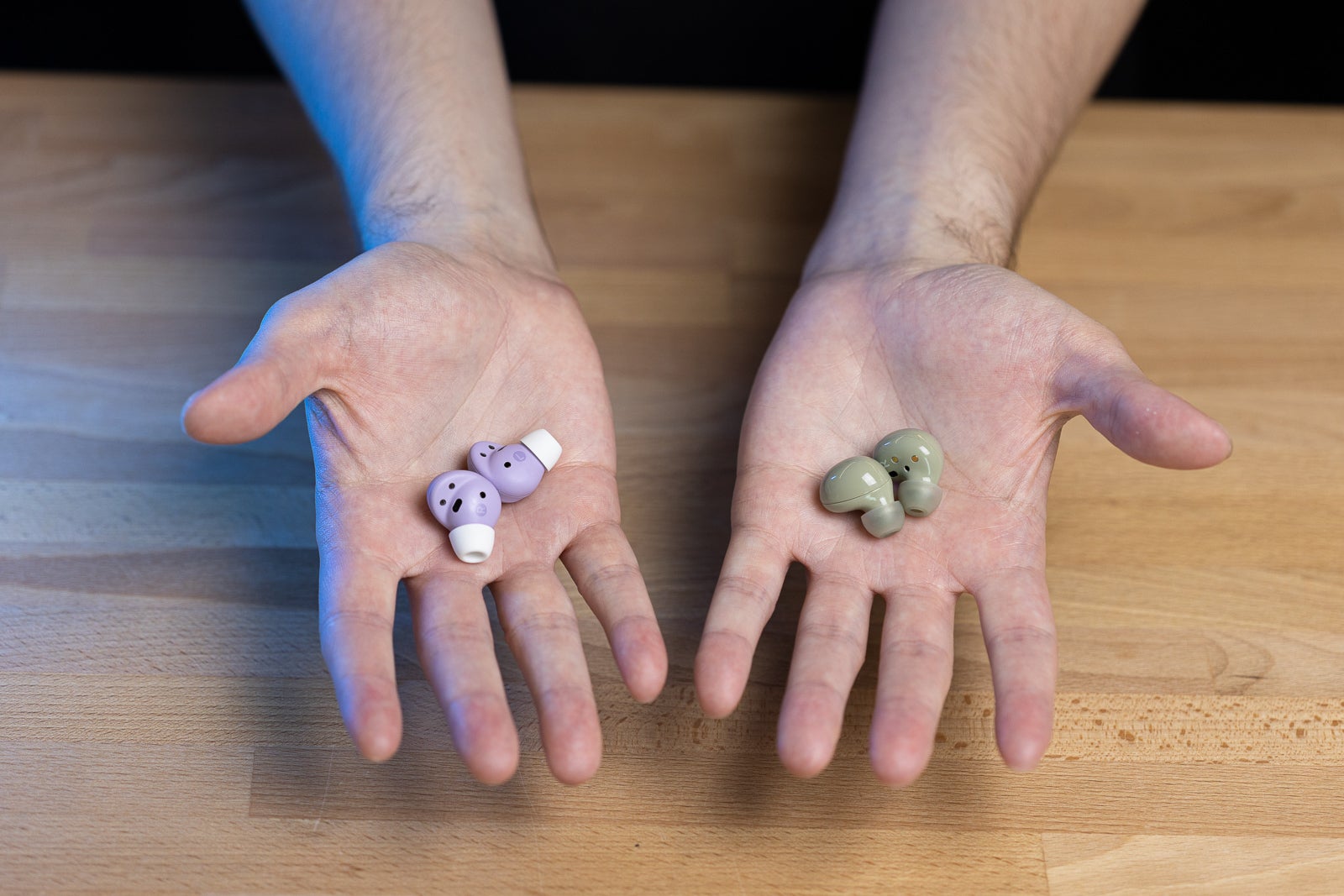 (Image credit - PhoneArena) Galaxy Buds 2 Pro (left) and Galaxy Buds 2 (right)
However, the Buds 2 look pretty modern and sleek too, and have reasonable battery life. Their sound is almost equally good, and the bass isn't slacking either, just like the ANC. Sure, there's no water resistance on those, and they support only up to 16-bit audio, but honestly, for their much cheaper price – you can't go wrong with those.
If you'd like to save some money and still get a great true wireless earbuds experience from Samsung, go with the older and cheaper Buds 2.
Only if 24-bit audio matters to you, and you have the required Galaxy phone or tablet for it to work, plus a subscription to a music streaming service that offers 24-bit audio – then go ahead and get the new Galaxy Buds 2 Pro!
Recommended Stories