Samsung Galaxy A7 (2018) Review
79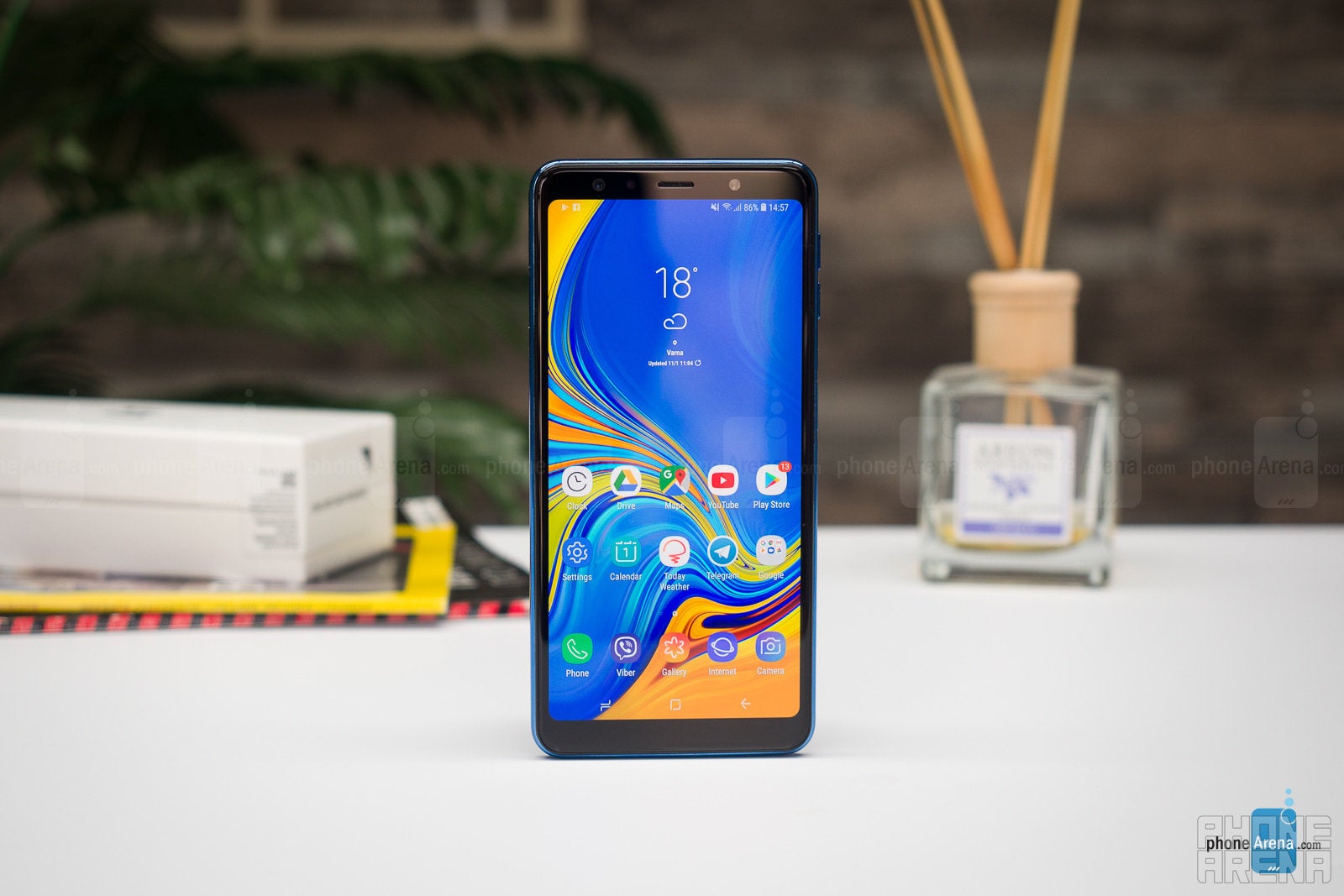 Competition in the affordable phone market these days is not merely intense, it's almost impossible to compete with aggressively priced phones out of China with top-tier specs at prices of around just $300.
And Samsung should know. It's been losing ground to the likes of Huawei, Xiaomi and OnePlus quicker than all other Android phone makers.
So is its newest mid-range
Galaxy A7 2018
the transformative device that would bring it back on the success track?
On the surface, the Galaxy A7 looks… a bit boring. It's a pretty big rectangular slab with slightly sloppy-looking bezels. There are no top-tier chips on board and the interface is the same old Samsung Experience with no modern gesture navigation. And no, there's no 4K video on board either. What was Samsung even thinking?
Well, there are three cameras on the back, more than on any other mid-range phone, and a few surprises on the inside and we can't wait to tell you all about them. Read on.
Galaxy A7 (2018)
MicroUSB cable :(
7.75-watt Wall Charger
Headphones with 3.5mm jack
SIM tool
User manual
Design
Slippery phone + glass back = you know what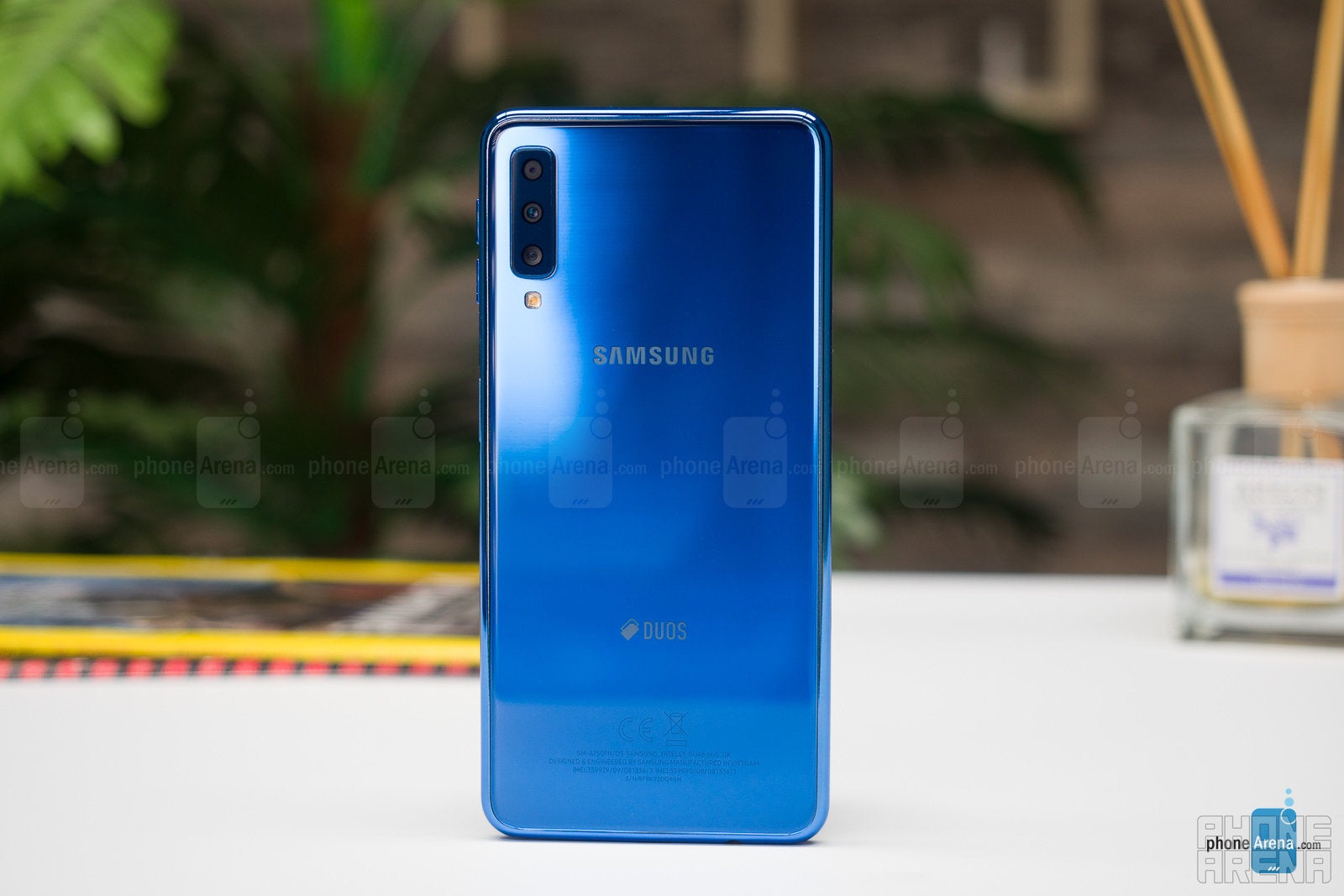 The Galaxy A7 2018 is made of glass and feels surprisingly light-weight, but it's still a massive phone almost as big as an iPhone XS Max, but weighing nearly 25% less. This is definitely not a device you can easily operate with a single hand.
We've gotten pretty used to glass phones by now, but the A7 surprised us with just how slippery it was. It's one of those phones that slip and fall on their own unless it's resting on a perfectly flat surface. This happened a few times and we feel so lucky that the phone is not broken yet! So a case with this phone is not only strongly recommended, it's mandatory in our opinion.
The A7 comes in a selection of three colors: we have the blue model up for review, but there are black and gold models as well. One element that makes this phone look a bit on the cheap side are the plastic sides with a very reflective polished finish (but we do like that the sides have a matching color with the back cover).
Buttons are all on the right side, the volume keys way up at the top and a recessed power button that you cannot easily find without looking and always feels a little weird to press.
The big disappointment is on the bottom. Nope, it's not the 3.5mm headphone jack, which Samsung has kept on this phone, but the age-old microUSB port. Is it really that expensive to include a USB-C port on a mid-range phone in late 2018, Samsung? We wonder. On the bottom, you'd also find the single loudspeaker.
On the back, you have the star of the show: the triple camera system. We'll take a closer look at it below, so stick with us.
One more thing: there is no special water-proofing on this phone, so be careful not to get it wet.
Fingerprint Scanner
By now you are probably wondering: where's the fingerprint scanner?
It's here, but this time Samsung has built it right in the power button on the side.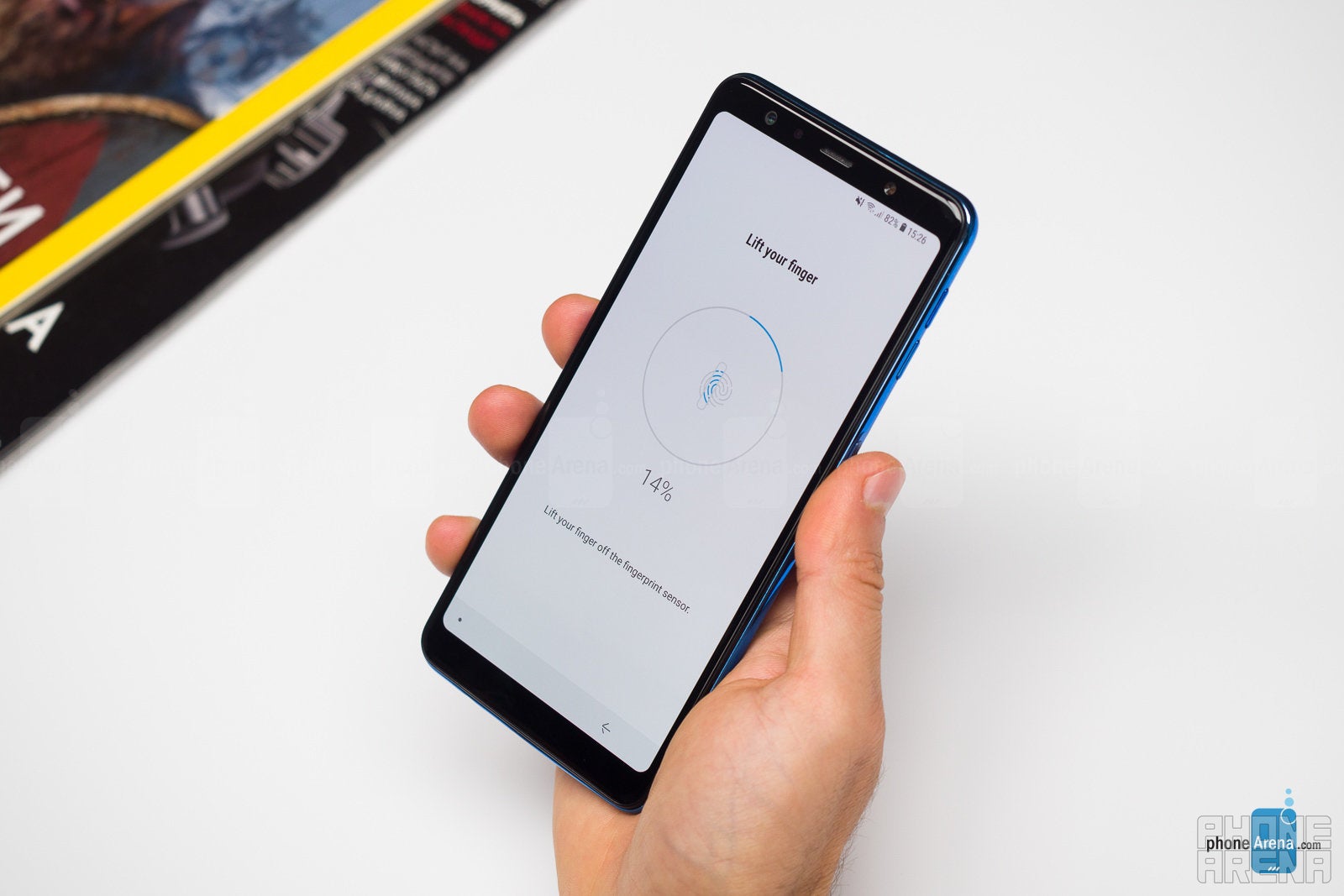 After using the Galaxy A7 for nearly two weeks, we find this to be a bigger inconvenience than we suspected. Sure, it's not a dealbreaker, but it just doesn't feel very comfortable to reach to the side and than have to reposition your hand to actually unlock your phone every time you want to check something quickly. Speaking of speed, this is definitely not the fastest fingerprint reader around, always taking a slight, but noticeable moment to unlock the phone.
And risking to sound too petty, you do get a nice click with the power key, but the recessed position makes it even stranger as you cannot easily feel it by hand.
Face Recognition
You also have face recognition on board.
Enrolling your face is a fast and easy process, and using face recognition to unlock the A7 works most of the time. We also tried using it while wearing glasses and without them, as well as in a well-lit room and in darker environments, and it recognized us fine if (and this is important) you place your phone at the right angle and without moving too much. If you kind of just glance at the screen at an angle it often fails to recognize you and also while you are moving and on the go, it seems to have a tougher time. There is again a slight delay, similar to the one you get with fingerprint scans, when you use face recognition to actually unlock your phone, so keep that in mind.
Display
Excellent AMOLED screen.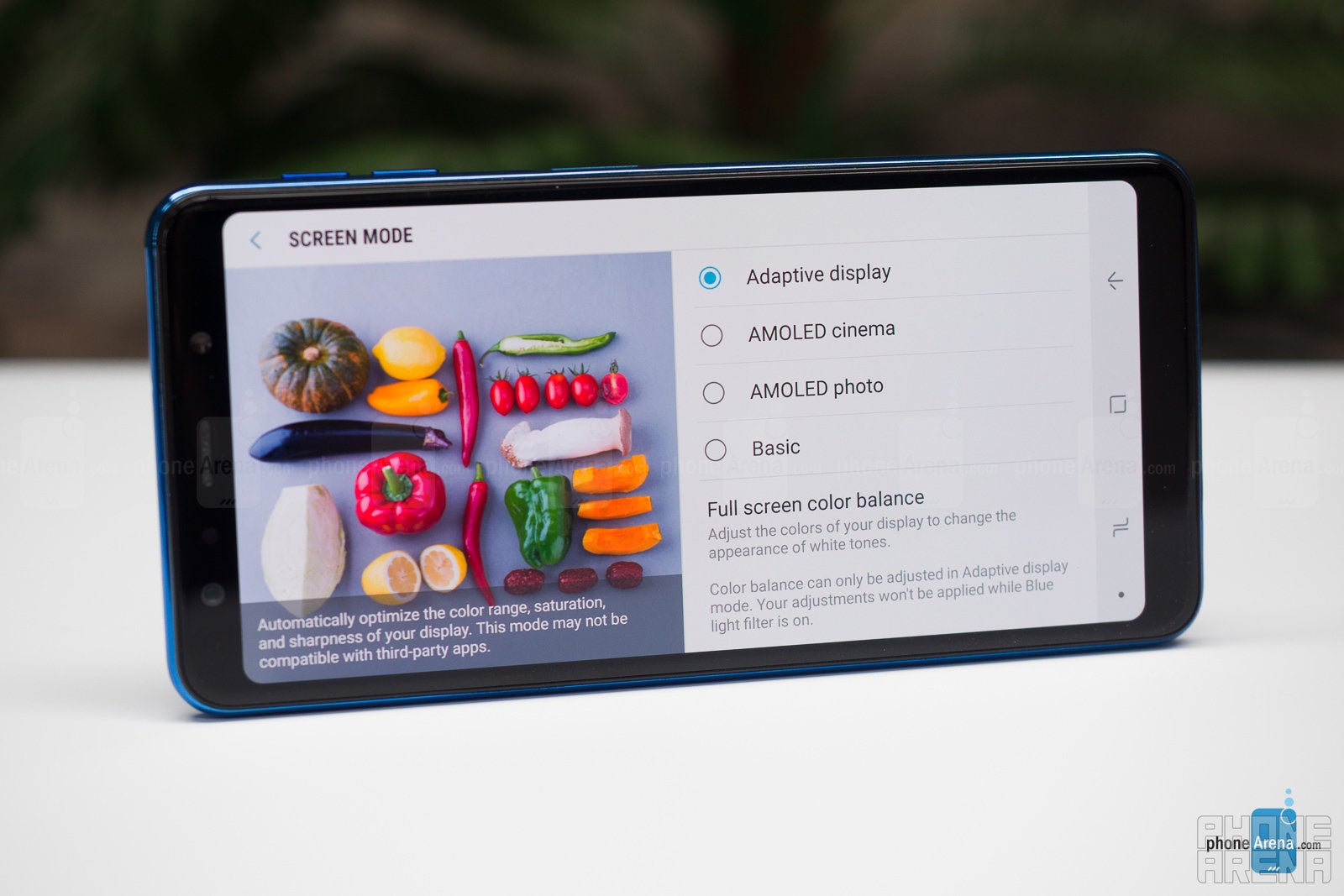 While we've been criticizing the A7 2018 for its looks and slightly slow secure unlock systems, there's nothing to criticize about the big and beautiful Super AMOLED screen that you get with this phone.
It is a 6-inch display with a Full HD (1080 x 2220 pixel) resolution and it looks gorgeous. Colors are impressively wide and lively, blacks are deep, viewing angles are mostly fine, and you can select between a few different color modes for more eye-popping color or a more toned-down appearance. The screen is very reflective, though, which makes it slightly more inconvenient to use outdoors.
It is the big bezel around the sides, however, that we dislike the most, as it contributes to the width of the phone and spoils the looks a bit.
Display measurements and quality
This being a Samsung AMOLED screen, you also get the useful Always-on screen option so you can quickly glance at the screen to see whether you have missed notifications or calls. You also have a blue-light filter to help ease the strain on your eyes when you use the phone at night.
Interface
Samsung Experience gets the job done, but without much excitement.
The Galaxy A7 2018 is a brand new phone and it comes with the latest and greatest version of Android… oh wait, it doesn't! It still runs on last year's Android 8 Oreo software, which is disappointing, to say the least.
The reason for this probably lies in the heavy custom interface that is Samsung Experience and that takes a lot of time to port to newer versions of Google's platform. Whatever the reasons, though, we find it hard to find an excuse, especially considering how cheaper Android phones rarely if ever get updates, and with this one, you are starting off with old software.
Still, if you don't care too much about having the latest software, you will find the Samsung Experience on the A7 2018 to be a reliable interface that slowly but surely churns through tasks.
What's missing here, however, is clearly excitement: a prime example is that you don't have the modern gesture navigation system that even cheaper phones have these days and only have the on-screen button navigation.
Processor, Performance and Memory
Not the fastest phone around, that's for sure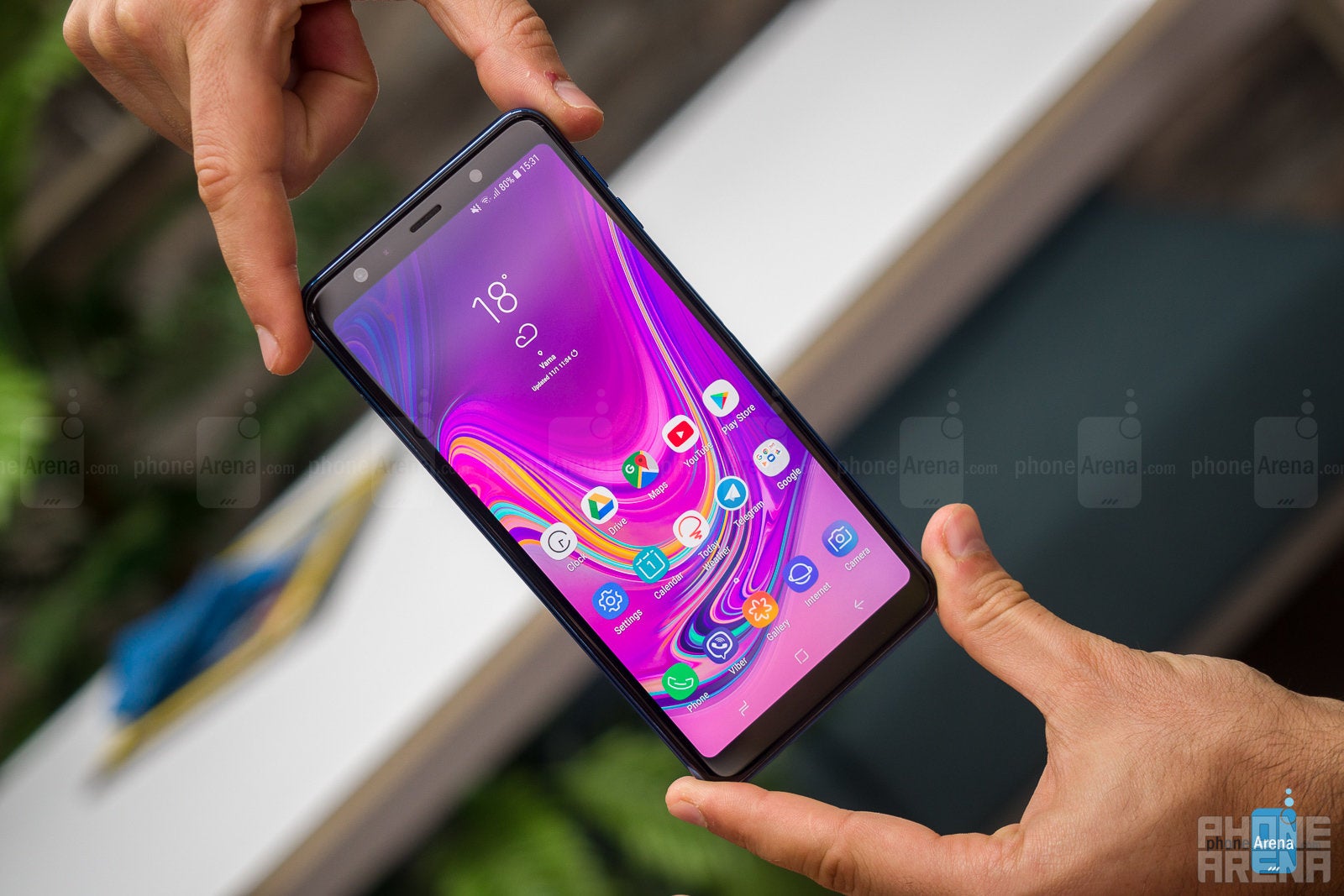 Under the hood, the Galaxy A7 2018 is powered by the Samsung Exynos 7 Octa 7885 chip and if you get as easily confused by such long names as we do, you might find it useful to know that this chip compares to Snapdragon's 6xx series in terms of performance, ranging somewhere between that of the Snapdragon 636 and Snapdragon 660 chips.
The chip features two Cortex A73 performance cores and six Cortex A53 efficiency cores for an octa-core total design and it's built on a 14nm manufacturing process. The phone comes in three memory configurations:
4GB RAM + 64GB storage (the one we have for review)
4GB RAM + 128GB storage
6GB RAM + 128GB storage
Storage expansion with a microSD card is supported.
Those are the technicalities, however, and what we take greater interest in is the actual performance.
And it's not among the fastest. There is a strange paradox about this phone: its animations mostly feel smooth, yet it never feels fast, quite the opposite. Apps take an extra moment to load up, the keyboard only comes after a slight delay and combined with the quite slow unlock speeds, you never feel like you are operating a fast phone.
Right below, you'd also find some benchmarks to give you a rough idea of how the A7 2018 compares against the competition.
Internet and Connectivity
Solid connectivity.
The Galaxy A7 2018 supports 4G LTE bands and it's officially sold and compatible with GSM carriers (T-Mobile and AT&T) in the United States. You won't find it at carrier stores at the moment, though, but you can buy the US version at retailers like B&H.
The phone that we have for review is a dual SIM device and it's a true dual SIM phone, meaning that the microSD card does not overlap with one of the SIM card slots, and you can have two SIMs and a memory card at the same time.
In terms of other connectivity options, you also have dual-band Wi-Fi, Bluetooth 5.0 and NFC support, plus you can also use Samsung Pay here.
Camera
A triple camera sounds great, but actual image quality ranges from mediocre to downright disgusting.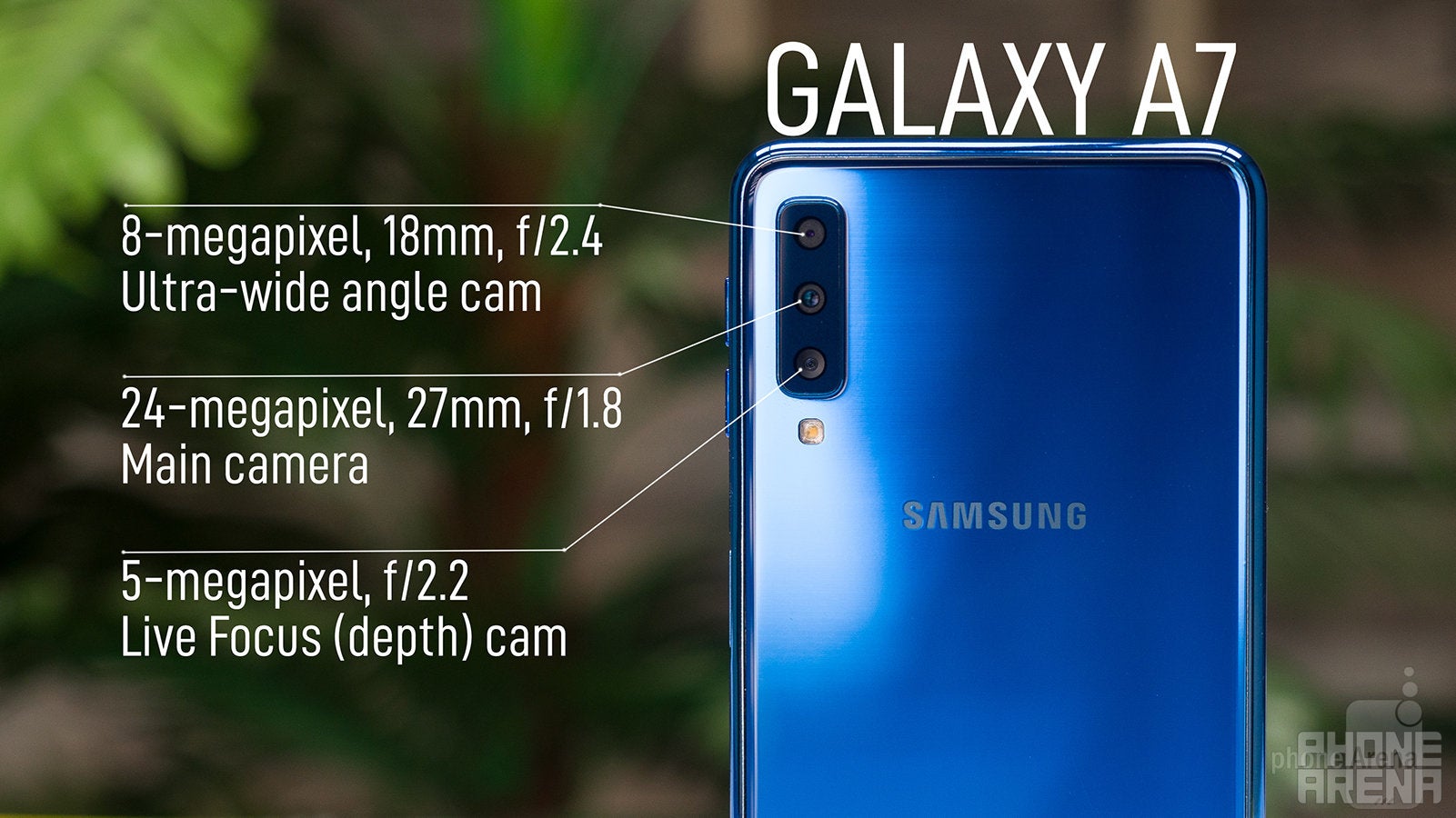 The star of the Galaxy A7 2018 show is the new triple camera system that includes an ultra-wide angle lens that Samsung has never used on its phones before, even on the flagship models.
Having an ultra-wide angle lens allows you to fit more in the frame and shoot in tight spaces, giving you extra versatility. You don't have a telephoto camera on board here, but you do get the Live Focus portrait effect thanks to a depth camera and you also have a selfie camera that's capable of pulling the same Live Focus trick.
Here is a quick summary of the cameras on the Galaxy A7 2018:
24-megapixel main camera, f/1.7 lens, 27mm focal length
8-megapixel ultra-wide angle rear camera, f/2.4 lens, 18mm focal length
5-megapixel Live Focus (depth) rear camera, f/2.2 lens
24-megapixel front camera with LED flash
Image Quality
< normal
Ultra-wide angle >
So… how do images actually turn out?
Uhm… not great. Let's be perfectly honest: images range from barely okay to downright disgusting, and yours truly does not recount testing a 2018 phone with a camera so bad.
When you have plentiful light and excellent shooting conditions, images turn out barely okay with decent color reproduction, fairly correct white balance, but sorely lacking detail and lost detail in the shadows that make it evident that you won't be putting these images on a poster.
But the real trouble starts at low light when you lose even more detail for pictures, the lack of dynamics is even worse with badly burned highlights and lack of detail in darker areas, and the resulting photo is definitely below the average.
The ultra-wide angle camera offers an interesting perspective, but it manages to smudge detail even worse so photos from it mostly look like a blurry mess that reminds us of phones in the early 2000s, but definitely not a modern smartphone.
Selfies turn out a bit better and with good light you can get some decent self-portraits, and you also have the built-in LED flash that allows you to snap selfies even at night and in pitch dark environments.
Video quality
On the video side, you only have 1080p30 recording and no 4K video mode.
Video footage here turns out mostly okayish with a decent stabilization on board, a slightly slow but reliable continuous auto focus. But once again, let's not forget that phones in this price range offer 4K video and compared to those devices, footage from the A7 lacks sorely in detail, has trouble dealing with highlights and is just not quite on par. You can shoot video with the wide-angle camera as well, but you cannot switch between the two while shooting.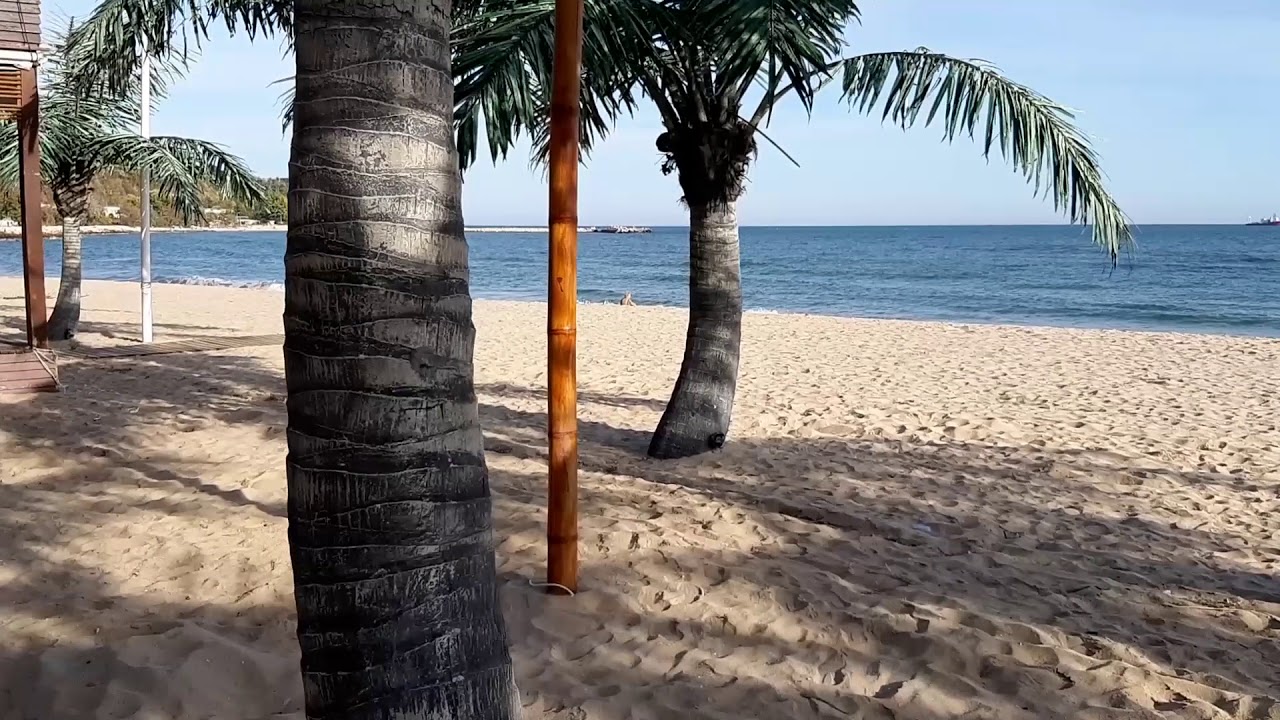 Sound Quality
You have a single bottom-firing loudspeaker on the A7 and it blasts out sound pretty loudly. It performs decently for an affordable phone with the main issues being the somewhat tinny sound and the lack of depth.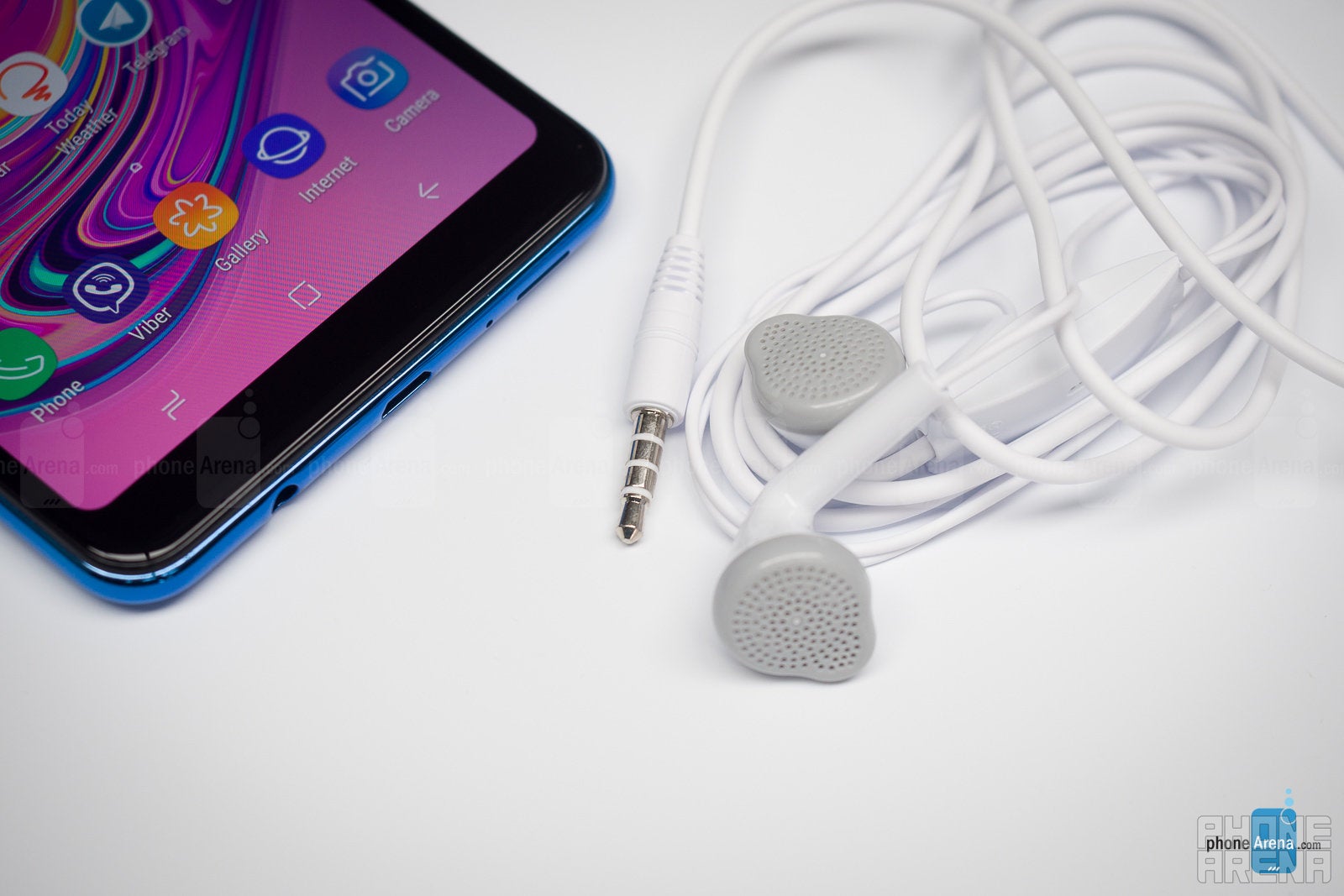 As we already mentioned, the good old headphone jack is alive and well here on the A7. Samsung even ships the phone with a pair of headphones in the box, but you'd likely want to use higher quality ones as these really are very basic and don't sound very good.
Call Quality
When it comes to call quality, we had no issues with the Galaxy A7 2018. Voices in call sound crisp and clear on both ends of the line and volume gets sufficiently loud. The phone also supports Voice over LTE (VoLTE), so if your network has this technology you will be able to enjoy even clearer sound quality in calls.
Battery life
Solid one-day battery performer
The Galaxy A7 2018 sports a 3,300mAh battery inside and it proved to last a decent amount of time, without breaking any records. Screen-on time averages at around 4 hours or less, but stand-by times are excellent, and of course, your mileage will vary depending on whether you use the Always-on screen option or not.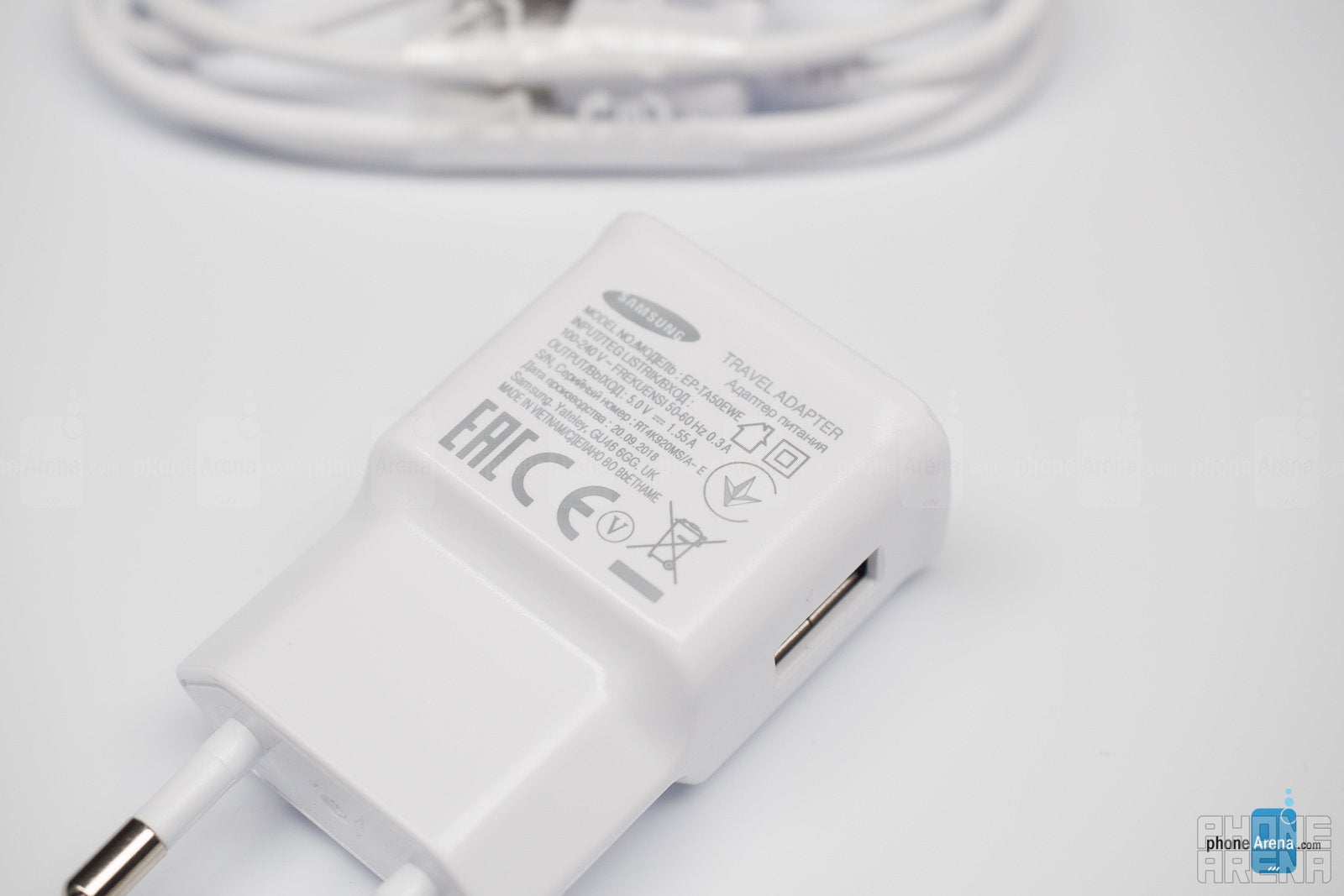 We've also run this phone through our standard battery life test where it scored 8 hours and a half, a result slightly higher than the average 2018 phone.
Turning over to the charging situation, it's really depressing to see a microUSB port on a 2018 phone and on one that's not among the very cheapest ones at that.
The charger that comes in the box outputs 7.75 watts of peak power, which is not as fast as many other phones, and it took us almost 2 hours and 20 minutes to fully charge up the phone with this charger. There is no wireless charging on board either.
Price and Alternatives
We've been mentioning cost all throughout this review, so let's name it now: the Galaxy A7 2018 price is set at $350 and you can find the phone unlocked at retailers like B&H in the United States. And that's quite the steep price for it actually.
There are plenty of alternatives in this price range:
-
Xiaomi Pocophone F1
costs slightly more at $370 and offers more in terms of… everything
-
Honor 10
costs less at $340 but offers more in terms of speed, looks and refinement
- OG
Google Pixel
128GB model now retails for $370 and it's a much faster phone with a vastly better camera, double the storage and a new version of Android on board
-
Nokia 7.1
costs the same, but again offers a more compact design, snappier and newer version of Android and more promising cameras
Conclusion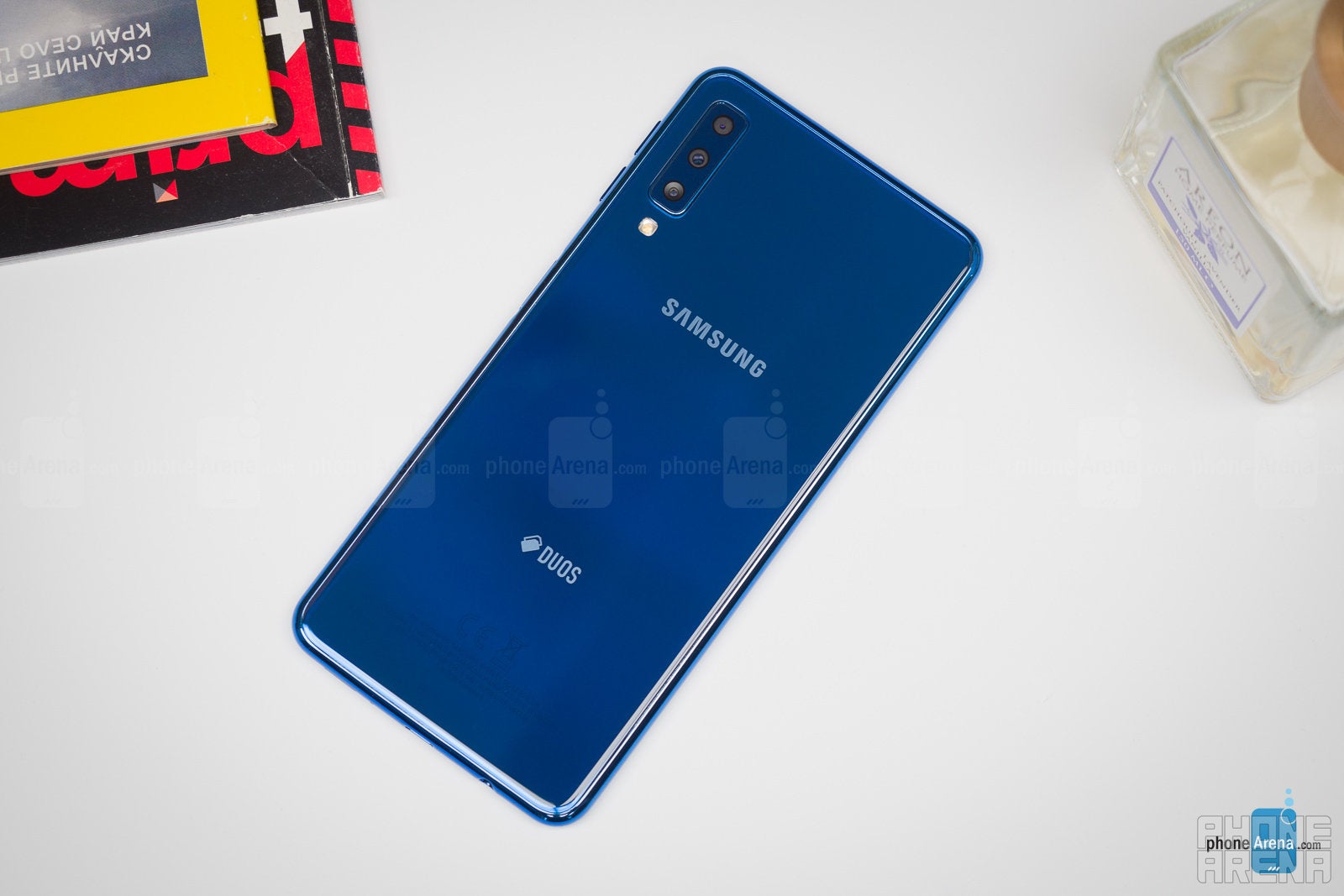 When you draw the proverbial line in the sand, you are really left wondering: What was Samsung even thinking with the
Galaxy A7 2018
?
Or rather, was it even considering the newly emerged powerful competition or is the Galaxy A7 just a moment of complete inertia?
Don't get us wrong: it's a phone that has that glass look and style that comes with it, and it handles basic tasks mostly okay, plus it has a beautiful Super AMOLED screen, but for demanding users its performance is lacking, its camera is downright disappointing, the fingerprint scanner is slow and in a sloppy place, you have the ancient microUSB, there's no gesture navigation and overall this phone just lacks excitement and vigor! And that's just unforgivable at the price that Samsung is asking for it.
Recommended Stories