Samsung Galaxy A7 (2016) review
42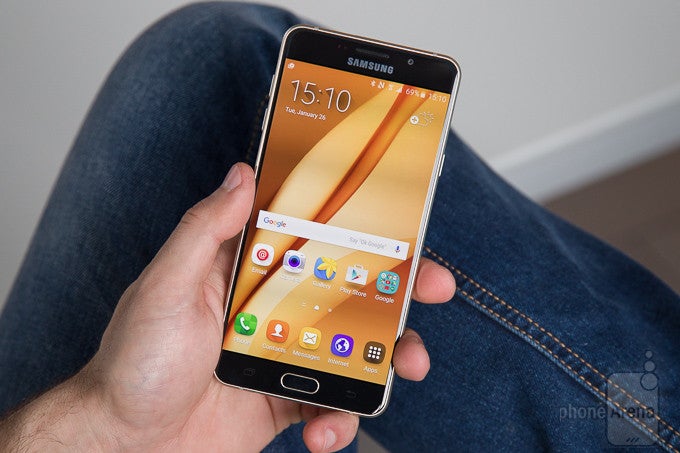 Update

: You can now read our Galaxy A7 (2017) review!

Introduction
The Samsung Galaxy A7 (2016 edition, aka A7 6) launches early in 2016 to set the tone for mid-range phones: those that are not as expensive as the finest Galaxy S series and iPhones, but also a level above the Moto Gs of this world.
The
Galaxy A7 (2016)
is a 5.5-inch smartphone – it's large, but probably not as big as it's screen diagonal would suggest.
The first thing to know about the Galaxy A7 (2016) is that it looks and feels stunningly good, stylish. While carrying the phone for a week or so while reviewing it, people noticed it and asked about it, often complimenting it.
You know there are supposed to be some compromises with mid-range phones, but the one area where Samsung did not compromise was looks.
The rest is TouchWiz running on top of Android 5.1 Lollipop on a Snapdragon 615 system chip with 3GB of RAM, a fingerprint scanner with support for Samsung Pay, a 13-megapixel camera with OIS and a fairly large, 3,300mAh battery. At the moment of this writing, the phone is on sale in only a few European markets. It is expected to become more widespread in February, while plans for US availability of the phone are unclear. One version with AT&T 4G LTE bands has passed FCC certification, though, so there is a chance that it might come to the States in the future. Now, let's see how it all plays out in real life.
In the box:
Samsung Galaxy A7 (2016)
2A - 5V wall charger
microUSB Cable
User manual
SIM ejector tool
Design
Super stylish, eye-catchy design, very solid feel in the hand. Built to near perfection.
The Galaxy A7 (2016) looks a lot like Samsung's current flagship, the
Galaxy S6
.
The frame is made out of metal, the physical buttons are also made of metal, while the front and back are Gorilla Glass 4 with a slight curve towards the edges. The A7 (2016) feels monolithic in the hand, reassuringly solid.
We've already touched on this in the intro, but let's make it abundantly clear: this phone looks every bit as stylish and well made as the top phones out there and it's impossible to tell just by the looks that we're dealing with a mid-range phone. In the hand, it has some nice heft to it, but it's not too heavy and does not tip over when you hold it. Despite rocking a glass on the back and front, it does not catch a lot of fingerprint marks and looks fairly clean, so you don't have to frantically wipe it every few hours.
In terms of color, it comes in a choice of gold, white, black and pink gold, and we have the gold version up for review.
It's also fairly compact for a 5.5" phone: its width is just 2.92" (74.1mm), while the popular iPhone 6s Plus that also has a 5.5" display has a width of 3.07" (77.9mm). The A7 (2016) is also not as tall at 5.96" vs 6.23" on the 6s Plus. Both phones are equally thin at 7.3mm, so big props to Samsung for making a 5.5" phone fit in such compact dimensions.
The buttons are in the typical for Samsung layout: a large, physical home key (with a fingerprint scanner in it) below the display, a back button on the right and a multitasking key on the left (both are capacitive keys with a backlight that appears for a short while when you touch them). The lock key is on the right, while the two separate volume buttons are on the left, and all are made of metal and feel very clicky and quality-made. On the bottom, there is a microUSB port for charging, a 3.5mm headset jack and a speaker grill as well as a microphone. Up top, there is only a secondary mic.
It's worth noting that the phone does not have an LED notification light, so there is no way to know if you have a missed call or notification without actually turning the screen on. We can't say we miss the notification light all that much: with the notification avalanche on modern phones, a notification light is also a big distraction, always urging you to pick up your phone. Sometimes it can be useful, though, so for many the lack of it would be a downside.
This is a dual SIM phone: it features a hybrid SIM card tray on the right - you can either use this phone with two SIM cards, or use just one SIM card and use the second slot for a microSD card to expand storage.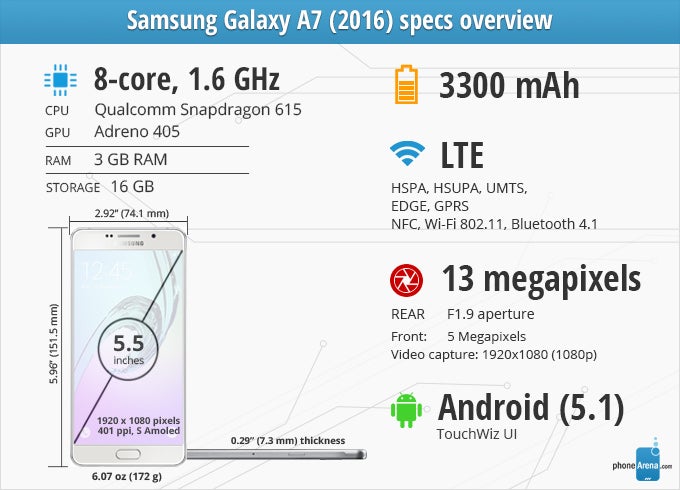 Display
One good looking display with pleasing colors.
The Galaxy A7 (2016) features a 5.5-inch Super AMOLED display with a resolution of 1080 x 1920 pixels.
This makes for a sharp-looking display: at this resolution, it is nearly impossible to notice pixelization or any jagged edges to images on the screen.
What about the colors, though? Samsung's AMOLED displays come with the nice function that allows users to choose how the screen looks. The default 'Adaptive' display mode features unrealistically oversaturated colors and bluish whites, which come together for a very punchy, but wildly unrealistic, cartoony look to everything.
We switch all our Samsung AMOLED displays to the 'Basic' mode (you do this by going into Settings - Display - Screen Mode), as this is the mode that conforms to the sRGB color standard, the de facto standard for all images and video. Sticking with Basic Mode and the sRGB standard means that you see images the way those who captured those images intended you to see them. Every other screen mode and standard results in images that get some sort of artificial boost that ruins the way those who took pictures and made movies intended for them to be seen.
Great news is that in Basic Mode, the screen on the Galaxy A7 (2016) looks very good. Whites are just a tad on the green side, but for all else, this is a well balanced display.
Outdoors, this is not the brightest of screens (peak brightness reaches just 369 nits), but it blocks out reflections fairly well, so we found it not all that uncomfortable to use. At night, it can go all the way down to the minimum level of 1 nit, which makes it easy on the eyes, something that is great for those who can't fall asleep without their phone. The light sensor also works very well, set the phone to automatic brightness and it will adjust the levels very adequately. Viewing angles are also solid, but there is a pronounced color shift towards blue when you view the display at an angle.
Display measurements and quality