Samsung Galaxy A6+ (2018) Review
18
What does it take to make a great affordable phone?
You have to get the price right first, of course, but then these days you are expected to also deliver a fine design, good performance, solid battery life and a camera that punches above its weight.
The new
Samsung Galaxy A6+ (2018)
aims to do just that. It's a phone that will not break the bank, yet it features a thin and elegant, yet sturdy metal body, it's got a dual camera with Live Focus portrait mode that you only typically get on higher- end devices and it runs on the Samsung Experience interface that offers plenty of features.
But how does that all come together once you actually start using the phone? Let's find out.
Phone
User manuals
Wall charger (7.75 watts)
MicroUSB to standard USB cable
White earbuds with in-line mic and controller
SIM Ejector tool
Design
A metal phone that feels sturdy, yet is thin and elegant.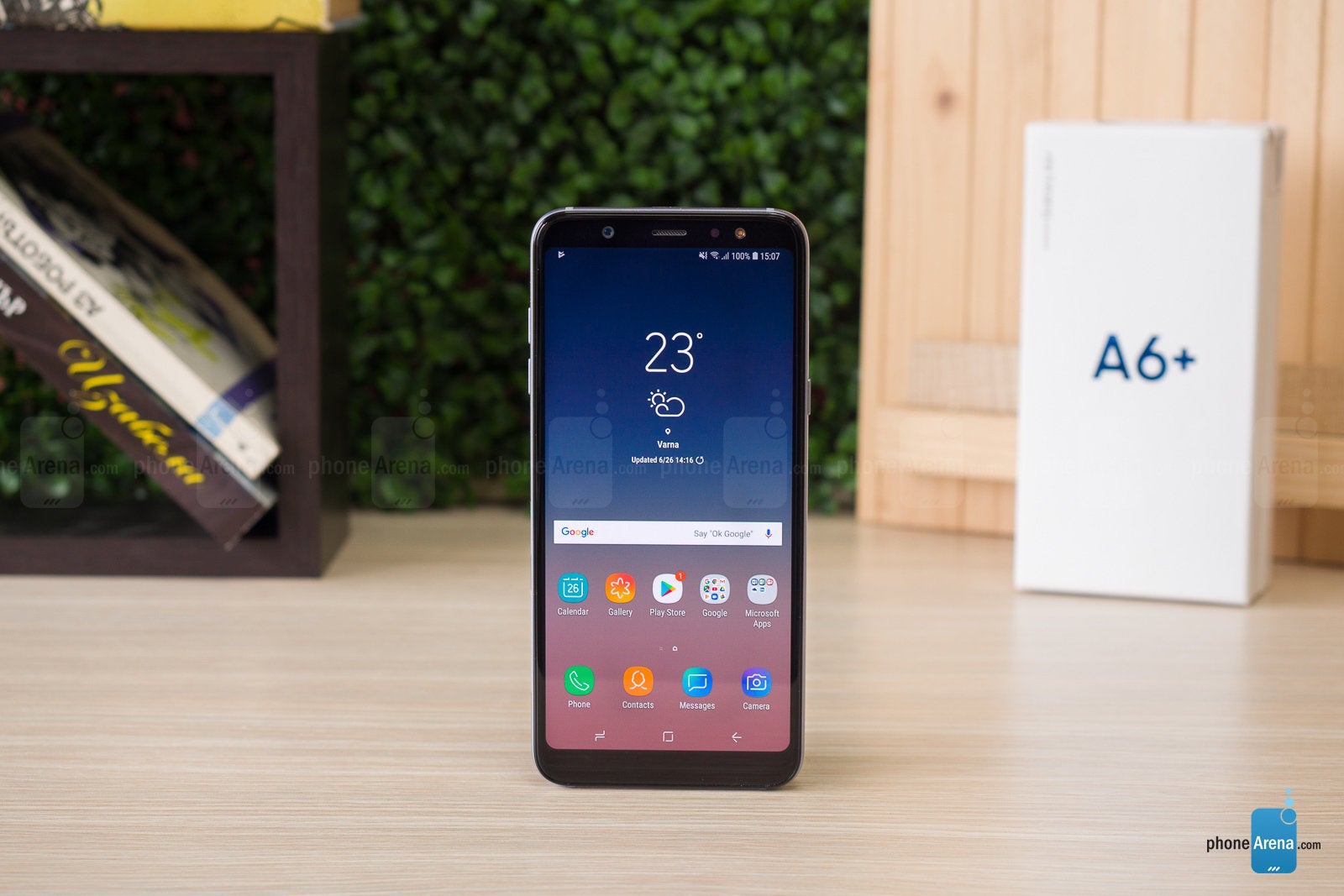 The Samsung Galaxy A6+ is made out of solid metal and it feels like one sturdy, well-constructed device. Yet at the same time it also has a thin profile and feels elegant, with slight curves for a better feeling in the hand.
While the current trend favors phones with a glass back, we were actually happy to use a phone made of metal for a change: it definitely does not feel as brittle as a glass phone, the back does not get all dirty with fingerprint smudges and you can even risk using it without a case without fearing that the slightest drop would shatter the back of the phone and incur costly repairs.
On the right side of the phone you have a power key and on the left side you get two separate volume buttons. On the bottom, you can find a microUSB port for charging, a sad leftover from the past, and a minor inconvenience that you bump into every time you try to plug that microUSB charging cable the wrong way. You also get a 3.5mm headphone jack on the bottom, and those who still use their trusty wired headphones will be happy to hear about this. On the back is a dual camera system that bulges out ever so slightly and a fingerprint scanner right below the cameras.
The fingerprint reader is positioned within easy reach and registering your finger requires you to enroll it from all sides carefully, so you get very accurate scans. What we did notice is that fingerprint recognition is accurate, but a bit on the slow side. There is a slight, but noticeable delay between the moment you place your finger and the moment the device unlocks. It's not a dealbreaker by any means, but still worth pointing out.
You also have face recognition built in. The process of registering your face is simple and easy, and face recognition works well during the day, but not so perfectly at night. There are two things about it: it is again on the slow side and it is not as secure as using your fingerprint, but if you want to use it as an alternative unlock system (for those times when, say, your fingers are wet), it is a good option.
Two features that you will not find on the A6+ are water-proofing and wireless charging. Not a surprise for an affordable phone, but still something to keep in mind.
Display
The 6" Super AMOLED screen looks gorgeous.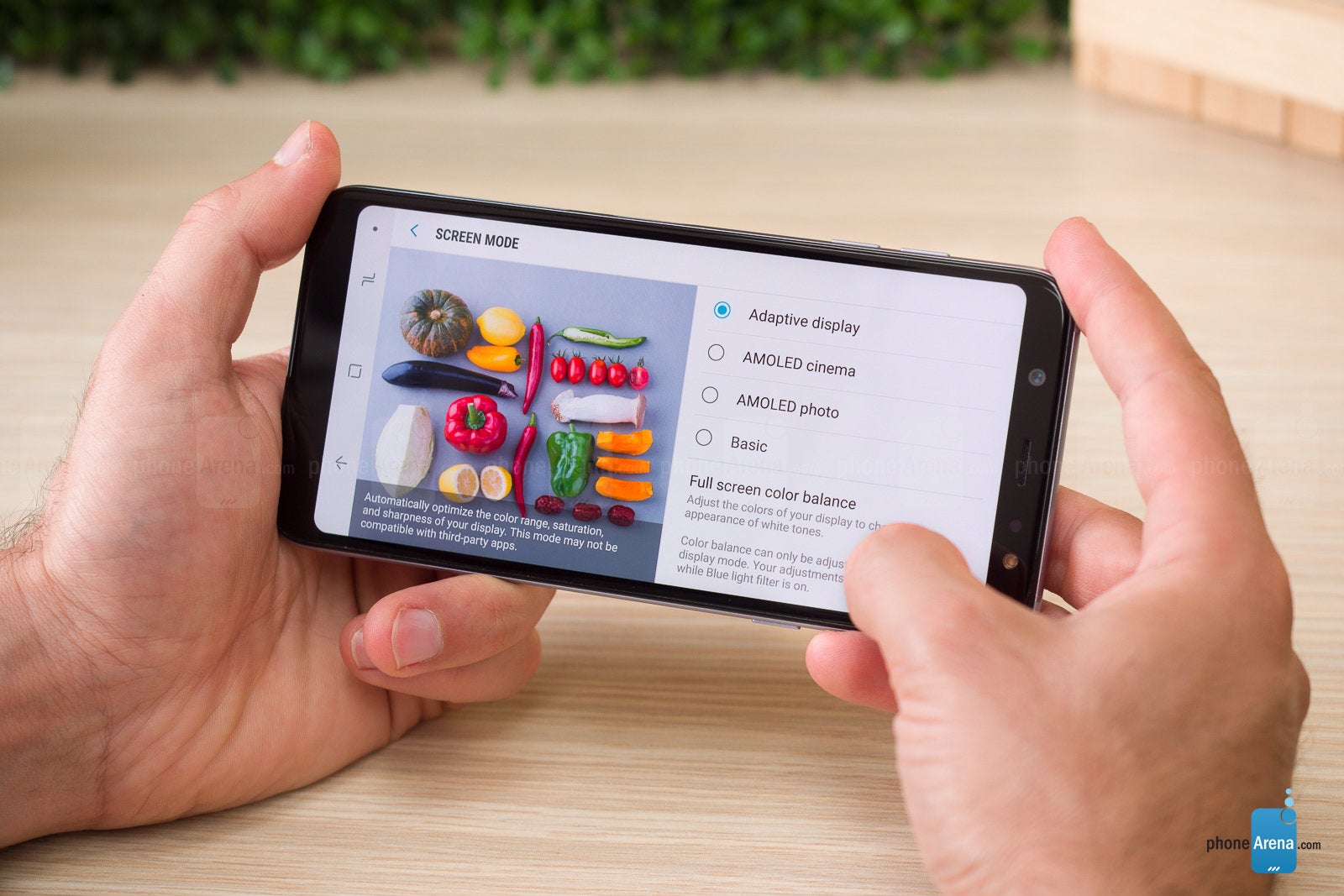 With its slim bezels and big, 6-inch Super AMOLED screen, the Galaxy A6+ has got a considerable advantage over other phones in its class: no other such affordable phone has the lush AMOLED colors that this Galaxy has.
The display also features a 1080 x 2220 pixel Full HD+ resolution, which is sharp enough so that you don't see any pixelization in regular use.
What is even more impressive is just how well balanced the colors on the screen appear. In our display tests, the Galaxy A6+ screen scored not too far away from the flagship Galaxy S9. You also have four different color modes that you can pick from: the default Adaptive mode bets on boosted, punchy colors, but you can get more toned down colors in the other three modes: AMOLED cinema, AMOLED photo, and basic.
This was also one of the brightest AMOLED screens that we have used, so we did not have much of a problem seeing what's on the screen even under direct sunlight.
This being Samsung with an AMOLED screen, you also get the useful Always-on Display feature that shows you the time, date, battery percentage and whether you have any missed notifications right on the lockscreen. This useful feature is nice to have, but do keep in mind that if you use it, it will drain the battery of the phone faster.
Display measurements and quality
Interface and Functionality
Samsung Experience is one good-looking, feature-rich UI.
The A6+ sports the Samsung Experience interface (version 9.0) on top of Android 8.0 Oreo, which is the latest major release of Android.
One word about updates: affordable Android phones are often terrible at getting software updates on time, or ever, so do keep in mind that if you get this phone.
With this cleared out, there are plenty of good things going on with the Samsung Experience UI. First of all, visually it looks spot on. With modern iconography and elements well chosen to work together, it looks beautiful. Samsung makes a few of the core apps on this phone and they all look great: the weather app is useful and looks good, the settings menu is well laid out, the camera is easy to use, and the built-in gallery and calendar apps are nice.
We are happy that Samsung includes its Secure Folder environment on even such an affordable phone. Secure Folder creates a secure space where you can place sensitive information and rest assured that not everyone who you hand your phone to will be able to accidentally take a look at your secrets.
At the same time, we expect more from Samsung Experience: other companies like Xiaomi now include super cool gesture navigation in even their cheapest phones, while no such option is present here.
Processor, Performance and Memory
It's just not a very fast phone.
There is one big compromise that Samsung makes with the Galaxy A6+: its performance.
The A6+ just does not feel like a very fast phone and the reason for this lies in the processor. While most phones in its price class feature Snapdragon 6xx series or even more powerful processors, the A6+ shockingly only has the entry-level Snapdragon 450 paired with 3GB of RAM.
Don't get us wrong: the Snapdragon 450 manages all tasks and even games, but it runs with a noticeable stutter and makes you wait an extra second for apps and games to load, and for things to move.
A quick look at the benchmark tests that we have run confirm that the Snapdragon 450 chip is indeed not as fast as the chips used in other competing phones at the same price.
In terms of storage, you get 32GB on board and the option to add additional storage via microSD cards.
Internet and Connectivity
International 4G LTE bands, but no US carrier support on this model.
The Galaxy A6+ comes with support for 4G LTE connectivity, just as you'd expect on a modern smartphone, but the international model that we have up for review does not support LTE bands for the United States and chances are that it will not work properly with US carriers.
Samsung is, however, rumored to bring the smaller sibling, the Galaxy A6, to Sprint and AT&T in the United States, and that phone will have all the required bands.
Back to the A6+, you get dual-channel Wi-Fi, NFC for Samsung Pay and Google Pay, Bluetooth 4.2 and GPS, Glonass and Beidou for navigation.
Camera
Live Focus portraits on an affordable phone!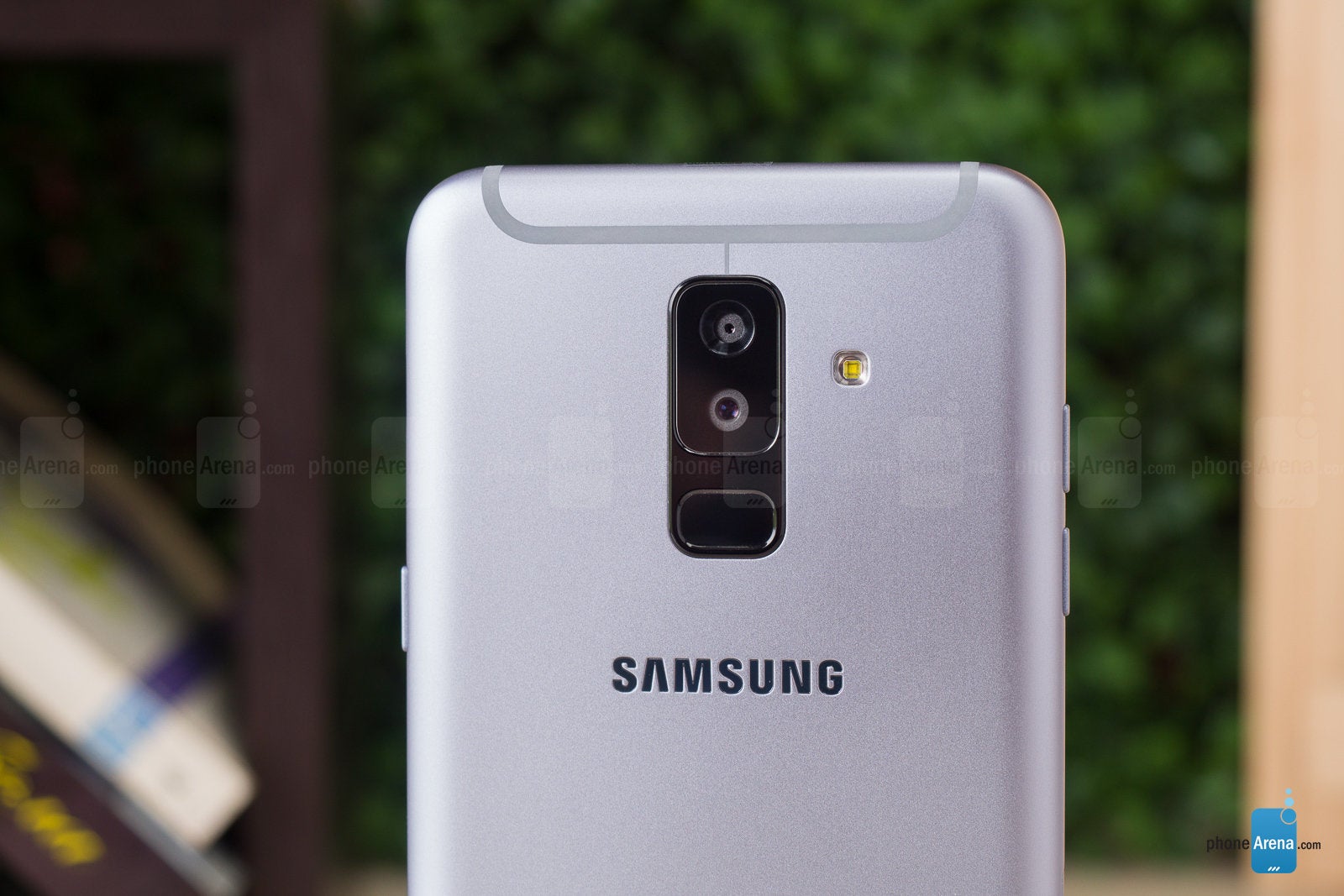 The Galaxy A6+ comes with two cameras on its back and that might be one of its most impressive features. The thing is that those two cameras work together to create Portrait shots, or as Samsung calls it, Live Focus. This will blur the background on photos and have your subject stand out, just like on a professional camera.
So what are the specs? You get a 16-megapixel f/1.7 main shooter and a 5-megapixel f/1.9 secondary camera, while up front there is a single 24-megapixel camera and a dedicated LED flash for better illuminated selfies.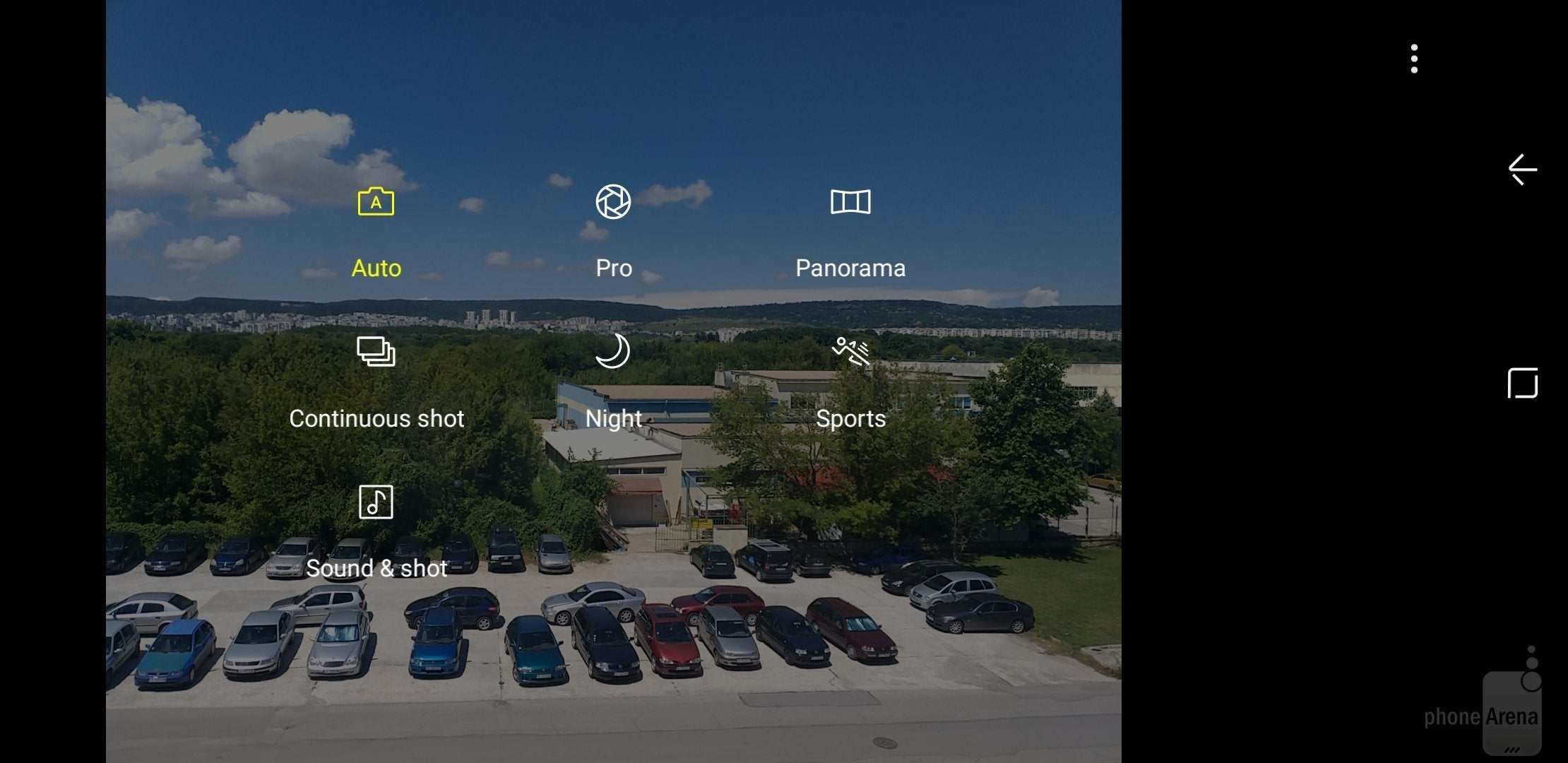 Camera interface
A quick double-press on the power key starts the camera app which is well laid out and supports Samsung's fun stickers that can help turn you into an animal, as well as the Bixby vision that recognizes some objects from a photo and tells you more about them.
Image Quality
How do images turn out, though?
First, the very experience of taking photos is good. What do we mean by that? Simple: the camera app has a convenient shortcut, it starts quickly, auto-focusing happens fast and most of the time you'd be able to quickly snap a picture in good, sharp focus.
The actual quality is very good with very pleasing color reproduction on photos shot during the day. Photos are just a tad bit on the soft side, lacing slightly in definition and there is definitely a bit of excess noise especially noticeable in the skies, even on a bright sunny day, but those are hardly big issues.
In low light, more noise creeps in and it's harder to get a picture in sharp focus, but the performance is still decent.
What we are most impressed with, though, is definitely selfies. With a clean, sharp look and support for Live Focus from the front camera, selfies taken on the Galaxy A6+ look stunning.
Portrait mode
The cool thing about the Galaxy A6+ is that it's dual camera system makes it possible to shoot Live Focus mode photos, an effect that many other phones simply call "Portrait Mode". Live Focus is intended to blur the background of a photo and bring your subject up front more prominently, and it works with both people and other objects. It requires that your subject stands between 3 and 5 feet from the camera, and if you get that distance right the results are very good and the subject is nicely separated from the background.
Video quality
In terms of video quality, you only get 1080p Full HD video recordings and no 4K video quality, which is a bit of a let-down considering other phones of a similar caliber do offer this option.
1080p videos turn out with decent quality, but nothing more: you don't get a lot of detail in the videos and while you do get some stabilization it is not perfectly smooth. Continuous autofocusing is available, but it is not particularly fast.
Sound quality
You have a single loudspeaker on the Galaxy A6+, but unlike most phones, this speaker is located on the right side of the phone, right above the power key.
The sound quality you get through this loudspeaker is good with a decent amount of clarity and loudness punch, but of course it's not quite on par with modern flagship phones that have dual speakers.
And once again, you do get a headphone jack on this phone so you don't need clunky adapters to connect to wired headphones.
Call Quality
When it comes to call quality, we have had no issues with the Galaxy A6+. Voices in the earpiece are sufficiently loud and clear, easy to recognize with their natural tonality, and the mic output is also crisp and clear, so callers on the other end will not have any problems hearing you.
Battery life
Will last you through even those longer days and even more.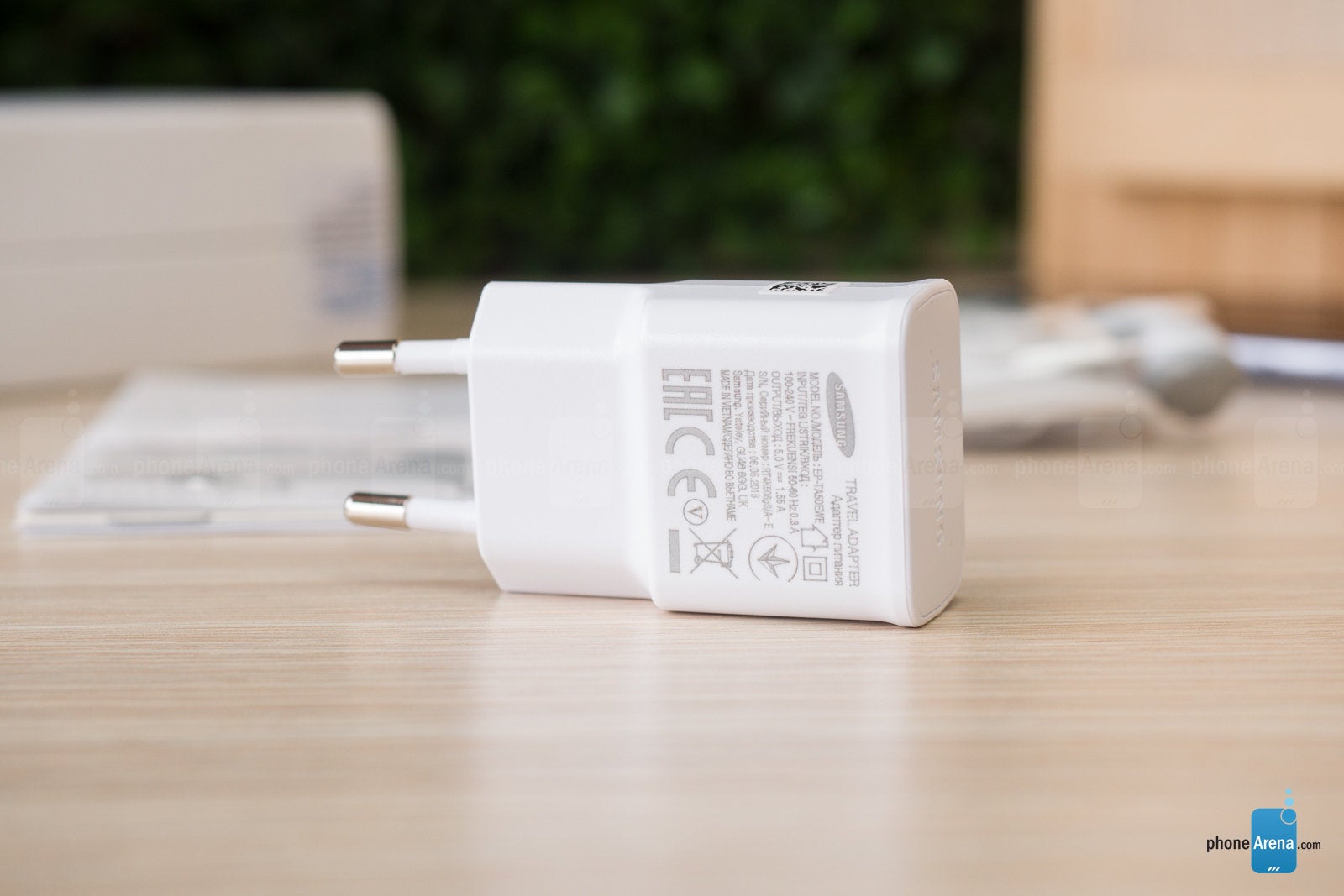 The Samsung Galaxy A6+ ships with a 3,500mAh battery, which ranks slightly above the average for its size.
We ran our battery life test and the Galaxy A6+ scored an admirable 9 hours and 47 minutes, while the average numbers for most flagship phones these days rank at about 8 hours, so you can easily see that this phone will last considerably more.
The phone ships with a regular charger with a 7.75-watt power output. This is not fast charging by any modern means, so fully charging the battery on this phone takes 2 hours and 11 minutes, a bit more than on flagships equipped with a fast charger, but not too long.
It's worth mentioning that the handset is made of metal and does not support wireless charging of any sorts.
Price and Alternatives
The Galaxy A6+ might be an affordable phone, but it is not downright cheap: the starting price is set at 370 euro in Europe (but there are already a few retailers that are offering promotional deals and we expect this initial price will drop within a couple of months). At its current price, the A6+ enters a crowded space with some truly powerful phones and there are even some cheaper phones that offer more on the spec sheet.
Here are some popular alternatives that you might want to look into if you consider getting the A6+:
-
Honor 10
(read our
full review here
) with a price of 400 euro, it features a more glitzy look, faster processor and arguably better cameras
-
Xiaomi Redmi Note 5 Pro
with a price of around 250 euro is cheaper, but offers a faster processor, gesture navigation and a similar portrait mode with a dual camera
-
Sony Xperia XA2 Ultra
(read our
full review here
) is another option with a fast performance and likable design
-
Nokia 7 Plus
(read our
full review here
) is offered for the same price as the Galaxy, but has a faster performance and a clean interface with the promise for faster future updates
-
Huawei P20 Lite
is another phone with shiny glass design that many might like
-
Apple iPhone SE
(read our
full review here
) is the iPhone alternative that offers you access to the Apple ecosystem and features like 4K video that are missing on the Galaxy
Conclusion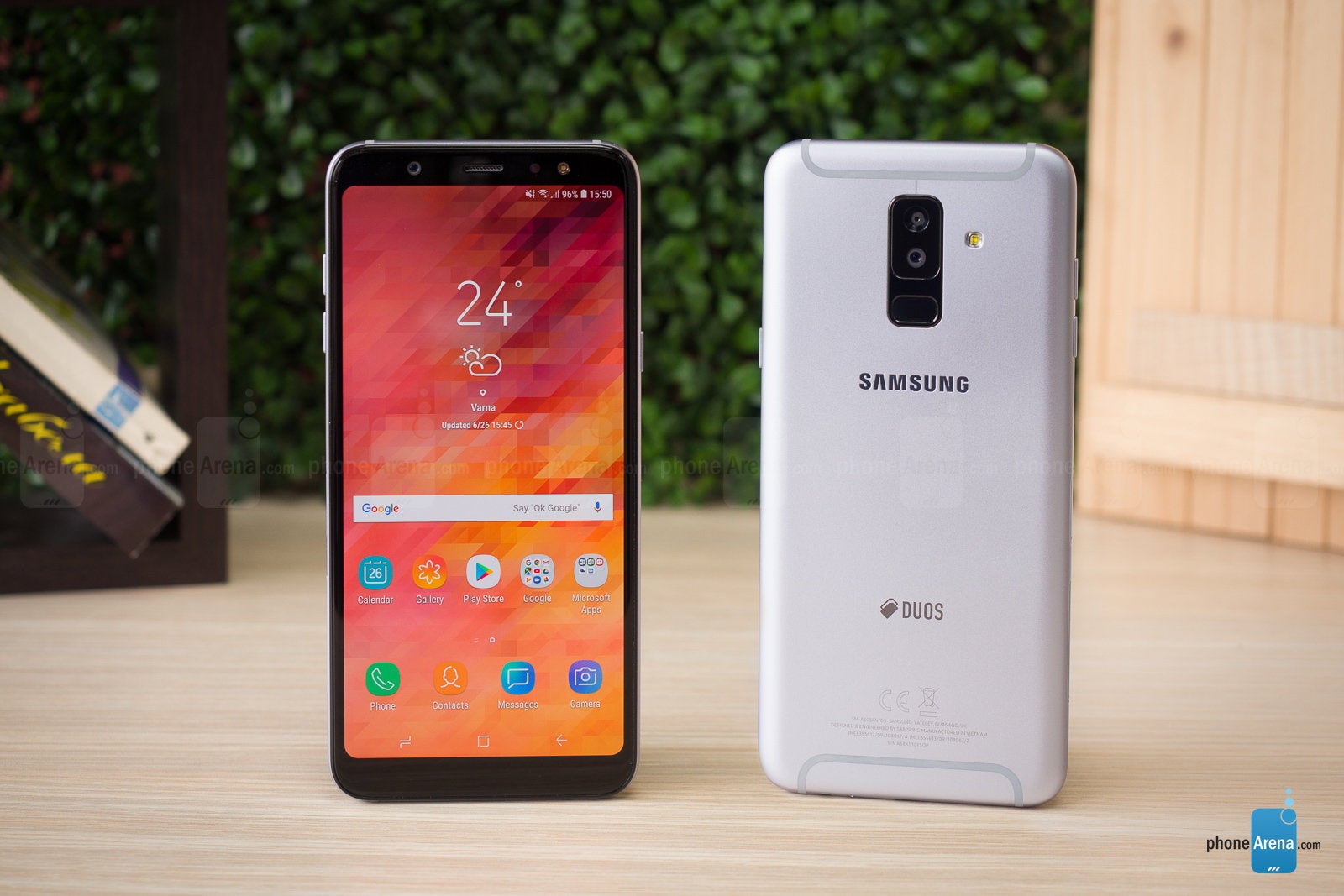 Summing it all up, the
Galaxy A6+
is an elegant and sturdy metal phone with an impressive AMOLED screen with lush colors, very good camera that punches above its weight with impressive portrait shots and some of the best selfies on an affordable phone. It's also got a solid battery life that helps you get through long, busy days.
What it is not is a fast phone: the Snapdragon 450 chip under the hood drags performance down and you often need to wait an extra second or two for apps and games to load. This is not a complete deal-breaker: nothing freezes and the phone still moves, it's just not very fast. Other minor annoyances are the old microUSB port used, the slow charging speeds, the lack of 4K video and so on.
At the end of the day, we feel that with all those inconveniences, Samsung is asking a bit too high a price for the Galaxy A6+. If the company drops the cost slightly, it would be an easier recommendation. Still, if you are looking for a reliable affordable phone with a very good camera, the A6+ will not disappoint.