Honor 10 Review
13
Honor's back with another flagship that delivers plenty of bang without breaking the bank – the
Honor 10
. And it relies not only on powerful internals to turn heads. The Honor 10 looks outstanding with its Aurora Glass, color-shifting back and 18:9 display with a notch at the top. On top of that, we get a dual-camera setup on the back and a 24MP selfie shooter at the front, all sprinkled with some AI magic to take better photos. Priced at €449.90 for the 128 GB version and €399.90 for the 64 GB option, can the Honor 10 be an international hit and a device possibly worth converting some currency for?
Honor 10
USB-C cable and wall charger
Safety and warranty manuals
SIM tool
Design
Improving on the flashy, yet
Galaxy S7
-esque design of the
Honor 9
, the Honor 10 retains its dazzling appearance while also making some meaningful changes and gaining some originality along the way. Looking at the face, the first thing you'll notice is the notch. It's a little guy, relatively speaking. Within lies the front-facing camera, light and proximity sensors, and a diminutive earpiece.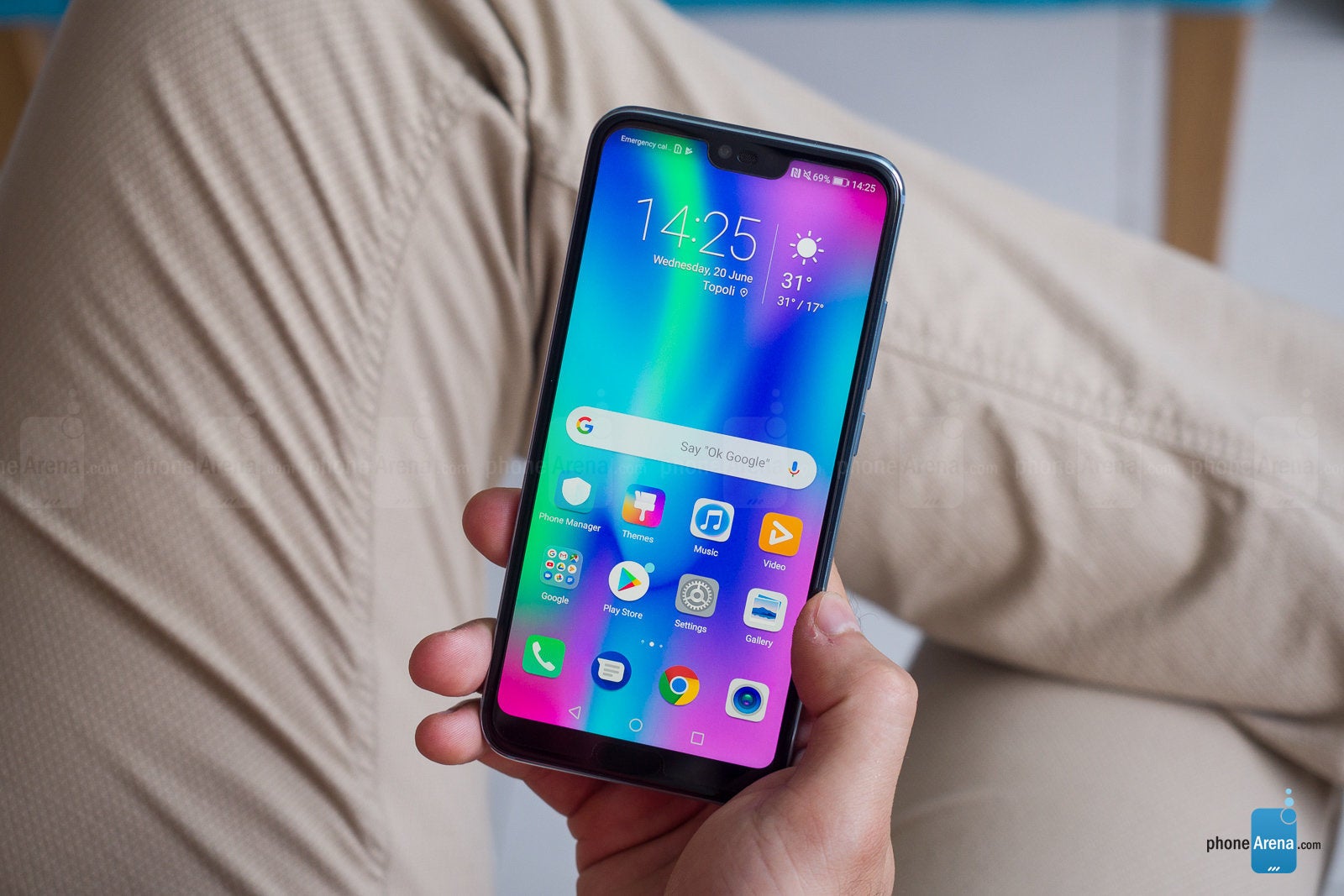 While somewhat slippery, the Honor 10 does fit pretty well in the hand. It's a light but well-put-together device with satisfying tactility in the volume and power keys. On the chin at the bottom we find the phone's unusual fingerprint sensor – one that's under the glass instead of being a separate, exposed module. It is fast and reliable, but doesn't work well with wet fingers despite Honor's claims. The Honor 10 itself isn't water-resistant.
The Honor 10 comes in four colors named Midnight Black, Glacier Grey (the one we have for review), Phantom Blue, and Phantom Green. Without a doubt, it is the latter variant that pops out the most with its blue metal frame and iridescent blue, glass-covered back. Dubbed "color radiance," this eye-catching design is made with 15 layers of Aurora Glass – named so due to its color-shifting qualities. This doesn't only shift the colors, but also the bends of light which surge through the glass depending on the angle at which you're holding the device. Having seen this one in person, we can confirm that these refractions paired with the blue-to-purple hue shift look gorgeous.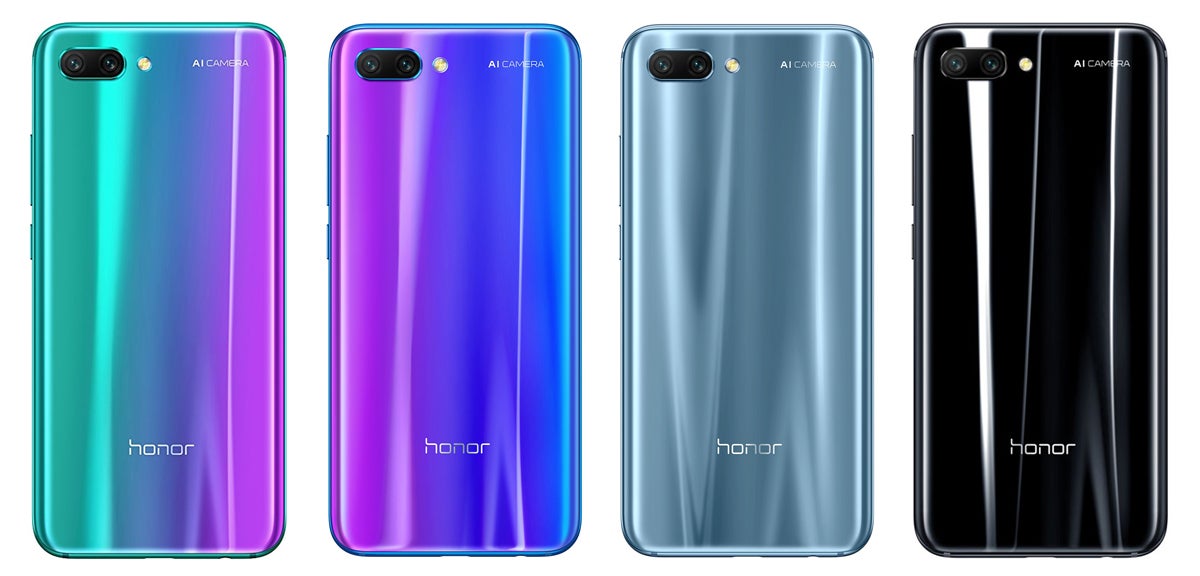 Sadly, Honor makes no mention of Gorilla Glass – or any other kind of special, chemically strengthened glass – being present on the Honor 10. That is why the phone is looking much more likely to break if dropped unprotected, even from small heights.
Display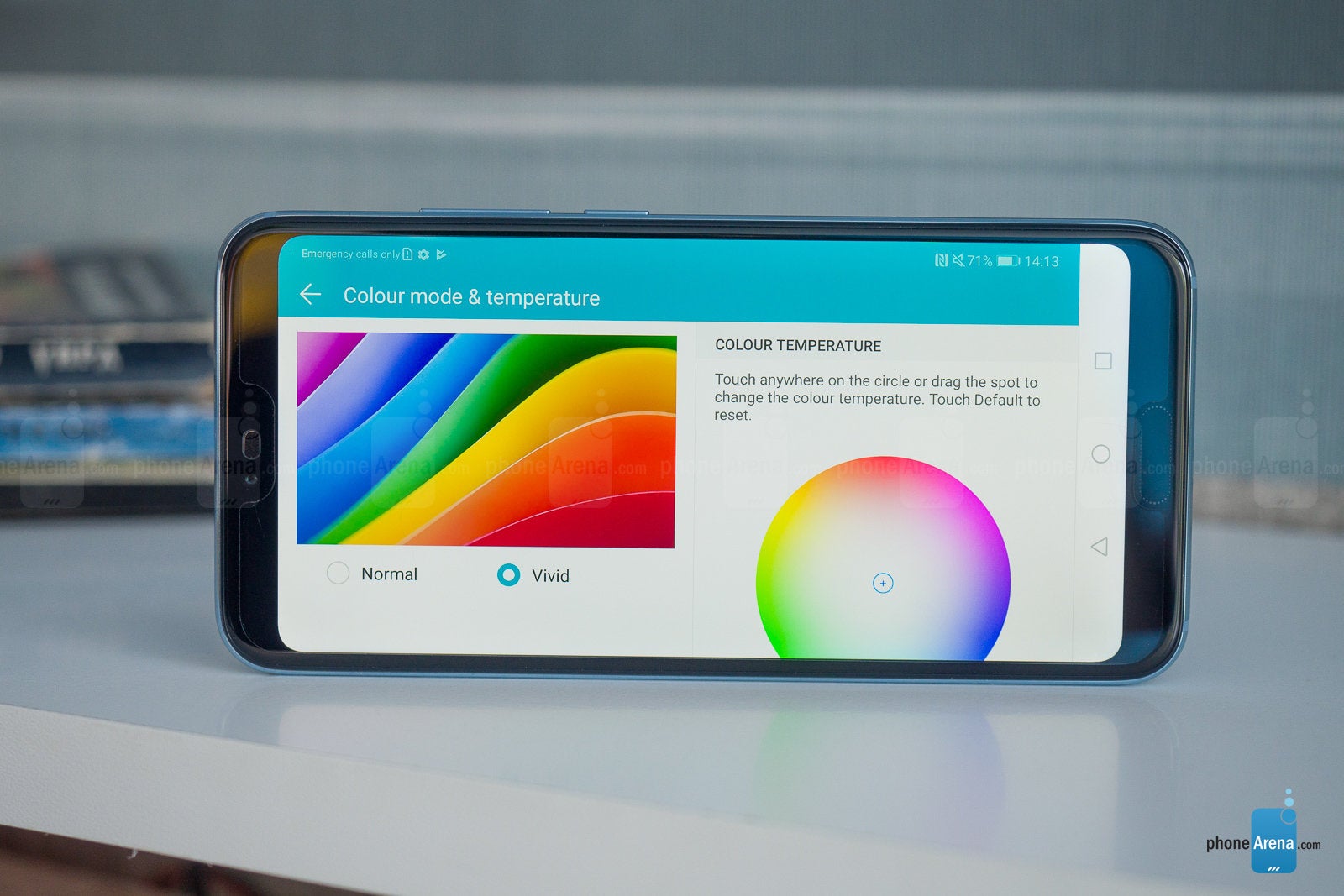 The Honor 10's display is vibrant too. Тhe 5.8-inch FHD+ (1080 x 2280) notched screen is easy to see indoors and out, but it does have a noticeable coldness to the color temperature as Honor devices have shown in the past. Still, controls exist to tweak the viewing experience a bit, and with the solid clarity we saw in this 432 ppi display, we can't complain too much. Out of the box, the Honor 10 comes with a pre-applied screen protector.
Display measurements and quality
Interface and Functionality

Honor's EMUI interface is now in version 8.1, matching the Android version on which it's built. Compared to EMUI 5.1, which was built on Android 7.0, the UX is largely unchanged. In fact, you're going to have to look pretty hard to spot any real differences. Generally, we don't mind this, as we find EMUI to be a pretty uniform experience throughout. The ultra-savvy, built-in search function, which is able to search your phone's contents and settings competently and thoroughly, is something which we always appreciate – especially considering that even the top smartphone manufacturers struggle with this for some reason.

Aesthetically, a refresh couldn't hurt, though; the iconography does come off a bit toy-like. Still, the interface offers plenty of customization from the obligatory theme store to badge icons and battery percentage indicators. The Honor interface remains one of the most deeply customizable, and the inclusion of a competent search makes tweaking these plentiful options much more accessible.

Processor, Memory, and Performance
"Beauty in AI" – that's the tagline that comes attached to the Honor 10. While the former half of it is immediately apparent, the latter comes in the form of a dedicated NPU (neural processing unit) meant to assist with speeding up neural network processes, such as facial/scene recognition within the camera app.
That aside, the Honor 10 is equipped with the capable Kirin 970 and 4 gigs of RAM (with either 64 or 128 GB of storage and no room for expansion). With hardware like this, the phone is more than up to the task in most any situation.
The addition of the NPU won't necessarily be noticed when launching or switching apps, nor does it need to be, as performance here already clears the bar easily. Skipping around through the phone from task to task is a breeze though; app switching, typing, launching, and most any process executes swiftly throughout.
Connectivity
In terms of connectivity options, you'll find most of the requisite features on the Honor 10, including dual-band Wi-Fi, Bluetooth 4.2, and NFC. Wireless charging, unfortunately, hasn't made its way onto this Honor series. The Honor 10 has a dual-SIM slot and LTE support for carriers across Europe. However, it is not fully compatible with US carriers, which is why importing one to the US isn't a great idea.
Camera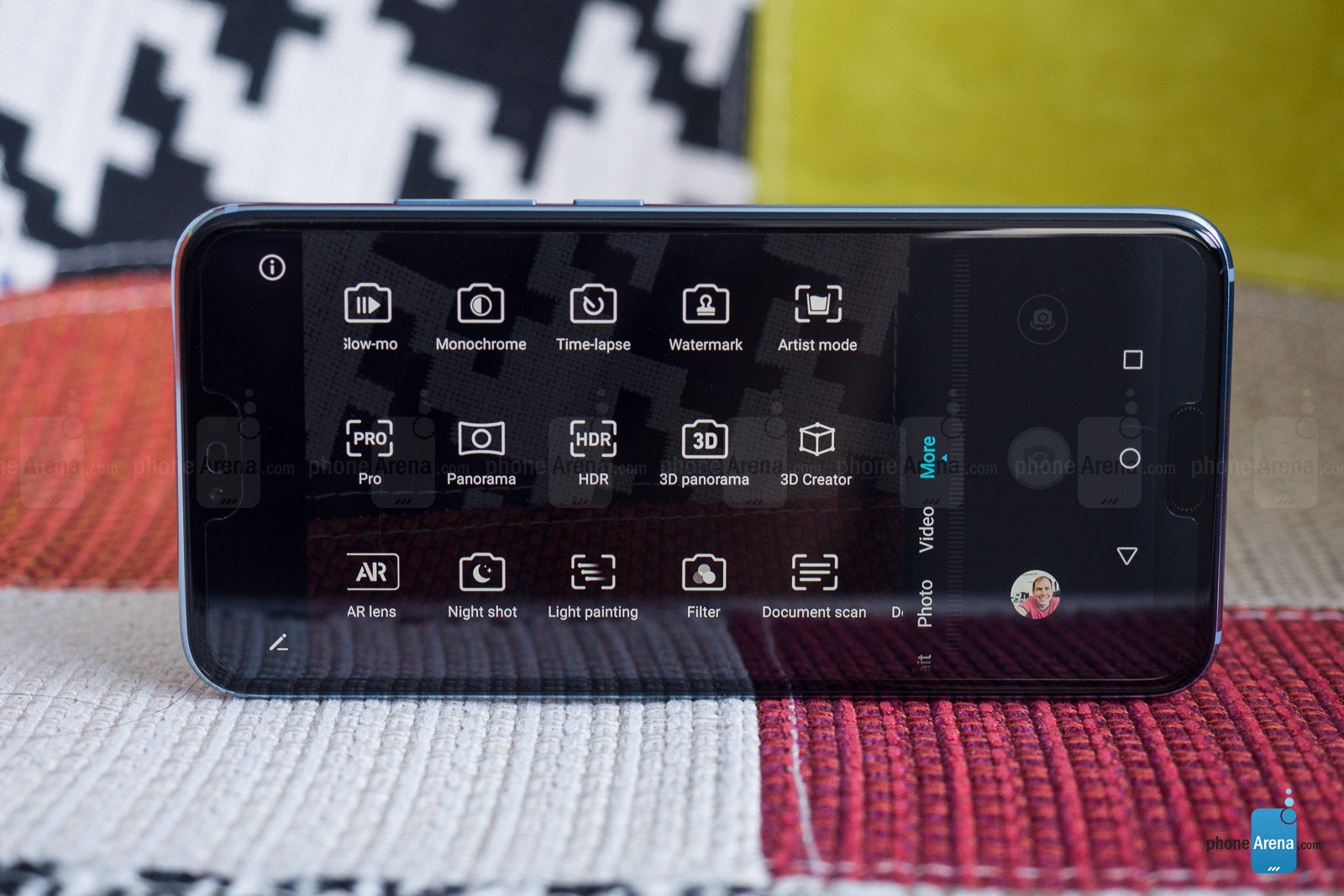 The Honor 10 is packed to the brim with megapixels. It sports a dual-camera, 16 MP regular + 24 MP monochrome setup in back, and the front-facing camera throws more megapixels at you with a 24 MP color sensor. Honor also boasts the inclusion of AI in the camera interface, matching big-time hardware with serious software. So, how well do all these components stack up?
Let's start with the AI. Toggling AI within the camera interface enables the Honor 10 to recognize certain subjects or scenery and tailor post-processing algorithms towards enhancing these shots. Often, the difference mostly appeared to be an added warmth and saturation to the images, which helped compensate for the camera's shortcomings in low-light performance. AI does tend to add a bit of processing time to snapping photos, though. Unfortunately, this made the camera more susceptible to letting in movement, sometimes creating blurrier shots.
AI aside, color accuracy is pretty good. Detail capture is similarly competent, though noise, as expected, is a lot more noticeable in low-light shots.
Selfies taken on the 24-megapixel front-facer display sharp detail capture with color reproduction that came off a bit cold and less vibrant than those snapped with the rear sensor. Still, selfies looked good and bokeh modes worked well, running into only minor issues with background separation. This was surprising considering the front-facing camera's abject failure in snapping pics with the built-in portrait lighting modes. These ended up being next to useless, capturing subjects that were very poorly "lit" with jarringly bad background separation.


Video

Video capture tops out at 4K resolution, and much like the photos, videos were decently detailed and fairly adept with color reproduction. Audio quality did sound slightly compressed though, and the lack of optical image stabilization is apparent, but videos didn't come out overly jumpy without it. A much-welcome recent update has added electronic image stabilization to 1080p videos. Dynamic focus is a feature leveraged well during filming which helps steady the frame, specifically when tracking a subject.









Call Quality
Making calls on the Honor 10 is a positive experience. The earpiece displays adequate volume and clarity, as does the speakerphone. Callers on the other end found calls to come through perfectly clear for them, as well. It's always good when a phone gets the basics right – no matter what the price.
Battery Life
Packing a 3400 mAh battery, the Honor 10 lasted almost nine full hours in our custom battery test, which falls right in line with our expectations; day-to-day use can easily last through a day's time. The device also comes with Honor Super Charge which enables 5V/4.5A charging. Honor states that this can get the Honor 10 charged to 50% in about 25 minutes, but our timed charge took about 47 minutes to reach 50% and nearly two full hours from 0 – 100.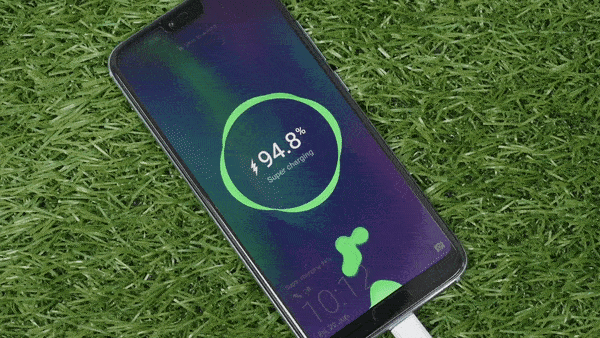 Conclusion
By most accounts, it appears Honor's turned in another solid, albeit potentially fragile device. It's certainly a very good-looking one, and with its swift performance and long-lasting battery, this will be a prompt helper throughout the day.
But despite the inclusion of AI, the
Honor 10
's camera can't compete with the established heavyweights. On the other hand, we don't expect it to match their performance given the phone's price point. For its class, the Honor 10 snaps good photos, even though its AI capabilities are not a guarantee for a flawless shot.
All in all, the Honor 10 is a device worth spending €400 on. We just wish we could see it come stateside to do proper battle with other mid-rangers.