Samsung Exhilarate Review
10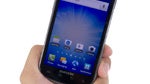 Introduction:
For the better part of the last few months, AT&T's lineup has been flooded with an array of top-shelf smartphones such as the
Nokia Lumia 900
,
HTC One X
,
Samsung Galaxy S III
, and
Sony Xperia ion
. Pouring out high-end devices consistently is nice and all, but for some consumers, they prefer the comforts of something less comprehensive – and at the same time, easier on the pockets when it comes to price. Time after time, Samsung has been there to heed the call with a solution, and sure enough, it seems that they're at it once again here with the $49.99 on-contract eco-friendly
Samsung Exhilarate
.
microUSB cable
Energy efficient wall charger
Quick Start Guide
Safety Guide
Design:
We've seen this device before people, seeing that it shares many of the same design characteristics found with T-Mobile's Samsung Galaxy Blaze 4G. For a device that's constructed out of 80% recycled plastic, we're astounded that the Exhilarate doesn't exude a cheap build with its construction. Not only is it compact and lightweight (4.6 oz), but its rubbery patterned rear casing enables us to properly grip it in our hand. Although it lacks an original design, it's still balanced enough to come off as a decent looking device – even more when it's the most solid eco-friendly device we've come across!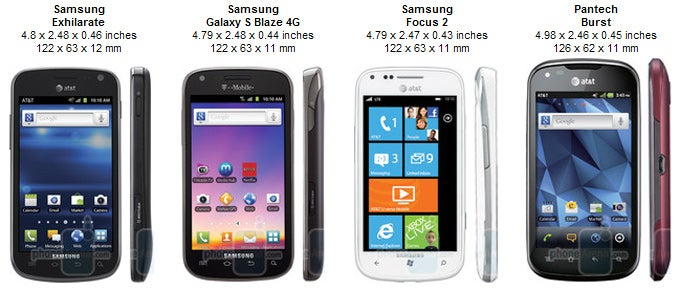 You can compare the Samsung Exhilarate with many other phones using our Size Visualization Tool.
With its capacitive
Android buttons
, they're scrunched up against one another, which results in some annoying accidental presses. Meanwhile, above the display, we find its front-facing 1.3-megapixel camera, earpiece, and light & proximity sensors.
Feeling out its physical power button and volume control key, they're raised enough for us to make out with our finger – while their responses are adequate. As for the rest clinging
onto its sides
, we're presented with a 3.5mm headset jack, noise-cancellation microphone, microSD card slot, microUSB port, and standard mic.
Around the rear
, the Exhilarate packs along a 5-megapixel auto-focus camera with LED flash – while two notches nearby hiding away its internal speaker. Removing the rear cover, we gain access to its 1,750 mAh battery and SIM slot.
Display:
Just like the first Galaxy S device for AT&T, the Samsung Captivate, the Exhilarate shares the same
4" WVGA (480 x 800) Super AMOLED display
. By today's standards, there isn't as much fanfare surrounding it, but nevertheless, it still proves to be a standout attraction on the Exhilarate. Coughing up some sharp details for its screen size and resolution, we're able to distinguish even the finest of text with no problems at all. And considering that it's a Super AMOLED panel, our eyes are enticed by its vibrant colors tones, wide viewing angles, and high contrast. However, it still requires some shielding when using it outdoors under the presence of the sun.
Samsung Exhilarate 360-Degrees View: