Samsung ATIV S vs HTC Windows Phone 8X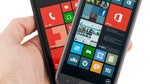 Introduction
Microsoft has finally released the first batch of Windows Phone 8 handsets, and since we happen to be in possession of two of those, it seemed only natural to us to make a quick comparison between them. In the blue corner today we have the
Samsung ATIV S
, while in the red corner we have the
HTC Windows Phone 8X
– a smartphone that the guys from Redmond seem to be pushing really hard these days.
With both phones being almost identical to one another in terms of software, their biggest differentiating factor will now be their appearance, (screen) size, and whatever little exclusive content/apps they have managed to pack.
Design
It's definitely hard to say which smartphone is better looking, since both of them are quite different – the ATIV S having more rounded corners and a generally smoother casing, while the Windows Phone 8X's edges being sharper and looking somewhat cleaner. The 8X is also coming in all kinds of fresh colors, while the ATIV S goes for a more metallic, down-to-business appearance.
It doesn't take a genius to realize that the ATIV S is the larger of the two, due to its bigger screen. However, we can't really say that the Windows Phone 8X is much more comfortable to hold in the hand, because of its sharp edges.
Display
The differences continue as we start to compare the screens of the ATIV S and Windows Phone 8X.
Samsung
's offering features a very large,
4.8" HD Super AMOLED display
, while the
HTC
has a smaller
4.3" HD S-LCD2 panel
. All in all, we prefer the Windows Phone 8X's display for a number of reasons.
First, its colors are truer to life than those of the AMOLED panel. For example, the white color appears somewhat bluish on the ATIV S, while it's much more whiter on the HTC. Secondly, the S-LCD2 panel is brighter, meaning that you get significantly better visibility outside. And finally, the 8X's screen is not PenTile, but RGB, so it definitely appears crisper than the AMOLED used by Samsung.
It looks like the only advantage of the Super AMOLED screen in this comparison is its great contrast level, which, however, is not enough to turn the odds in its favor.
Samsung ATIV S 360-degrees View:
HTC Windows Phone 8X 360-degrees View: