Nokia Lumia 920 vs HTC Windows Phone 8X
87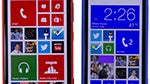 Introduction
To herald the arrival of WP8, HTC has been developing the
Windows Phone 8X
with the help of Microsoft for a year, and Nokia came out with the unique
Lumia 920
flagship. Both handsets are the companies' first Windows Phones with dual-core processors and HD screens, and both offer jolly and colorful shells.
Nokia, however, loaded a lot of the wow factors it has been brewing in the lab with the Lumia 920, like optical image stabilization, throwing the compact design paradigm out of the window. HTC followed the thin-and-light mantra of modern smartphones to the letter with the 8X, yet added a few smaller extras like wide-angle front camera, so which approach turns out better? Read on the comparison to find out...
Design
The HTC 8X is much slimmer and lighter than the Lumia 920, making it more comfortable to carry around. It has a unibody design, too, with soft-touch shell, aiding your grip further.
The Lumia 920's polycarbonate unibody feels quite chunky, but is ergonomic to handle due to the tapered sides, and feels extremely solid. The buttons on the right and the camera plate are made of durable zirconium, and are very well situated, with great tactile feedback.
HTC 8X, on the other hand, has the lock/power key at the top, so you have to stretch your finger each time to reach it, which on a larger handset is annoying. On top of that the button is too small and flush with the surface, so you have to fiddle with it quite a bit or look down each time. The same goes for the volume rocker on the right - too thin and flush with the side, plus a shallow feedback.
Display
There is a 4.5" 768x1280 pixels LCD screen with Nokia's ClearBlack filter on the Lumia 920, and a 4.3" 720x1280 display on the HTC 8X. Thus the Super LCD 2 screen HTC utilizes offers a bit higher pixel density - 342ppi vs 332ppi - which, of course, can't really be perceived from a normal viewing distance.
Colors
are more saturated on the Lumia 920, and its ClearBlack filter which lowers reflectance to aid outdoor visibility makes the screen looks a tad dimmer outdoors than the HTC 8X, despite the comparable high brightness levels.
Viewing angles
are very good on both handsets.
Lumia 920 has the advantage to use a supersensitive touch layer, which allows you to answer a call, or start an app with gloves on, which can be very handy at times.
Nokia Lumia 920 360-degrees View:
HTC Windows Phone 8X 360-degrees View: