HTC Windows Phone 8X vs Samsung Galaxy S III
41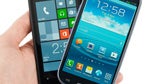 Introduction
Now that we've compared the
Windows Phone 8X
with the
iPhone 5
, and came to the conclusion that there's still quite a bit of work ahead of Microsoft and its partners, let's see how one of the better Windows Phone 8 handsets fares against one of the best Android ones – the
Galaxy S III
.
The Galaxy S III is, without a doubt, a fearsome opponent – one that the 8X will definitely have a hard time against. Will its Live Tiles and high-quality screen be enough to somehow turn the odds in its favor? Let us see for ourselves!
Design
Although the Galaxy S III is certainly not much of a looker, we can't really give the win to the Windows Phone 8X, because of how uncomfortable it feels in the hand. If you just have to look at these devices, then yes - we'd say that HTC has achieved the more stylish appearance, but once you actually start using the handsets, it becomes evident that its sharp edges and rubber-like soft-touch materials used for its body make it somewhat unpleasant to handle. Meanwhile, although the GS III doesn't shine in any particular way, it still feels natural when held in the hand, while the smooth, glossy plastic feels fine to the touch.
The physical buttons of the HTC Windows Phone 8X aren't very responsive, especially the power/lock key, which is probably the most important. The Galaxy S III isn't much better in this respect, but we'd say it's just a tad better.
Display
It's clear that the Windows Phone 8X has the better display of the two. Its S-LCD2 panel is brighter than the Super AMOLED of the GS III, allowing it to be more visible when outdoors. The color temperature of the 8X is also better. Although it's just a little bit too warm, it's still much closer to reality than the cold image of the GS III.
Meanwhile, the smaller screen size and the RGB matrix of the 8X mean that everything will look crisper on its display, compared to the PenTile-powered GS III. However, since both handsets have very high resolutions, the differences in image clarity are almost negligible.
HTC Windows Phone 8X 360-degrees View:
Samsung Galaxy S III 360-degrees View:
Recommended Stories