HTC Windows Phone 8X vs Apple iPhone 5
52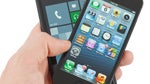 Introduction
Now that Windows Phone 8 is finally here, we guess some users (not many, but some) will think about purchasing a WP8 handset. So, here we are, bringing you in-depth comparisons between the leading WP8 handsets and the iPhone, as well as the major Android handsets.
In this article, we'll take a look at how the
HTC Windows Phone 8X
stacks up against the
iPhone 5
. Both devices are pretty popular right now, so it will surely be interesting to see who's going to come out on top once we're done with them.
Design
Although both handsets have pleasing looks, it's undeniable that the iPhone 5 is a work of art that no mass-produced phone on the market can currently rival. From the visuals to the materials in use, everything about the iPhone 5 screams "class". Meanwhile, the Windows Phone 8X by HTC is by no means bad-looking, but its shape is not as ergonomic and the soft type of plastic its body is made of leaves a lot to be desired.
Both the iPhone 5 and Windows Phone 8X are equipped with essentials like a 3.5mm headset jack and noise-cancellation microphones, but the HTC features a standard microUSB port for charging and data connection, while the Apple relies to the proprietary Lightning connector. It's not a big deal, just something to keep in mind.
An interesting detail we noticed is that the
physical buttons
of the iPhone 5 feel better when pressed, especially the power/lock key, which is quite stiff on the Windows Phone 8X.
Display
We are fascinated by the beautiful screens that these two handsets own. Using LCD technology, they are extremely bright and clear, while pixel density is incredibly high on both – 342 ppi for the 8X and 326 ppi for the iPhone 5.
It should be noted that the screen of the 8X is slightly bigger at 4.3 inches, compared to the iPhone 5's 4" one. When it comes to quality, though, as we said, both panels are extremely capable, with the colors of the iPhone 5 being just a tad more natural-looking. Although they both have great brightness levels, the iPhone 5 does remain a bit more visible outside.
HTC Windows Phone 8X 360-degrees View:
Apple iPhone 5 360-degrees View:
Recommended Stories