Oppo R5 Review
16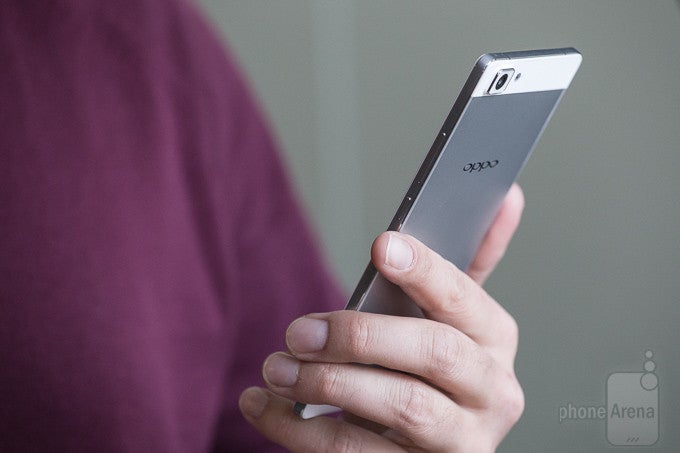 Introduction
The super-slim, 0.19" (4.85mm)
Oppo R5
was announced at the end of October and was quickly proclaimed the thinnest smartphone in the world - an impressively elegant handset, obviously meant to please users who place aesthetics as a top factor when picking a smartphone. To round off the package, Oppo equipped the R5 with a 64-bit Snapdragon 615, 2 GB of RAM, and a generous 13 MP / 5 MP camera sensor combo.
So how does this combo of elegance and top-of-the-midrange hardware work? Let's check it out!
Design
A delicate smartphone for the style-conscious
There is no denying that the Oppo R5 is a pleasure to look at. The manufacturer did not rely just on the slim profile for aesthetics, but on a beautifully crafted matte silver-finished metal frame and back, intertwined with the white, non-glossy plastic bezels. Indeed, the R5 looks and feels like a well-built, premium handset; despite its thickness, it is absolutely sturdy, with no bends and creaks. As every slim handset to come out these days, this one also has a protruding camera on the back, though, it is housed in a nicely looking, rectangular bulge, so as long as one is used to this "feature" on modern smartphones, it will be a non-issue.
Measuring at 5.86 x 2.93 x 0.19 inches (148.9 x 74.5 x 4.85 mm) and weighing 5.47 oz (155 g), the R5 does not feel very different to hold, compared to other top-line handsets in the market – its footprint is familiar to the hand, and, while the slender profile does make it feel less bulky, the device still weighs just about the same as other, more traditional phones. Accessing the power button and volume rocker is easy, as both are placed in a comfortable spot on the right side of the frame, and while their feedback is not the best, they still feel clicky enough to not be awkward to use.
Due to the size constraints, Oppo was unable to pack a 3.5mm headphone jack on the device and hasn't equipped it with a dedicated speaker for audio – its earpiece doubles as a loudspeaker. The lack of these components actually contributes to the device's uniform look, as there are no excessive grilles or openings to disrupt its solid lines. Fear not, the phone comes with its own proprietary headset, which connects via micro USB.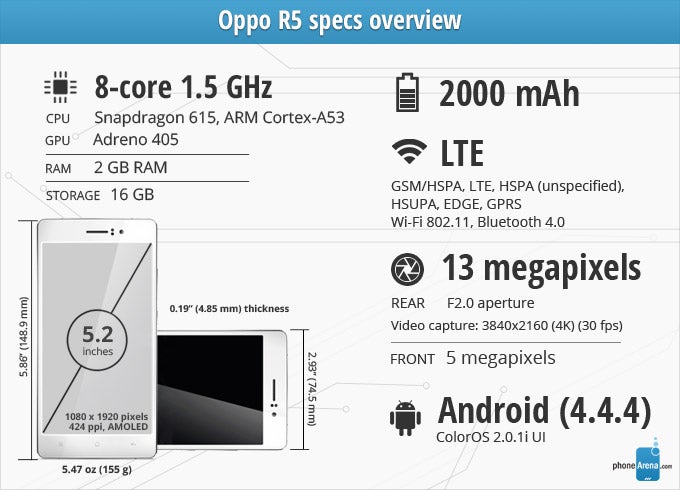 Display
Punchy and crisp, though, inaccurate
The Oppo R5 has a 5.2" display with a 1080 x 1920 resolution, which results in a 424 ppi density, giving us a clear and crisp image. The panel uses AMOLED technology, which results in vivid, punchy, though, also – rather inaccurate colors. Its brightness levels range between a minimum of 2 nits, to a maximum of 339, making it comfortable to view in pitch-darkness, but troublesome when out in the sun.
The display's color temperature measures at 8011 K, quite a ways off from the reference value of 6,500 K. That, combined with an apparently skewed color reproduction, results in the picture looking cold, with a bluish/greenish tint visible throughout. The typical for AMOLED screens color over-saturation is also present here.
Display measurements and quality