Nokia Lumia 920 plays nice with much more LTE networks in Europe than the iPhone 5
10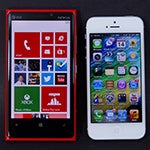 Lumia 920
has a pentaband LTE radio inside that is attuned to more widely used frequencies in Europe than the
iPhone 5
. Apple apparently wanted to support those frequencies there,
which coincide with the version for Asia and Australia
, and as a result its LTE fires up on just DT in Germany and EE in the UK, as well as a few smaller carriers.
The Lumia 920, on the other hand, can support more than 20 LTE networks in Europe. Asia uses 1,800 MHz and 2,600 MHz in places like Singapore, Hong Kong and South Korea. Japan and the US share the 700 MHz or 2,100 MHz frequency range, while in Europe they utilize 1,800 MHz or 2,600 MHz.
Some carriers also run LTE on everything in-between, such as 800 MHz and 850 MHz, but just 25% of Europe's LTE operates on the iPhone 5's 1, 800 MHz, with the rest deployed or about to be deployed at 800 MHz and 2, 600 MHz, both of which the Lumia 920 supports.
"
The Lumia's LTE connectability is going to help Nokia stand out to holiday shoppers,
" hopes Johan Eidhagen, general manager of Nokia in Scandinavia.