Nokia Lumia 920 vs Apple iPhone 5
99+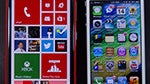 Introduction
With the
Lumia 920
, Nokia entered the world of dual-core flagship phones graced with HD displays, where Apple's iPhone and many Androids have been dwelling for a while.
Thus the Finns had to create a compelling argument besides those two obligatory features to fight against the
iPhone 5
and said Androids, as they would be its main competition for the hearts and minds of consumers this holiday season.
Apple introduced the bravest overhaul to the iPhone so far with the 5th edition, shattering its 3.5" screen dogma, and Nokia logged its first 4.5" phone with more than one processor core, so in a sense both the iPhone 5 and the Lumia 920 are not a simple evolution of what had been before in the iOS and WP universes. Which one pulled it off better? Read on our comparison to find out...
Design
There's no arguing that the iPhone 5 is one of the most compact and premium material smartphones out there, built out of glass and aluminum alloys. Nokia, on the other hand, threw every top features it was capable of in the Lumia 920, including an OIS camera, resulting in a both thick and heavy chassis, made of polycarbonate in various color choices, and zirconium for the well-situated side keys and the camera plate.
Still, the tapered back makes the Lumia 920 ergonomic to handle, and its stocky, durable build makes it more suitable for careless owners, whereas the iPhone 5 finds itself in a case very often to escape nicks and scuffs. Just don't expect easy one-handed operation from the Lumia 920, especially in comparison with the much smaller iPhone 5.

Display
We are looking at perhaps the two best mobile LCD displays with the iPhone 5 and the Lumia 920. The iPhone sports a 4" in-cell touch panel with 640x1136 pixels of resolution, making the
pixel
density the excellent 326ppi, whereas the Lumia 920 has a 768x1280 pixels display, with nearly the same density, at 332ppi.
Both exhibit very nice images, with the iPhone having almost perfectly calibrated
color representation
, whereas the Lumia 920 displays slightly more saturation.
The screens are very bright, north of 500 nits, which, coupled with their low reflectance ratio makes them easy to see outside, even under direct sunlight. Nokia employs its ClearBlack filter technology to achieve the low reflectance, which makes it seem a tad dimmer and as if with an extra coating compared to the in-cell touch panel of the iPhone 5. Both phones have top-notch
viewing angles
from all sides, though the Lumia 920 dims slightly more when you tilt it vertically.
Nokia has employed Synaptics-based touchscreen tech to allow operating the display with gloves, pens and other objects, which comes very handy in harsher weather conditions.
Display measurements and quality
Nokia Lumia 920 360-degrees View:
Apple iPhone 5 360-degrees View: