Nokia E75 Review
2

Introduction:
Doing business would be quite an uphill battle without cell phones or the services that the Internet offers. There are many mobile devices these days that deliver a growing number of functions, previously available on computers only. It´s been a while since you needed a mouse and keyboard to check your emails or enter the Web and read the breaking news. You can do all that with most of the cell phones today. There is a make to fit virtually any customer, no matter if they are high-tech buffs, fashion-obsessed savvies or, as in this specific case, business-minded people.
Today, we are bringing the
Nokia E75
to your attention. One of the latest business series add-ons of the Finnish manufacturer was officially announced at the
MWC 2009
. It´s the current flagship model in their E-series and sources from the company have recently shared with us that the phone is the best messaging device they have ever made. Moreover, the manufacturer claims creation of the E75 has been heavily influenced by the experience they gained with their Communicator series. The phone sports a side sliding, full-fledged QWERTY keyboard and that´s a novelty feature on an "E" device. As you have probably guessed already, it is a high-end device that offers Wi-Fi, A-GPS, HSDPA and 3.2-megapixel LED flash camera that offers Macro shooting mode.
What's in the box?
Nokia E75 and a 4GB microSD card
Charger
Stereo headset
microUSB cable
User manual
Quick start guide
Ad leaflets
Design:
The Nokia E75 looks like a successor to the
Nokia E51
at first, because creates the impression that it doesn´t open and sports the same metal edging and back cover. But looks can be deceiving. We´ve got our hands on a silver-black unit, but other two varieties are also being offered, in red and copper-yellow. Its dimensions are acceptable given the "hidden" QWERTY keyboard and functions it offers. Truth be told, the phone is
quite slimmer
(14.4 mm.)
alongside of other devices with similar design
. It weighs hefty 139 gr. and we definitely cannot say it´s light as a feather.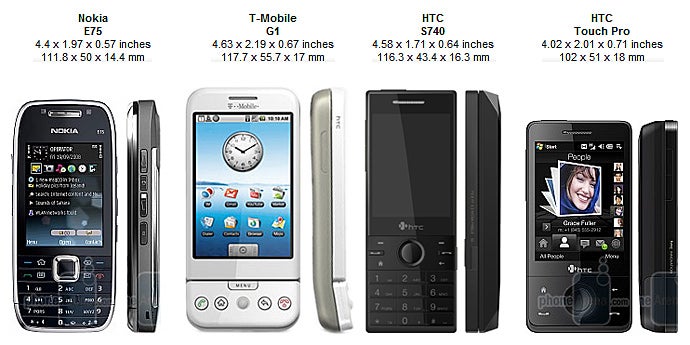 You can compare the Nokia E75 with many other phones using our Size Visualization Tool.
It features a
2.4-inch display
with 240x320 pixel resolution and 16 mln. colors. We need to point out it delivers very good image quality with saturated colors. Details look a bit worn out in the sunlight, but remain easily legible. The earpiece, surrounded by video call camera and light sensor, lurks right above the display. The
navigation buttons
and shortcuts aren´t quite easily discernible which may annoy some customers, but still most people will be able to get used to that quickly, since all buttons have a good travel and pressing them is distinctly felt. We have absolutely no issues with the keypad, since all buttons are large enough and pressing them is fairly easy to feel. On both its sides you have the microUSB and microSDHC card slots, both hidden underneath snuggly fitting rubber flaps, the volume keys, voice recognition button (hard to press) and camera shutter. The more interesting thing is the
3.5 mm jack
on the top side that makes for a nice extra feature on a business oriented cell phone.
OK, ok! Let´s open the
QWERTY keyboard
and no violence if possible! Sliding mechanism feels solid, but is fairly easy to push open. Buttons look optimally aligned, arranged in four rows and are large enough, so even people with thicker fingers shouldn´t have any problems with that. They are easy to get used to and pressing them feels clearly discernible. We were taken a bit aback when we first saw the metal band running along the middle part of the keyboard and ending just above the space button. The only remark we have doesn´t regard the band, but the upper button row that is located really close to the edge, because ended up pushing our fingers against it fairly often. As a whole, we are more than pleased with the keyboard on the Nokia E75 and we believe it to be one of the best we have ever used. Congrats, Nokia!
Recommended Stories