Introduction:
When it comes to
business
phones, gizmos are nice but functionality is what matters above all. That's why products aimed the suitspack a lot of features that are often unnecessary for the general customer, and place a premium on battery life. These consumers are on and off the phone all day long and expect their device to keep up.
Design:
Nowadays, however, users are starting to assume connectivity and battery endurance, and are starting to pay close attention to appearance. They are interested in what impression their phone gives, or whether it matches their clothes, their car; or what it "says" to the people around them. Nokia has taken note of this with their E-series phones, which break the boring mold and offer both performance and beauty.
Today we're going to look at the E66, a slider that builds on the
E65
. The quality is again top notch and the design has been refreshed to give a more modern appearance. As you hold it in your hand, the combination of cold stainless steel and high-quality plastic gives the impression of something firm and classy. It's almost the same about the slider – it has a little clearance and is very stable. However, we encountered an issue when opening and closing it, and it's related to a strange rattling sound from within the phone, as if something has been broken or come out of place. We have to note that we were given a review unit that isn't brand new, so the problem may be isolated to our unit.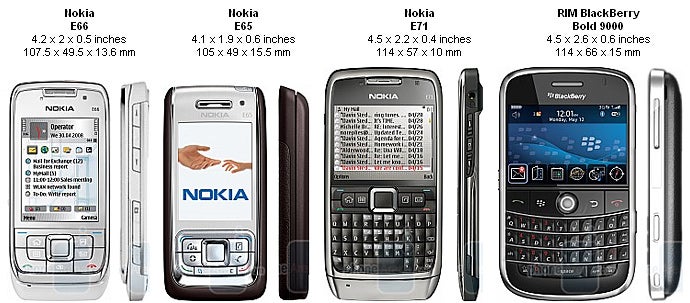 You can compare the Nokia E66 with many other phones using our
Size Visualization Tool
.
2.4" TFT display
with QVGA resolution supports 16 million colors. When indoors the colors are realistic looking and nice, and when exposed to direct sunlight the display is still plenty readable although everything becomes pale, almost as if it's black and white.
The navigation keys are designed in a new way and together they form a flat surface, but when touched, they are easily distinguished one from another. These keys, as well as the 5-way
D-pad
are easy to press. As you open the slider you gain access to the
numeric keypad
. We didn't like the lowest row of keys, since our fingers were somehow pressing against the
edge
and the feeling wasn't pleasant. The volume rocker, the voice command button and the camera shutter are
on the right
side and we don't have any remarks towards their handling. We are just a bit confused, because when we tried to hold the camera shutter, nothing happened… Isn't it supposed to bring the camera interface up?
Actually, there are three more buttons on the body. Two of them are situated respectively
on the left
and right side and their purpose is for locking/unlocking the back metal lid; and if you take a look
at the top
side, you'll most probably see the power button on the instant, since it's in red color, differing from the other elements of the device.