Motorola Moto X vs HTC One
23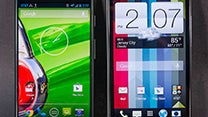 Introduction
In a strange way, both Motorola and HTC are in the same boat, as the two companies are contending in the Android space vying for the top spot, which is arguably taken up by Samsung's presence. First out of the gate this year to launch, the
HTC One
has proven to be a venerable competitor in the landscape, as design and aesthetics are the most paramount aspects of the phone. Conversely, the
Moto X
is still at the early stage of its quest, but it takes a totally different approach with its modest offering and simplistic operation. No doubt, each one has their astounding features to reel people in, but it's going to take a balanced offering to truly stand more prominently in this crowded space.
Design
Motorola is changing the way we think about the design process with the Moto X, as its upcoming Moto Maker portal makes for some interesting design mash-ups for the smartphone. However, it still doesn't encompass the same level of quality craftsmanship, sturdy construction, and attractive design aesthetics seen with the HTC One and its brushed aluminum casing. Then again, we can't count out form fitting nature of the Moto X, as it's easier and more comfortable to hold in the hand – even more when they pack the same sized screens. When it comes downright to attraction, we're still finding ourselves being pulled in by the HTC One.
Display
Matching one another with their 4.7-inch screens, there are various elements that help the cause of each device. On paper, the 1080x1920 S-LCD 3 display of the HTC One has the advantage with details over the 720x1280 AMOLED screen of the Moto X, but it's something that's not distinctively seen unless we look at the two closely – so from a normal distance, our eyes can't tell their details apart from one another. For the Moto X, it stands out mostly for the skinny bezels on the left/right sides of its display, its deep black color, wide viewing angles, and vibrant color reproduction. Oppositely, the HTC One's display produces the more realistic colors – while also proving to be the better of the two with outdoor visibility. It's really tough to argue which one is superior, as people will have different preferences as to what they feel is more attractive.
Motorola Moto X 360-Degrees View