Motorola Moto X 2014 vs Moto X 2013
20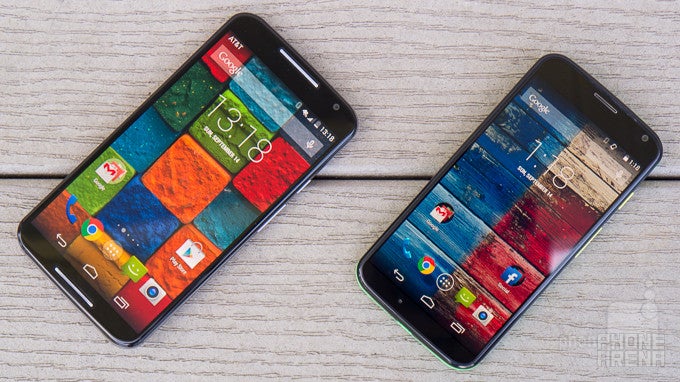 Introduction
Motorola surely established something in the smartphone industry that we haven't seen in a grand scale when the
Moto X
arrived on the scene last year to much acclaim. Not only did it present us with a venerable Android smartphone that could be customized in several ways, from its case options to accent colors, but it also proved to many that simplicity and functionality are two things that go hand-in-hand in making a smartphone legendary. Well, the
new Moto X
, the 2014 version, receives all the evolutionary upgrades we'd expect with any successor, but how much better is it than its predecessor?
Design
Obviously, the biggest design difference here is the new Moto X's larger size, which depending on your taste, might be a good or bad thing. Indeed, it's a size that's more akin to a flagship, but we feel that the original Moto X's size is perfect – as in, it's more comfortable to hold with one hand. However, we really dig how the 2014 model is sporting a more aggressive and sophisticated design, aided by its aluminum frame and new leather casing options.
Display
Yet again, the new Moto X reaps the benefits of being more of a flagship phone because of its larger and sharper looking 5.2-inch 1080 x 1920 AMOLED panel – versus the smaller and lower resolution 4.7-inch 720 x 1280 AMOLED display of the original. From a normal distance, it's almost tough to distinguish which of the two has the upper hand in the details department, but there's no competition after a closer inspection.
Beyond the size and resolution, these two screens based on AMOLED technology exhibit the same qualities – like their over-saturated color reproduction, wide viewing angles, and tough visibility under direct sunlight.
Display measurements and quality
Recommended Stories