Motorola Moto M Review
8

Introduction
Believe it or not, Motorola hasn't changed much since it got acquired by Chinese giant Lenovo. It is still launching phones of all categories and is still selling them at reasonable prices. For instance, the
Moto Z
was a killer high-end when it launched, while the
Moto G4
, the
Moto G4 Play
, and the
Moto G4 Plus
are all good examples of how a budget smartphone should be made.
The
Moto M
is positioned somewhere between these two tiers. As an Android mid-range model, it checks all the right boxes – it has good specs, great design, and an affordable price. On paper, this sounds like а winning combination, but in real life, is the Moto M worth considering at all?
Armed with a decent amount of curiosity, we took it upon ourselves to find out!
Design
A sleek, well-built phone that feels like a more expensive device
It may look a bit generic in pictures, but in actuality, the Motorola M is a sleek, well-built device that feels quite pleasant in the hand. It's a solid metal-made handset that's not much larger than the Moto Z Play Droid, but is arguably more stylish thanks to the minimalistic and streamlined design.
Size-wise, the Moto M is relatively compact for a 5.5-incher. It's no bigger than the Moto G4 or the OnePlus 3/3T, for example. With a depth of 0.31" (7.85mm), the handset is not very thin, but we have no qualms with how this one feels in hand. It's not a heavyweight trooper, either – it tips the scales at only 5.75 oz (163gr), which is lighter than the average weight of a 5.5-inch phone.
There are no navigation buttons at the front, only a Moto logo at the bottom will be reminding you what phone you're handling. In the meantime, the back of the phone doesn't even feature the signature Moto dimple – there's a circular fingerprint scanner at the rear instead. The "less is more" mantra is doing the Moto M a great service, and we really like how this one looks.
It's also worth noting that the Moto M is a splash-resistant device, which means that it will survive small splashes of water or a drizzle. Don't dunk it into the pool, though, as it's unlikely to survive the ordeal.
At the bottom of the device, one would find a reversible USB Type-C port – great! Immediately to the right of it we find a single loudspeaker. If you're looking for the 3.5mm audio jack, rest assured there is one, it's just at the top of the phone.
Finally, the volume rocker and the power button provide very good clicky feedback; the textured pattern on the the power button provides a grippy feeling, which is something we like.
All things considered, it wouldn't be too far-fetched to say that the Moto M is built and feels like a more expensive phone. Credit where it's due – no corners have been cut in terms of the handset's design.
Display
Sufficiently sharp yet not as accurate as we'd like it to be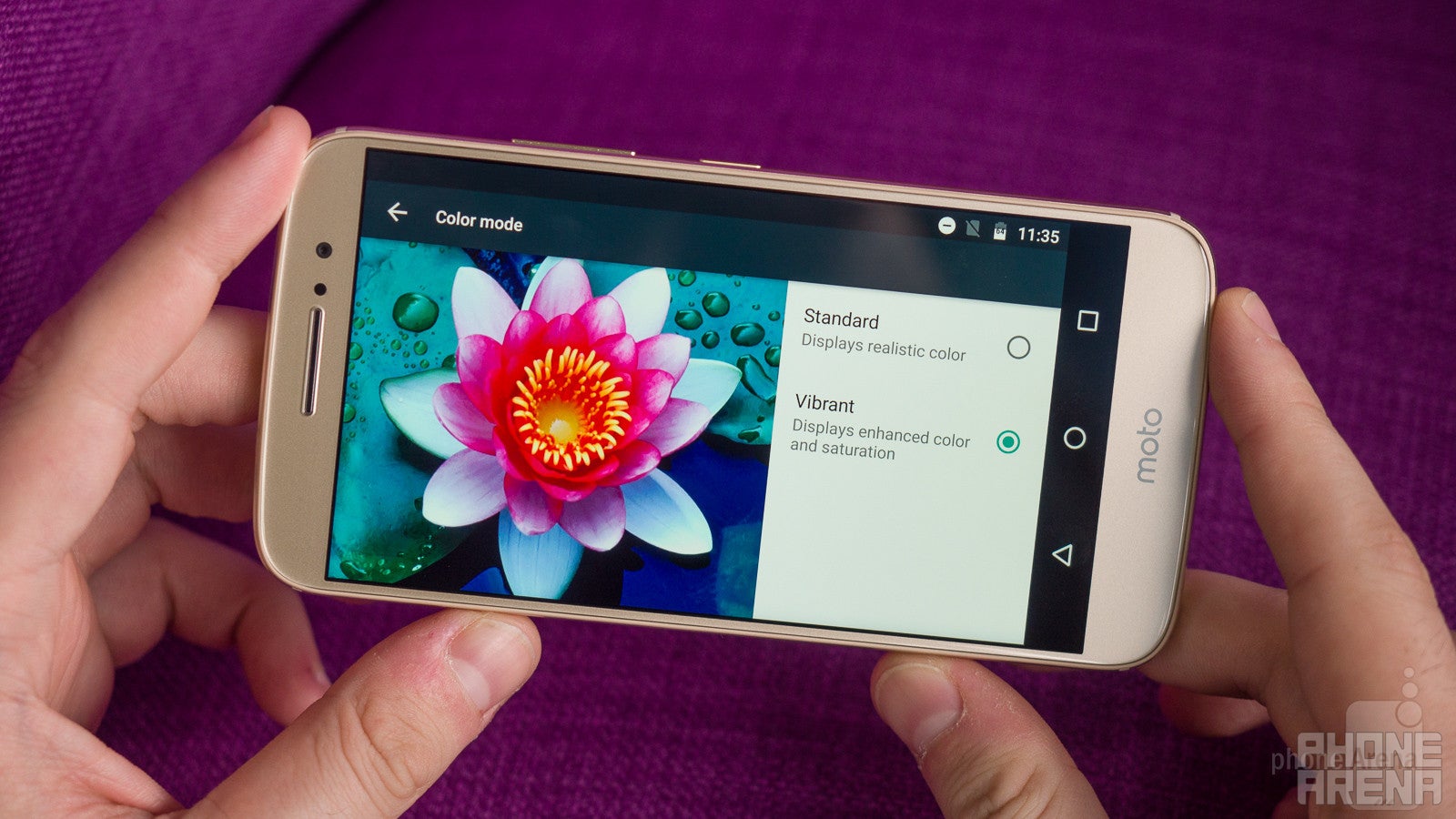 The Moto M brings along a 5.5-inch IPS LCD display with the acceptable resolution of 1080 by 1920 pixels. Though we've seen sharper, the display will be more than adequate for 9 out of 10 users.
However, there's much more to phone displays than resolution alone. Chief among those other properties is color temperature, and the Moto M is not as accurate as we'd like it to be. For starters, the display is 'cold' – it clocks in at 8452K, which is way higher than the standard 6500K color temperature. This makes white colors way bluer than they should be. A common flaw for many affordable devices, but a flaw indeed.
There are two display settings – Standard and Vibrant. Even in the standard one, the Moto M's display has the tendency to oversaturate green, yellow, and red colors, though not excessively so. Switch to Vibrant, however, and all colors become overly vivid and totally inaccurate. Needless to say, we are not fans of that, so we kept the display in its standard mode.
The display's gamma is mostly correct, which means that contrast representation is accurate. Maximum and minimum brightness levels are both acceptable - you will have no problems with outdoor visibility or using the phone before bedtime.
Display measurements and quality
Recommended Stories