Moto 360 (2015) Review
48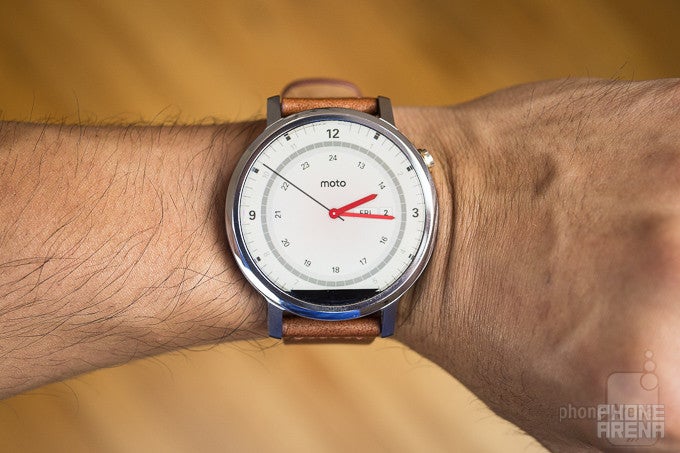 Introduction
When Android Wear burst onto the scene last year, the designs that accompanied the first batch of smartwatches weren't the most attractive. Thankfully, the folks over at Motorola impressed many with the
Moto 360
and its round face style – arguably the best-looking smartwatch at the time. Fast forward to a year later, we've seen a handful of smartwatches that boast even better designs, trimming off more of the fat to make them a bit more proportional looking. Back for round two, the second generation Moto 360, also known as the 2015 model, has some tougher competition to contend with, so it'll need a compelling package to rise above the pack.
The package contains:
Motorola Moto 360 (2015)
Wireless charging dock
Wall charger
Get started guide
Safety information
Design
No other watch can touch the Moto 360's diversified level of customization.
Motorola did it first, delivering a round face design to an Android Wear smartwatch with the original Moto 360, so it's back again here with the 2nd generation model. What's apparent right from the onset is the addition of lugs to its chassis – whereas before, the straps seamlessly blended in with the casing. While it technically increases the footprint, it's still boasting one of the highest scree-to-case ratios around in a smartwatch, thanks in part to how skinny the bezel is around the display.
With the addition of the lugs, it means that replacing the watch strap is considerably easier this time around. In fact, it's a snap because of the new quick-release bands that are now employed, whereby replacing the strap is done by just sliding the pin release lever that's on the strap. And yes, there are quite a bunch of straps to choose from – whether they're the simple leather bands from Horween, or something more sophisticated with the aircraft-grade 316L stainless steel ones.
What really sets apart this new Moto 360 from all other smartwatches out there is the incredible customization that's offered through Moto Maker. Nearly every aspect of the Moto 360 can be customized to your liking, from the color choice of the chassis, to the strap that accompanies it, and even a micro knurl treatment to the bezel, it offers a higher degree of personalization that's unmatched. And yes, there are even more styles and sizes to choose from! In addition to the 42mm and 46mm ones that are available from the men's styles, Motorola also offers a 42mm case size for women – so its size isn't as overpowering on the wrist.
Our particular review model is a 46mm men's style watch, which features a gold micro knurl bezel, gold casing, and an accompanying gold metal band. Needless to say, it has a refined look that meshes well for formal occasions, but it can easily become something that's fitting for casual wear if we're to use the leather strap. Of course, going with the premium look means that it's accompanied with a premium price as well – $450 with this particular configuration. However, the base 42mm men's style watch with a leather strap fetches for $300.
This time around, the single button on its side has been repositioned to the 2 o'clock setting. However, it still features a heart rate sensor on its underside, as well as wireless charging using the included cradle. You also will have peace of mind knowing that it features an IP67 rating as well, which means that it can withstand immersion in up to 3 feet of fresh water for up to 30 minutes – albeit, they really dissuade you from submerging it.
Display
It's sharper than before, but the 'flat tire' look has to go.
This year's model continues the trend of offering a round style display, one that happens to have the same 'flat tire' look as before. After checking out several other round face smartwatches, we would've preferred to have a full circular display as opposed to this, even though the area below the display is used to hide its ambient light sensor – so it can automatically adjust the brightness accordingly.
Our 46mm review unit sports a 1.56-inch 360 x 330 backlit LCD display – while the 42mm options carry a 1.37-inch size with a resolution of 360 x 325 pixels. Either way, it's sharper looking than its predecessor, which came with a 1.56-inch 320 x 290 panel. It's less pixelized this time around, offering crispier looking details. While it's bright enough to view under sunny conditions, there's just a slightly subdued tone to its color reproduction, which becomes more profound under wider viewing angles. And we're not a fan of how the Gorilla Glass 3 is raised higher than the Moto 360's case, seeing that it's more prone to coming into contact with surfaces.
It's not that bad looking of a display, honestly, but we've seen more outstanding ones from LG, Samsung, and even Huawei. Adding to that, the flat tire look of the display is bothersome, especially when some of the tick marks with its watch faces don't show the ones near and around the 6 o'clock mark.
Recommended Stories