Meizu MX5 Review
65

Introduction
Chinese smartphone manufacturer Meizu came up with an unusually strong proposition last year, when it launched the MX4. A well-rounded phone that managed to find a rather good balance between features and affordability, the Meizu MX4's main asset was the combination of a stupendously large, 5.4" display, and a relatively compact body that almost didn't feel too big.
After the strong flagship that the MX4 was, Meizu is now ready to follow up with its successor – the
MX5
. The company has shaked things up considerably, but the overall formula has remained unchanged: the same design language, the same software, but accompanied by an even larger screen, and a continued emphasis on what is once again a class-leading screen-to-body ratio. Let's dive deeper and explore the essence of this promising new star from the East!
Design
The MX5 takes the evolutionary path, fusing its tried and true body shape with metal.
The overall appearance of Meizu phones has always gravitated around a single design concept: one that's very iPhone 3GS-like. That's not a bad thing, as while Apple and most other manufacturers have moved on in different directions, Meizu has decided to stay and evolve this type of exterior, coming up with some very interesting results along the way.
Slimming bezels all around, the company reached an impressive 75% screen-to-body ratio with the MX4, producing a phone that felt manageble, all the while being equipped with a larger than average 5.4" IPS LCD screen. With the Meizu MX5, the screen-to-body figure has slightly dropped to 74%, but the phone feels even easier to handle than its predecessor, party thanks to it being significantly thinner: down to 0.30 inches (7.6mm) from 0.35 inches (8.9mm). Thankfully, while the display diagonal has grown even further to 5.5", the phone has actually become just a tad narrower: 2.94" (74.7mm) vs 2.96" (75.2mm). That's possible, because Meizu has transitioned from the wider 3:5 display aspect ratio of the MX4, to the more standard (and narrower) 9:16 one.
Overall, we're pleased with the in-hand feel of the Meizu MX5. The phone even manages to feel lighter than its predecessor, all the while actually being heavier with .07 oz (2 grams). Due to being thinner and less top-heavy in comparison with the MX4, the Meizu MX5 is a lovely device to handle and use. The metal back plate also adds to the premium look and feel of the handset, as do the shiny, chamfered edges surrounding the front. Sadly, the MX5 continues to be heavily "inspired" by the iPhone's design, which is now most evident by the arrangement of the bottom side, where the microphone, charging port, screws and speakers look in an almost identical way to those of the iPhone 6 (or 5c). Meizu needs to realize that such blatant copying of design elements doesn't speak well of the company's overall efforts, so if it wants to be taken more seriously, it should instead focus on nurturing originality within its design team.
Button execution, on the other hand, is something one can hardly copy, so it's interesting to see how Meizu has managed. We're mostly pleased with how the buttons react; the volume rocker and power/lock key (which is now conveniently situated on the right hand side) have a terrific response that makes you want to press them again and again. Sadly, the same thing cannot be said about the Home button, which now also incorporates a fingerprint scanner of the touch type. The problem is that it seems to have too much of a 'click', and it's also a bit on the wobbly side. As a result, it makes a defined and audible sound upon being pressed, but it has so much presence that it comes off as cheap, rather than satisfying. Still, we'd take this button over a shallow one that lacks movement.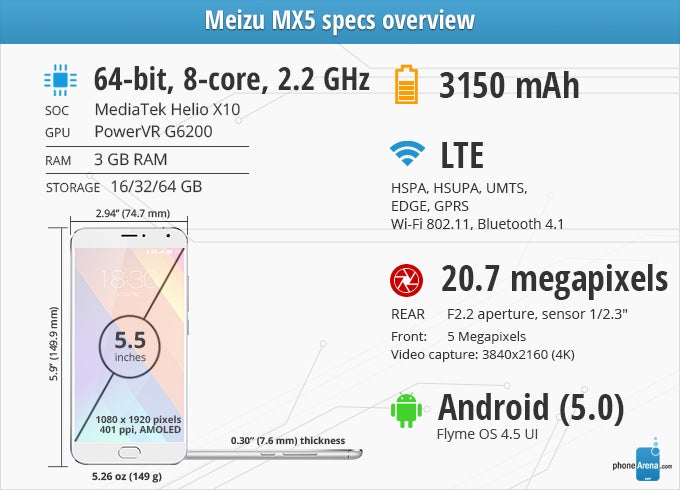 Display
Meizu goes AMOLED; the results aren't pretty.
If there's one thing that we like about the Meizu MX5's display, it has to be its size! At 5.5 inches, it's a screen we'd wholeheartedly enjoy, considering the reasonable footprint of the phone. Due to a combination of its impressive 74% screen-to-body ratio and thoughtfully rounded back plate, the MX5 allows us to work with a giant screen at little cost in the way of comfort.
Resolution-wise, we're grateful to Meizu for being level-headed and sticking with 1080x1920 pixels, delivering the outstanding 401 ppi density. What we're not so grateful for is its decision to switch to an AMOLED screen, which has compromised some crucial aspects, such as color balance and brightness output. Last year, the Meizu MX4's IPS LCD panel had problems of its own, most notably a low gamma of 2.0 (somewhat washed-out looks) and a white point of about 7750 kelvins, making for a rather cold tone. Unfortunately, things haven't really improved this year, as other problems have arisen in the place of the solved ones.
While the gamma has been fixed, now sitting at 2.28, maximum brightness has suffered greatly, as it now peaks at the very modest 335 nits. In comparison, the Meizu MX4 reached 535 nits. At least the MX5's 1-nit minimum brightness is ideal. Making matters worse, however, is the inaccurate color balance, which throws way too much green in there, taking the life out of whatever comes on screen. The oversaturated colors help negate that to an extent, but the effect is similar to trying to balance out a salty dish with sugar. Meizu has clearly used an outdated piece of AMOLED tech, which is truly an absurd thing to do these days. Anyway, it's not so bad if you aren't too picky, or if you don't necessarily want to see colors in their natural state… Either way, this display is so 2013.
Sorry for being the bearer of bad news, but the troubles with Meizu's latest display don't end here. This particular issue was actually present in the MX4 as well, so it looks like Meizu has been busy with something else during the last twelve months. Anyway, the automatic brightness control is definitely not up to snuff in the MX5. It cannot keep brightness at an optimal level as you are going through environments of various lightning level. Most of the time, it defaults to a brighter display state than needed, so if you are not OK with that, you'll have to constantly adjust it manually. Meanwhile, if you enter a completely dark room, the display will not go all the way down; instead, it'll continue to needlessly shine stronger than it needs to, requiring you to once again go manual. We guess this is mostly a software issue, so here's to hoping that some day, an update will arrive that's going to fix the MX5's auto brightness problem. But we wouldn't count on that.
Display measurements and quality