LG Optimus 2X HDMI-out demo
7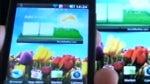 We ran quickly the HDMI port on the LG Optimus 2X through its paces, to determine what good is it for you, and the results were encouraging. The phone comes with its
own HDMI cable
, so no need to buy it, and stress over compatibility. It is a bit on the short side, about 5 feet, but we never expected a 10 feet cable in the box anyway, so you can just get a $3 coupler for connecting it to a longer cable, if needed.
Moving the LG Optimus 2X 4" display to an LCD TV was as simple as plugging the cable over in the TV, and then placing the other end in the HDMI-out port of the phone. The homescreen immediately appeared on the TV, and whatever we did on the phone was happening on the TV as well, both in
portrait and landscape
modes. Watching YouTube videos was much better this way, but the left page margins when browsing in landscape were a few pixels off.
Next we did some gaming, using the LG Optimus 2X as a
game pad
, and it performed admirably, due to the built-in accelerometer sensor, which made the phone very responsive during Raging Thunder. Once developers start upscaling their mobile games for bigger screens as well, and taking advantage of the powerful dual-core chipsets, we can see mobile gaming taking off even higher.
Most often, though, you will be hooking up your phone to your TV via HDMI in order to watch some videos, and, since the LG Optimus 2X supports
Full HD 1080p
playback, you are now able to enjoy it in the best possible way. Full HD videos in formats that the phone supports, like MPEG, played without a hiccup on the big screen TV, and if your player supports subtitles, they were there too.
In video playback mode, the only thing the phone screen showed was that the output is going to the secondary screen, thus preserving battery. You can also adjust the resolution from the HDMI option in the phone Settings menu, as well as control your TV speakers volume from the phone's volume buttons on the right side.
We tried to play a 1920x1080p music video clip, encoded in the
.mkv
container, a format that the phone doesn't support. It ran with the QQPlayer we found at Android Market, but playback was somewhat laggy, as you can see in the video below, and this was clearly visible both on the phone's screen, and when we output it to the TV. Thus, if you want to take full advantage of the phone's HDMI-out capabilities when watching video, it better be encoded in a format that the LG Optimus 2X supports.