LG Mini GD880 Preview
1

This is a global GSM phone. It can be used with AT&T and T-Mobile USA without 3G.

LG Mini GD880 Release Date - March, 2010
Introduction and design:
Perhaps you know that we are reporting
live from MWC in Barcelona
for the fifth consecutive year. And we have to say the event is a virtual madhouse – almost all major cell phone manufacturers are introducing their latest models and claim them to be the cream of the crop and best ever. However, a handset needs to be at least slightly different from what we have seen so far in order to catch our eye. The
LG Mini GD880
is eye-riveting amidst all the clamour and clutter at the exhibition and the reason is its design.
At first glance, the LG Mini GD880 looks incomplete. Like a product demo or one of those nameless devices used for showcasing new operating systems. When we took a closer look at it, however, we found out the designer team had actually put quite a lot of work in order to make it as elegant in its simplicity as possible. The handset remains true to an underlying design concept of the
LG Pop GD510
, namely as little unused space between the left and right sides of the screen to the edges as possible. The manufacturer has developed the idea further and the Mini is the smallest cell phone equipped with 3.2-inch screen, at least according to LG.
The device looks more angular than the Pop
, but feels great in your hand and reminds us of a gun - blending metal and plastics with streamlined design created to ki… erm, to be of service.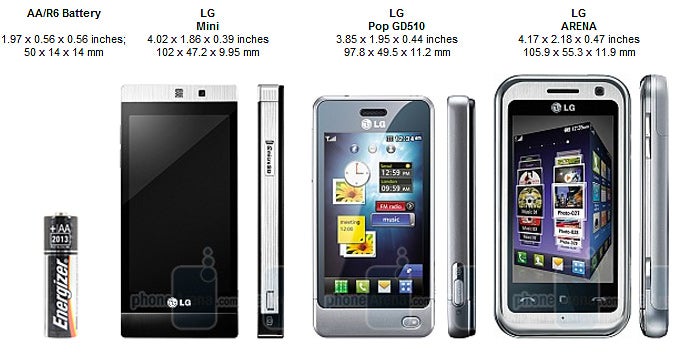 You can compare the LG Mini GD880 with many other phones using our
Size Visualization Tool
.
Said
3.2-inch screen is capacitive
and features surprisingly high native resolution of 480х854 pixels. It doesn't utilize all the rage AMOLED technology, but the image quality and colors are pleasing indeed.
What we are also pleased at is the particular way the
microUSB port and microSD slot are concealed from sight
and their sliding, protective flaps look reliable indeed. Aside from them, the handset is equipped with 3.5mm headphone jack, meaning you will be able to plug in a pair of earphones to your liking right away.
The LG Mini GD880 may look a tad odd at first, but eventually many of you will find its offbeat, even if slightly angular shape, appealing.
LG Mini GD880 360 Degrees View: