LG G4 vs Samsung Galaxy S6 edge
89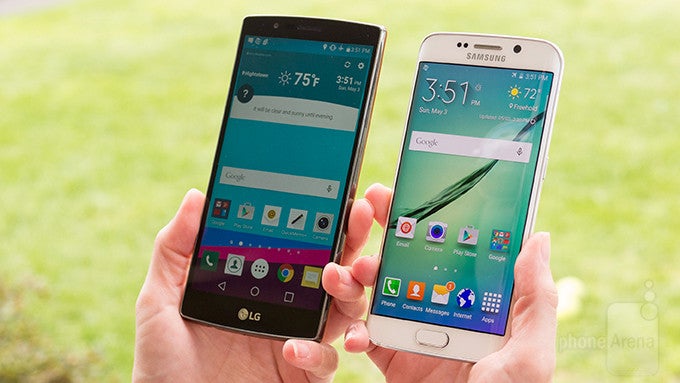 Introduction
LG and Samsung have been in constant competition against one another for the last several years, but if we're to strictly base their success on sales figures, it would arguably be Samsung who would claim bragging rights. Seriously, there's nothing wrong coming in second place, but when it happens time after time, it really begins to eat at you – and it doesn't help when you're always in Samsung's shadow either. More recently, too, the results haven't changed a bit, as LG's efforts have been in vain.
Already, Samsung is painting itself as one of the big winners for the first half of the year, just because its latest flagship line has been critically acclaimed. One of them in particular, the
Samsung Galaxy S6 edge
, is an incredible smartphone filled with beefy specs and a top-notch performance to make it a dream lover's daily driver. However, it sets itself apart by its unique looking aesthetics brought on by its dual-curved display. LG, meanwhile, answers back with the new
G4
, which has the all the ingredients to make it a worthy successive phone.
Clearly, these two phones are rich in specs and powerful with their performances, but which of the two can be proclaimed as the superior handset? Let's find out!
Design
Premium versus sophistication, the two designs are exquisite.

Due to its dramatic redesign, we find the Galaxy S6 edge's design to be more attractive, partly because of the cool and unique aesthetics brought on by its dual-curved display. In the smartphone realm, it's a very different looking handset, which is complemented by the premium construction of the phone – one that's comprised out of glass surfaces and a metal trim bezel keeping the entire frame intact. Also, the Galaxy S6 edge is the more compact, lighter, and the skinnier of the two, offering up easier handling with one hand.

Well, it's not to say that the design of the G4 can't compete with Sammy's new change, it's just that it's more of the same on the surface. Visually, there are miniscule changes to the overall design of the phone, which is still at heart a plastic constructed thing – so yeah, it doesn't have the same premium quality as the Galaxy S6. However, the design is elevated a little bit more if you happen to go with the vegetable tanned leather casing, instead of the 3D patterned plastic ones. Impressively, it gives the phone a sophisticated look thanks to its smooth finish, durable feel, and the accenting Gütermann Mara style stitching.

For something so compact, it's almost mind-boggling to find that the Galaxy S6 edge is stuffed with so many cool tech – and in this case, they're undoubtedly regarded more as being amenities, since few phones offer its features out of the box. While the two handset share an IR blaster to turn them both into universal remotes, the Galaxy S6 edge increases its arsenal with things like its finger print sensor, heart rate sensor, wireless charging, rapid charging, and all the novel items attached to its dual-curved display.

Conversely, though, the only noteworthy things found in the G4 that the Galaxy S6 edge lacks is a user replaceable battery and a memory expanding microSD card slot. Needless to say, even though they're only two things, some individuals find them extremely valuable – more so when this year's crop of flagships seemingly dropped them.
Display
AMOLEDs no longer have a bad rap for being color inaccurate and dim because the Galaxy S6 edge has one of the best displays out there – and it's unique for being dual-curved as well.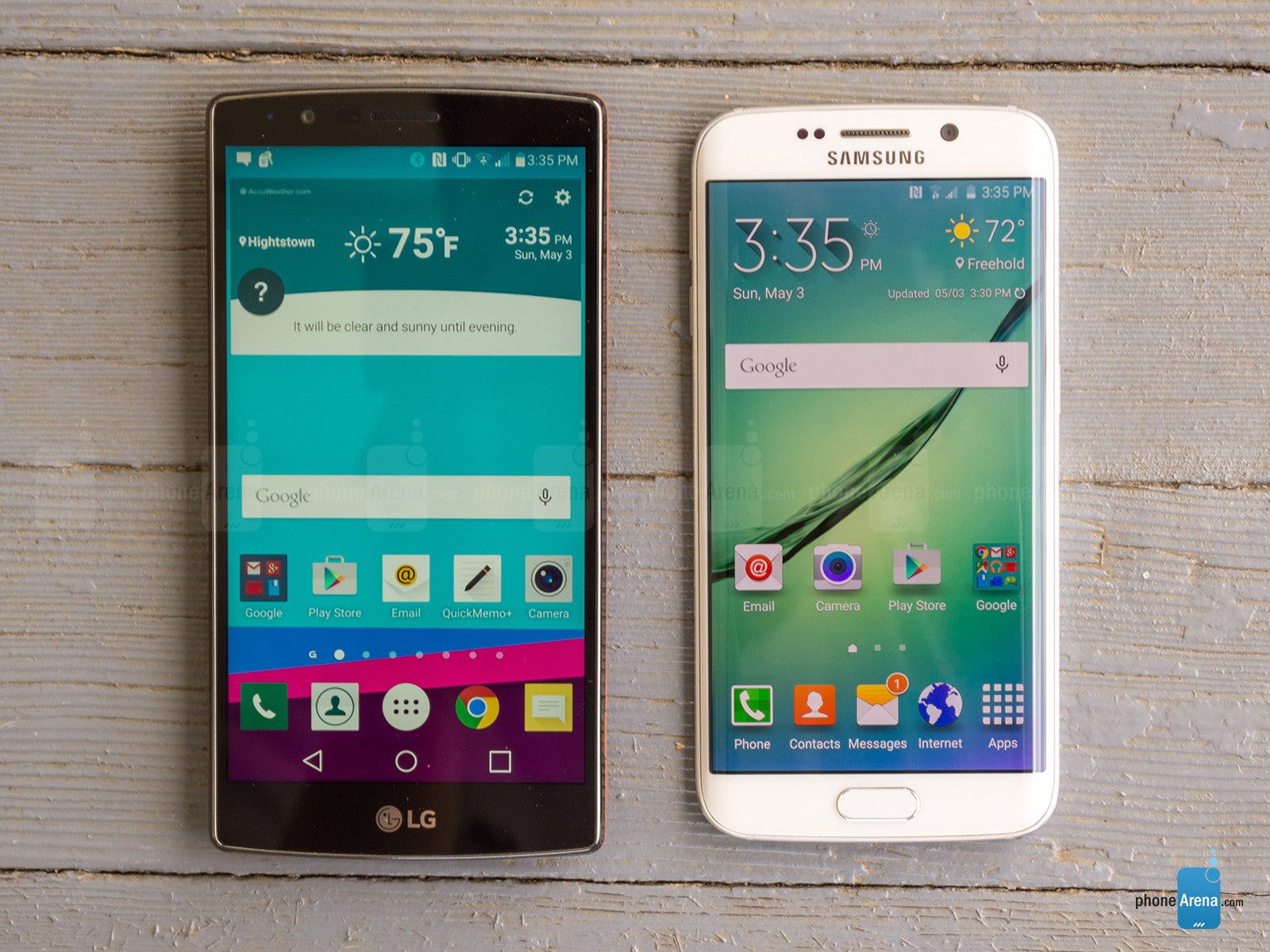 Surely, the two screens present here don't disappoint at all, not only for the specs that read off the paper, but also for their polarizing qualities that help to attract attention. So, what do we have here? Well, the Samsung Galaxy S6 edge jumps into new territory with its 5.1-inch 1440 x 2560 (Quad-HD) Super AMOLED Display. To LG's credit, though, quad-HD resolution is nothing new, as the G3 became one of the first smartphones to offer the pixel crunching resolution, but the G4 follows suit with a brand new 5.5-inch 1440 x 2560 IPS Quantum Display.

Details are plentiful, naturally, thanks in part to their impeccable resolution – though, it's the Galaxy S6 edge that offers the better pixel density of 577 ppi, versus the 538 ppi tally of the G4. The difference is miniscule, honestly, just because it's pretty tough to gauge them both from near and close views.

In the past, AMOLED screens had this reputation of being over-saturated in color tone – whereas with IPS-LCD based screens, they tend to be more realistic and natural. Oh my how things have change! Seriously, though, it's the complete opposite thing here, seeing that the Galaxy S6 edge's display produce the better color temperature and reproduction.

Starting with the former, the ~6800K color temperature of the Galaxy S6 edge display is almost near that perfect value of 6500K when it's set to its basic mode – where the screen is neither too cold or warm, so it's naturally toned. In comparison, the G4's IPS Quantum Display reads incredibly cold at a color temperature of ~8000K – giving whites a noticeably bluish tone. Secondly, if we're to look at their color gamut charts, we can plainly see that the Super AMOLED screen of the Galaxy S6 edge is better able to accurately produce colors at various gradients. On the flip side, the G4 produces colors that are more saturated.
Another measurement we have to look at is their maximum brightness outputs, which shows us AMOLED screens have closed the gap in this area – more so when it had a reputation of being underpowered. In this comparison, the Galaxy S6 edge shines brilliantly at 553 nits, which is aided mostly aided by its high-contrast mode. Meanwhile, the G4 doesn't lag too far behind at 454 nits, so the two screens are more than visible outdoors.
While the Galaxy S6 edge has an edge in many categories relating to its display, LG's decision to give the G4 a colder toned screen that produces more saturated colors is a purposeful one. Yeah, it's not on the same level when it comes to accurately reproducing colors, but some folks will come to like the overblown and vibrant colors of the G4 screen. At the end of the day, however, we really need to applaud Samsung for its effort in not only coming to market with a quad-HD screen, but one that's rich with high qualities in general – and yeah, it has that neat dual-curved edge to it.
Display measurements and quality