LG G2 vs Nokia Lumia 1020
32
Introduction
It's once again another flagship-on-flagship action, as we're pitting the specs beast of a smartphone in the
LG G2
against Nokia's prized possession at the moment in the
Lumia 1020
. Although it's arguable that the two target very different areas more than others, that doesn't mean they shouldn't get the proper side-by-side comparison from us. Nearing the crucial holiday season, the rivalry between these two prized flagship smartphones is going to increase. However, the question that remains is which one should you fork over your hard earned money towards?
Design
Oh boy! It's really tough to say which design we actually prefer more between these two, since there are certain characteristics we like on both. When it comes to the simple question of which handset can catch the attention of bystanders, we'll give the nods to the Lumia 1020 on this one – albeit, the LG G2 can also woo in some prying eyes as well. So why the Lumia 1020? Well, for starters, it's the unique look of the Lumia line that's very different from the conventional designs we tend to see recycled over and over with other smartphone makers – plus, the color options that are available with it are great too. In comparison, the LG G2 also has some quality elements with its design too, like the fact that it's both lighter and skinnier in profile than its rival. Indeed, the two flaunt plastic bodies with their casings, but it seems as though the Lumia 1020 benefits from a sturdier construction.
Display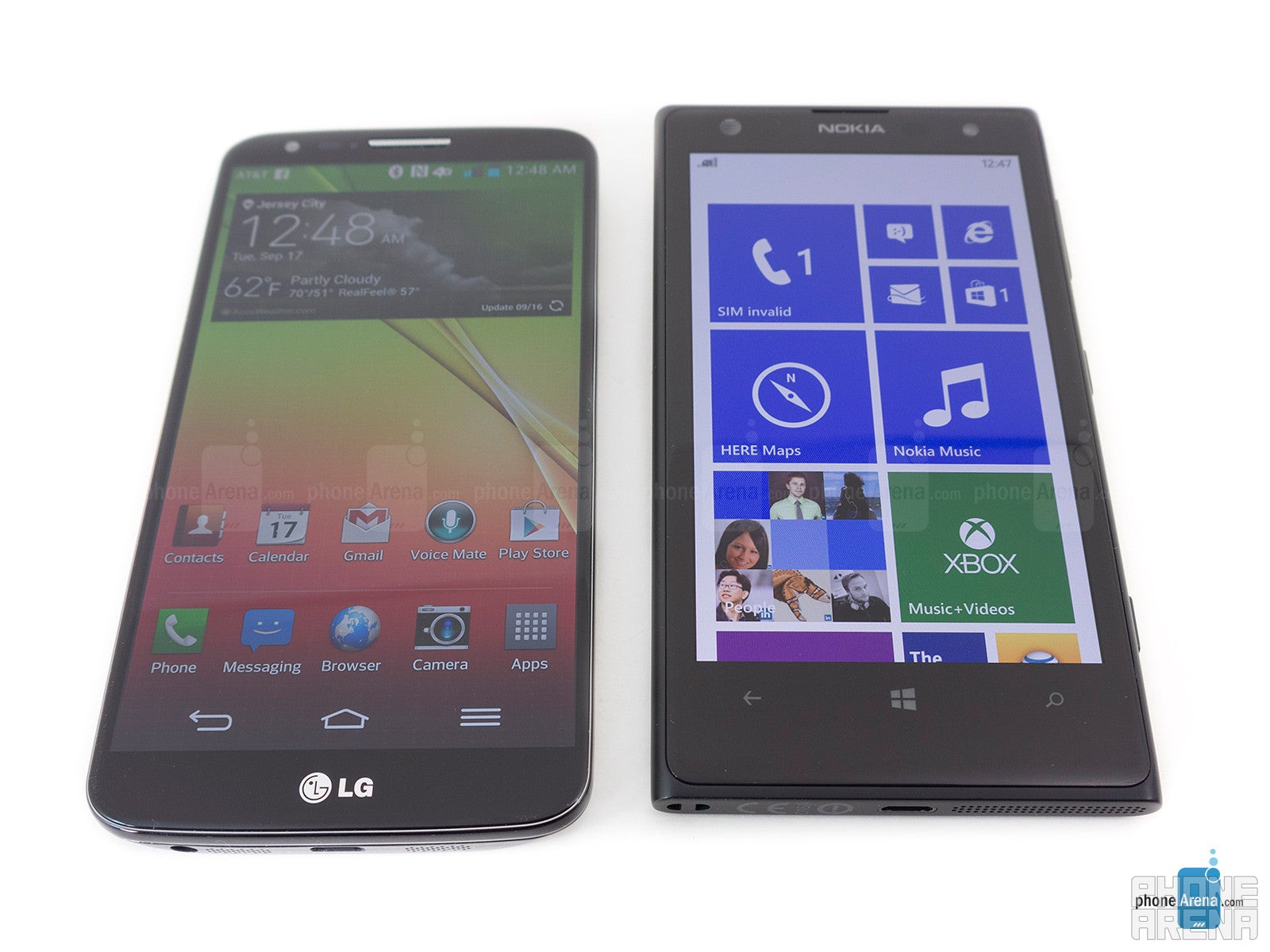 You see, the Lumia 1020 has a big screen, but the LG G2 simply has an even larger one. To be exact, it's a 5.2-inch 1080 x 1920 advanced IPS LCD display on the LG G2 – whereas the Nokia Lumia 1020 has a smaller 4.5-inch 768 x 1280 AMOLED screen. Taking a look at the resolutions alone indicates that the G2 is undoubtedly the champ, but in all fairness, it's only recognizable as we meticulously look very close. From a normal viewing distance, it's almost difficult to gauge which of the two has the detail superiority. Being an AMOLED, the Lumia 1020's display produces colors that are over-saturated, but its black color reproduction is that pitch black tone. However, when it comes to outdoor visibility when the sun is present, it's the G2's screen that delivers the better clarity. Honestly folks, the LG G2's display is arguably one of the best out in the space right now!
Display measurements and quality
Nokia Lumia 1020 360-Degrees View
Recommended Stories