LG Fathom VS750 Review
22

Introduction: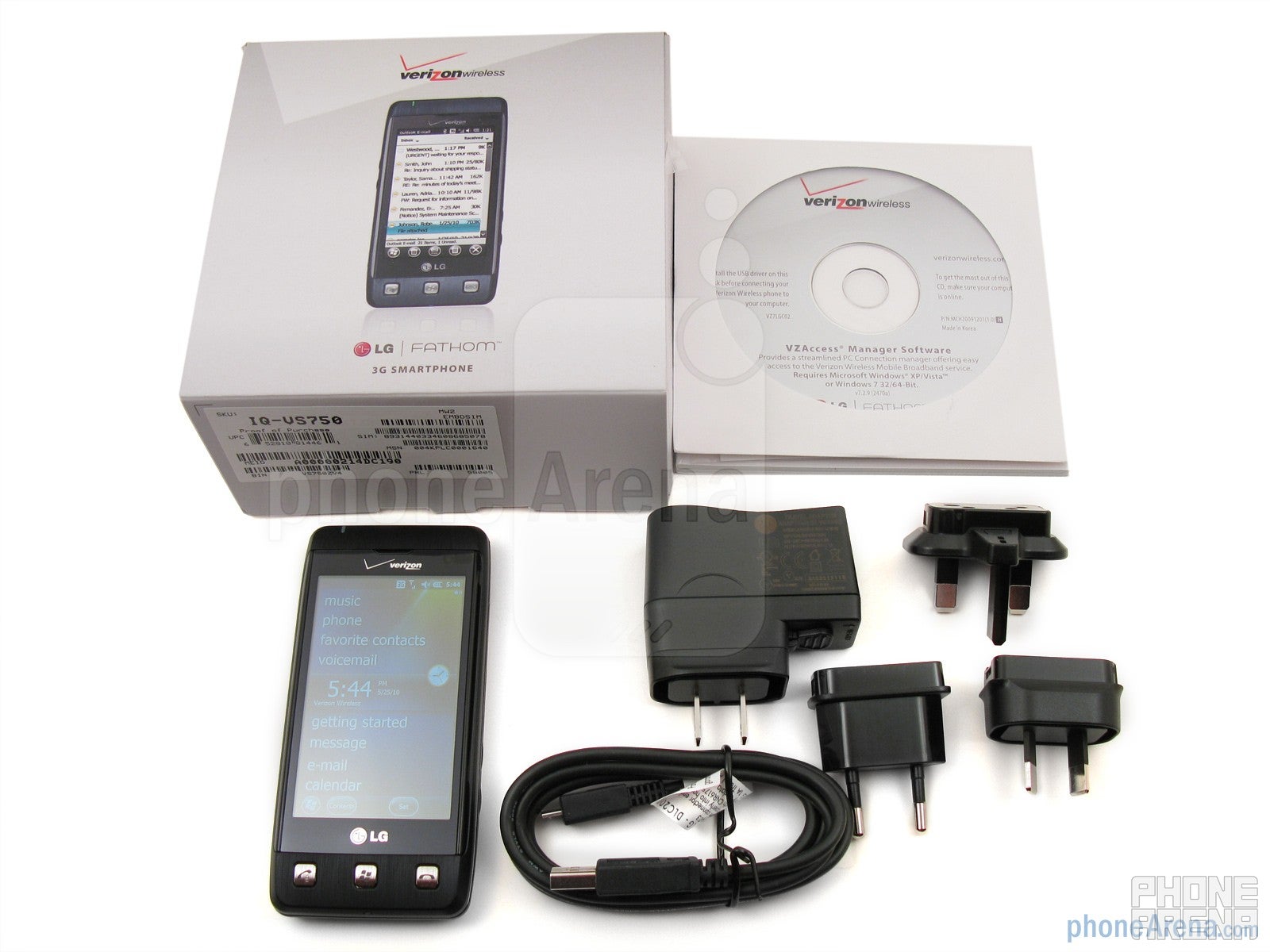 With Windows Phone 7 devices coming later this year, we have seen far less Windows Mobile 6.x smartphones released over the past few months. In fact, most recent smartphones for Verizon have featured the Android OS, which has taken off like wildfire. Until now, the last Windows Mobile device that Verizon released was the Samsung Omnia II i920, which came out near the end of 2009. It featured an impressive 3.7" AMOLED display, but the device was kind of sluggish and it lacked a physical keyboard, so it was not a must-have smartphone for business professionals. Now six months later comes the
LG Fathom VS750
, which is the manufacturer's first WM device for Verizon. Not only does it have a faster processor than the Samsung Omnia II (at 1GHz), but it also comes with a sliding QWERTY keyboard and is a world-phone that works on CDMA and GSM networks. But is this enough for consumers to snatch-up this WM 6.5.3 smartphone, or is the timing off, as people go with Android or wait for Windows Phone 7 to be released?
Included in the retail package is the LG FathomVS750 smartphone, 1500mAh battery, wall charger with detachable microUSB cable, international power adapters, preinstalled SIM card, 4GB microSD memory card, and user guides.
Design:
The LG Fathom VS750 is very unassuming in its appearance, and definitely won't win any fashion awards, but its all-plastic construction in black and dark blue feels well-made and more durable than the one of the Samsung Omnia II i920. It also has more weight and bulk than the Omnia II and HTC Imagio, as well as being less curved around the corners and edges. This gives the Fathom almost a brick-like quality.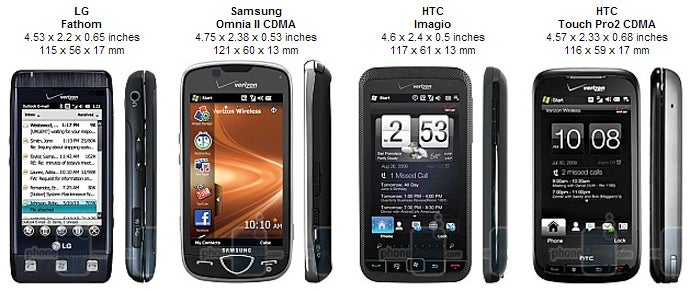 You can compare the LG Fathom VS750 with many other phones using our
Size Visualization Tool
.
On the front
of the LG Fathom VS750 is the 3.2 inch 480x800 pixel display, which still uses resistive touch-screen technology, though we had hoped it would be capacitive like on the LG Ally. Since it is resistive, it requires a press with your finger (or included stylus) to get a response, though it doesn't need as firm of a press as resistive models from years past. Even though the screen size is limited to 3.2", it shows images and text well and lacks any pixelation, though it can be difficult to view the display in direct sunlight. Below it are three brushed-chrome buttons for send, start (menu), and end. Along the sides are the volume rocker, microUSB port, reset button, 3.5mm headset jack, task manager key, 2-stop camera shutter button, removable stylus, power/lock key, and microSDHC memory card slot that comes with a 4GB card preinstalled. On the back is the 3.2MP autofocus camera and external speaker, and under the 1500mAh battery is the included Verizon/Vodafone SIM card.
One area that the LG Fathom VS750 trumps the Samsung Omnia II i920 and HTC Imagio XV6975 is that it comes with a sliding 4-row
QWERTY keyboard
.. Its layout is slightly different than the keyboard used by the LG Ally VS740, as the keys are lined-up perfectly in straight rows (instead of being offset) and the keys themselves aren't raised as much from the surrounding plastic, thus having a flatter feel. The Fathom's keyboard is easy to use and works well, though we did find the one on the Ally to be a bit more comfortable when typing long messages. One area of disappointment is that the LG Fathom and Ally will only turn on the keyboard backlight for 5 seconds at a time, which can be annoying when typing in the dark. The navigational d-pad is on the right side and can be used in place of using the touchscreen, as we found it useful in the web browser when selecting small links without having to zoom in.
LG Fathom VS750 360 Degrees View Recommended Stories