This is a CDMA phone offered with Verizon.
Introduction:
The Dare isn't necessarily an upgrade to the Voyager, as both are targeted to different consumers. Unlike the Voyager, which has a large clamshell design with dual displays, mechanical QWERTY keyboard, 2MP Camera, and Mobile TV service, the Dare is much sleeker and sexier, with only one display, more robust user interface, multitasking, and 3.2MP Camera. It also comes on the heals of the release of the Samsung Glyde, which didn't do so well under our testing last month. Not only is the Dare competing against those devices, but also with the Samsung Instinct for Sprint and Apple's upcoming iPhone 3G for AT&T. The true winner here is the consumer, as they now have several options to choose from, with each new device trying to out-do the other.
The Retail Package includes the LG Dare phone, 1100mAh battery with cover, music management CD, and user manual. Instead of a standard wall charger, now included a new modular unit that plugs into the wall, but the cord can be disconnected, which turns it into a USB cable for PC connectivity. This is an interesting concept, but if you lose the USB cable, you can no longer use the wall plug unless you buy a new cable.
Design: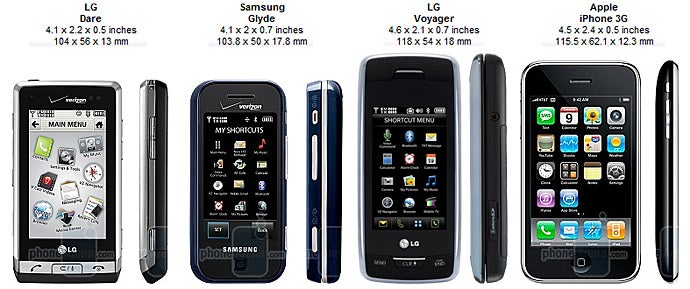 You can compare the LG Dare with many other phones using our
Size Visualization Tool
.
The Dare is a slim and attractive candybar style phone, as it does not flip or slide open in any way, and is constructed mostly out of black plastic with chrome accents. The front is a fingerprint magnet, as one would expect, but the back features the same soft-touch coating that is used on the Voyager. Overall, the device it seems durable, with the exception of the rear battery cover, which is feels flimsy once removed. When holding onto the phone, it feels smaller and less cumbersome than the Voyager, and is also less noticeable and brick-like when placed in your pant's pocket. This is a welcome change.
The only physical buttons located on the front are for Send, Clear/VoiceCommand, and End/Power. They have a classy look to them, with shiny chrome and white backlighting. Along the
left side
are the lock and speakerphone buttons, microSDHC memory card slot and microUSB data port, and on the
right side
are the volume rocker and camera button. There is a 3.5mm headset jack
on the top
, and the 3.2MP camera and flash are
on the back
.