Huawei Mate 8 Review
54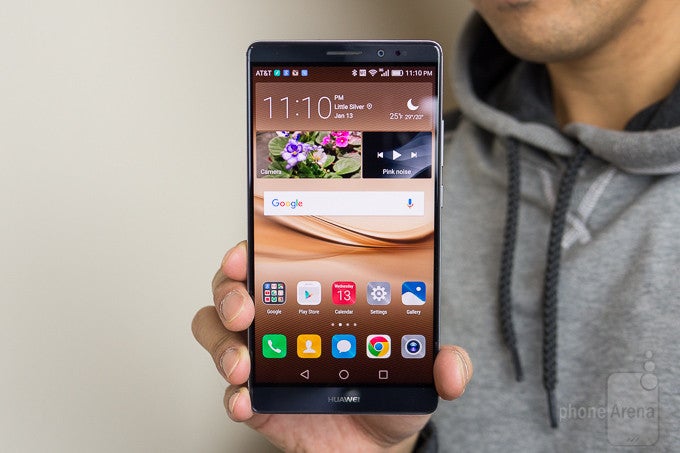 Update

: You can now read our Huawei Mate 9 review!

Introduction
Surging to new heights after the successful release of the
Google Nexus 6P
, consumers around the world are becoming increasingly aware of the company behind the prized phone. Huawei's remarkable run in 2015 is extending already into the New Year, where it used CES 2016 to announce its latest smartphone in the Mate lineup – the
Huawei Mate 8
.
It's been over a year since its predecessor launched, but even more pressing is that the bar has since been raised by the Nexus 6P, so the Mate 8 is predisposed to a higher level of expectation. Similar to the recent
Mate S
, however, we're a bit skeptical about its worth being attached with a starting price of €599 (~$650). That's quite a wallop considering all things, but let's find out how it fairs.
The package contains:
Huawei Mate 8
2A Wall Charger
microUSB cable
SIM ejector tool
Earphones
Protective case
User guide
Design
Huawei produces a great all-metal phone design.

By now, there's no denying it. Huawei is able to play on the same level with established industry brands such as HTC, when it comes to delivering quality all-metal designs. The Mate 8 is a beautifully crafted, all-metal design with a subtle curve that employs many of the design characteristics we're familiar seeing in the Mate series. And for something adorned with a 6-inch screen, it doesn't feel oversized at all, as they've kept it pretty svelte and lightweight. By no means is it meant to be a one-hand device, but the aesthetics make it a far more forgiving thing to handle.
Many things about the phone's design have been meticulously thought out, like the arrangement of its SIM slot, which fashions together the microSD, nanoSIM, and microSIM slots into a singular unit. If that's not versatility, then we don't know what is. There's also the recessed fingerprint sensor on its back too, which, just like the one in the Nexus 6P, is remarkably accurate and responsive – plus, it's in a good placement as we hold the phone.
Display
Same overblown colors as usual, but it comes with a more potent luminance.

The Mate 8 comes with a 6-inch IPS LCD display that's slapped with 1080p resolution. The resulting pixel density of 367 ppi is certainly sufficient in reading out fine text with our eyes from a normal distance.

Thankfully, the display that's present here is significantly more improved with its brightness output than the one in the Mate S that we reviewed last month. In particular, its peak luminance reaches 492 nits, making it more visible under direct sunlight. However, it shares the same color reproduction as the Mate S, as opposed to the more accurate panel of the Ascend Mate 7 before it. Therefore, colors appear overblown, which some folks won't mind, but the results aren't necessarily true-to-life.
Display measurements and quality