HTC One vs Samsung Galaxy S III
44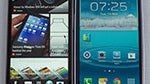 Introduction
Samsung's last year finest is still one of the most popular Android handsets around, which says a lot, and we are therefore pitting it against HTC's latest and greatest to ease your choice in the quest for the perfect fit.
HTC One
sports a few novel features, like the UltraPixel camera with optical image stabilization, and the frontal stereo speakers setup. Samsung, as usual, bets on its unique AMOLED display technology, stuffed in a thin and light body, so which one is for you? Read on to find out...
Design
The polycarbonate
Galaxy S III
is slightly shorter and thinner than the One, but the aluminum-clad HTC is narrower and more elongated, thus easier for one-handed navigation.
The polished aluminum chassis of the HTC One goes rather edgy and slippery in the hand, compared to holding the curvy Galaxy S III, yet there is no denying that the precision-crafted metal unibody HTC has come up with looks and feels great in the hand. The other metal accents, like the one-piece volume key on the right, only contribute to the premium feeling.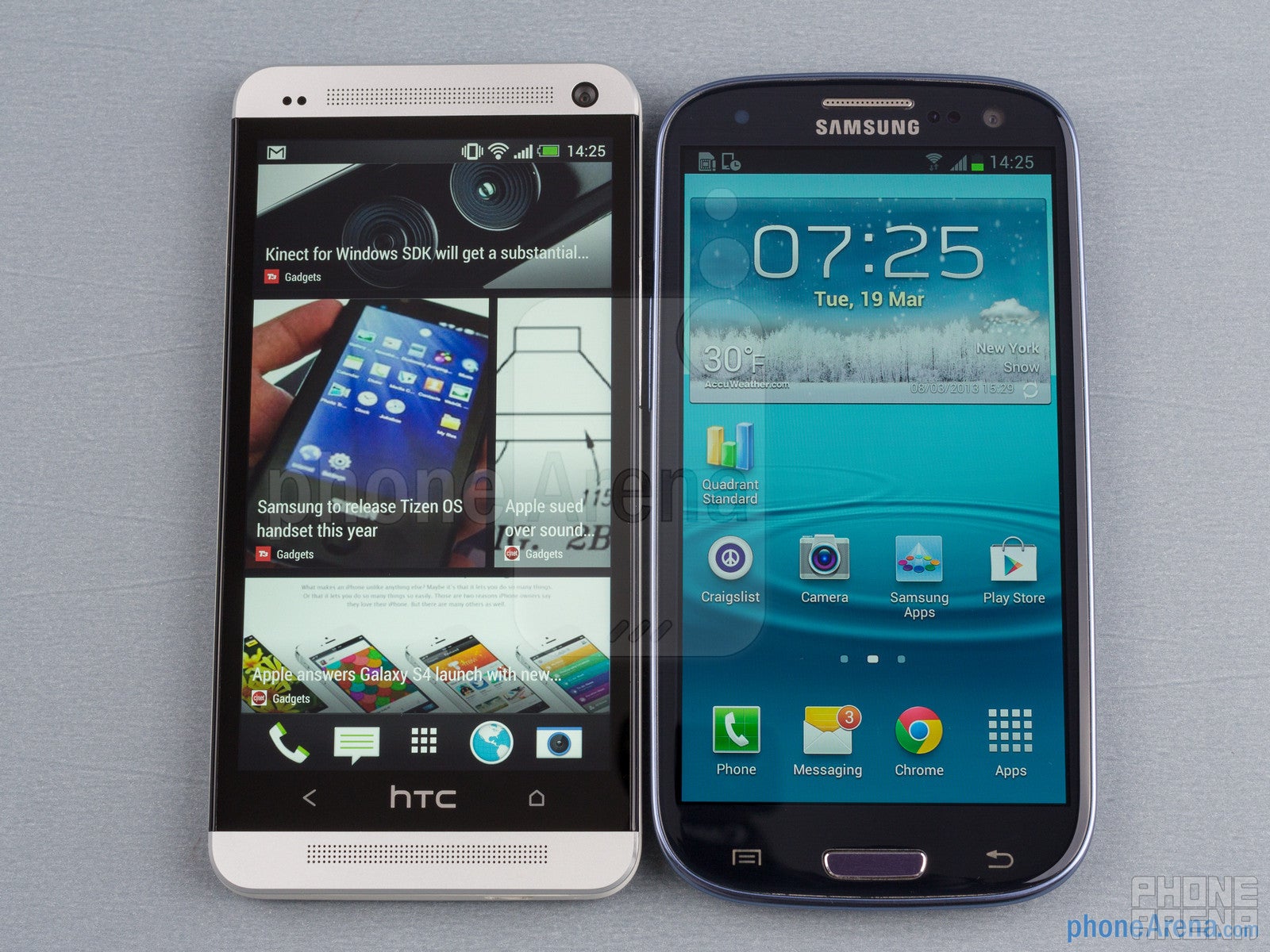 HTC has also equipped its phone with a dual stereo speakers setup in the front, and integrated an IR blaster into the power/lock key, which lets you control TVs and set-top boxes, which are features the Galaxy S III doesn't possess.
HTC has placed the capacitive back button on the left under the display, though, which requires a lot more thumb stretching, unless you are a leftie. Kaji tuk I za power buttona on top koito pri tozi razmer ne e lesen za one hand?
Display
The HTC One sports a pretty great 4.7" Full HD S-LCD 3 display with 1080x1920 pixels of resolution, ensuring the highest 468ppi pixel density. The colors are accurate, and viewing angles are some of the best we've seen. It is not as bright as the displays on the HTC One X or the iPhone 5, for instance, but the difference is not big, so it's still pretty visible in direct sunlight, albeit could be less reflective.
The Galaxy S III is equipped with a 4.8" HD Super AMOLED display with 720x1280 pixels, which ring in a lower, 306ppi pixel density. It is still more than enough for your daily tasks, plus we get the typical for OLED screens wide viewing angles and deep blacks, but calibration is a weak point. Colors on the Galaxy S III are quite oversaturated by default, and appear pretty cold as well.
These are not major gripes, unless you are a display nut, but brightness is, and the S III doesn't deliver in that respect. Its low screen reflectance can't compensate for sub-400 nits luminance, which makes it difficult to tell anything outside, unless you shade the screen with your palm, while the HTC One screen perform much better in sunlight.
HTC One 360-Degrees View:
Samsung Galaxy S III 360-Degrees View:
Recommended Stories