Samsung Galaxy S6 edge vs HTC One M9
12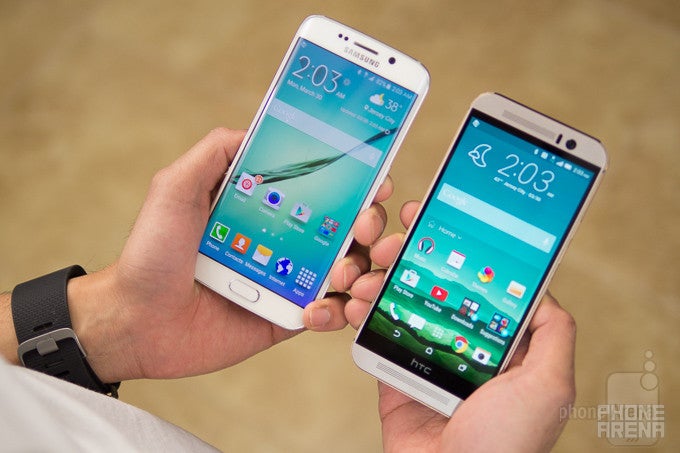 Introduction
We're starting out 2015 with a bang. The time for deliberation is over, and both Samsung and HTC are about to pounce on the market, hoping to slash as big a share as possible. But if your current daily driver is starting to feel a bit dated, and ready for an upgrade, it'll be up to you to pick between the two teams, and that's hardly ever a trivial task with high-end devices.
With the
Galaxy S6 edge
, Samsung is impressing upon the public that it is both capable and willing to change if its fan base (and stock holders) requires it to. To that end, the Galaxy S6 edge comes in an unmistakably premium unibody that fuses glass and metal together and adds a display such as we have never seen before – one that has both its sides sloping towards the edges. Better yet, Samsung has finally addressed complaints relating to its heavy TouchWiz overlay, with a number of optimizations having been carried out. All of this is rounded off with some truly bleeding edge hardware having found its way under the screen.
On the face of it, HTC's efforts fade in comparison, as despite its
One M9
still commanding a respectable lead in terms of craftsmanship and overall design, the S6 edge isn't far behind. The Taiwanese maker has focused most of its attention on one single area: the rear camera. Indeed, gone is the under-performing UltraPixel camera, and we're now looking at a more impressive, 20-megapixel unit that the company hopes will position its flagship better than ever before.
So which one is the better buy? Let's dig in and find out.
Design
Samsung outdid itself with the Galaxy S6 edge's design, but as much as we like it, it doesn't come close to the One M9's aura of classiness.
With every new Galaxy S release, Samsung has historically built upon the base by refining what's already there and adding some extra on top. This time around, however, the company wasn't content with just another evolutionary change – it went ahead with the clear aim of revolutionizing its smartphone design efforts. To that end, instead of the plasticky shell of the Galaxy S5, Samsung has adopted a metal frame that hugs the device and its sloping screen all over and nestles within two sheets of Corning Gorilla Glass 4 – one placed in front of the curvy display, and the other to protect the rear. Samsung didn't stop there, instead opting to carve several 'nano layers' into the shell. The result is a phone that reflects light in different hues depending on your viewing angle. As it comes down to taste, this can be viewed as either ostentatious and tacky, or unique and attractive. Regardless of which group you fall in, it's quite likely that you will not appreciate the ease with which the rear smudges – just a few minutes with the phone leaves the back a complete mess.
However, for all of Samsung's admirable efforts, and despite the undeniably sexier-than-ever-before appearances of the Galaxy S6 edge, the One M9 still remains the more stylish pick of the two in our eyes. What could spell trouble for HTC's new flagship in the eyes of others, however, is the lack of visible changes. Indeed, despite its enjoyable looks, the One M9 remains a very similar device to its predecessor, the One M8, which, in turn, felt a lot like the One M7 before it. We certainly understand that the One line's design can be seen as timeless, but we nevertheless can't shake the feeling that we're looking at only a slightly redesigned device compared to last year's offering.
In terms of physical footprint and ergonomics, we've got a slight advantage for the Galaxy S6 on the first count, and a lead for the One M9 on the second. That is, while the S6 edge touts a slightly larger display, its dimensions of 5.59 x 2.76 x 0.28 inches still read a tad better than the M9's 5.69 x 2.74 x 0.38 inches, and specifically in terms of thinness. But a slim profile doesn't equal better handling, and that remains strictly an HTC domain. Indeed, the edgy sides of Samsung's flagship are a tad uncomfortable to hold, not to mention that the heftier depth to the M9 and the rounded rear shell make for a more ergonomic grip
Display
In 'Basic' screen mode, the Galaxy S6 edge's panel proves far superior to the one of the One M9.
The Galaxy S6 edge and One M9 both stick to the same display sizes introduced by their predecessors, but the two still differ vastly. With its new flagship, HTC is again making use of an S-LCD3 panel with a 5-inch diagonal and 1080 x 1920 resolution – good for 441 pixels per inch. In Samsung's camp, we're looking at a 5.1-inch Super AMOLED display that slopes to the sides, but unlike the one embedded within its predecessor, we now have the whopping 1440 x 2560 pixels, or an even greater pitch of 577 ppi. Regardless, do keep in mind that due to the small physical size of these screens, that supposed advantage in pixel density is almost entirely limited to bragging rights on paper.
Speaking of what's on paper and what's going on in reality, let's talk about color calibration. With the Samsung Galaxy S6 edge set in the non-default Basic display mode, we're looking at a spot-on color temperature of 6800K (6500K being the desired optimal value, but 6800K is considered extremely close), while the One M9 offers the unsatisfactory 8100K. In real terms, this means that the One M9's display is cold (or bluish) and that's especially visible with whites and the various shades of gray. In comparison, Samsung's device offers realistic whites that are... well, white!
Were we to draw the line right here, the One M9 would only suffer a small defeat, instead of being steamrolled as it is in reality. Indeed, the Galaxy S6's display also proves far better in terms of color accuracy, with essentially every shade hitting its desired target at every intensity level, while the M9 falters significantly in comparison – reds are not quite red enough, yellows exhibit a greenish hue, and magenta leans heavily on blue. Further still, the S6 has and advantage in terms of maximum brightness and even gamma – 553 nits and 2.2 vs the still excellent 508 nits and 2.21 for the One M9.
Display measurements and quality
Recommended Stories