HTC One M9 vs Google Nexus 6
1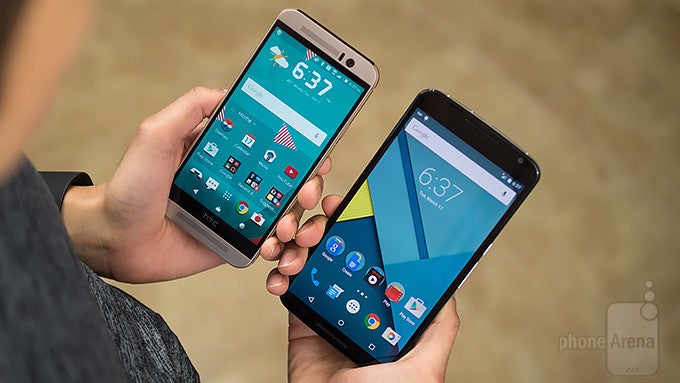 Introduction
You don't mess with a winning formula, wise people say, and some will point out that HTC's brand-new
One M9
flagship is a testament to that. But the underlying decision-making that brought us the M9 is a bit more complicated than that. A bit, not a lot.
The One M9, then, features the same distinguished metallic unibody design with front-facing BoomSound loudspeakers that won our hearts before becoming synonymous with the series, but improves upon its predecessors in controversial areas such as the camera and even adds some extra smarts to the proprietary Sense interface. The rest, however, mostly boils down to the typical for the industry specs bump – a little more RAM here, and a few more processor cores there.
Is that enough for the One M9 to turn HTC's fortunes around and are veteran devices to worry? We let the
Google Nexus 6
answer that question for us.
Design
The unquestionably stylish pick, the One M9 makes short work of the far more conservative, bulky Nexus 6.
Few things are as characteristic of HTC as the design philosophy that serves as the foundation of the flagship One line. But if you thought that last year's One M8 was a disappointingly minor update over the 2013 One M7, then you likely won't appreciate the even smaller differences in the brush work with the M9. Indeed, by far the most visible change is the substitution of the round camera ring of old with a square cutout.
And yet, we're still looking at an undeniably stylish, sturdy metal unibody that is a delight to hold onto. Not at all surprisingly, it's also a worthy – even superior – design piece when compared with the Nexus 6.
But the Motorola-built Google Nexus 6 is no sissy itself. Sure, its matte plastic back can't stand up to the M9's in terms of the materials used, the feel it leaves in the hand, and even the success with which it repels fingerprints – the Nexus 6's back smudges awfully easy – but it does feature a dependable metal frame. In fact, were it not the One M9's exceptional construction, we'd likely rave about its build quality. But when you have HTC's finest in your other hand, this feels a little less important to communicate.
But good-looking design doesn't necessarily translate into great ergonomics. Thankfully for HTC, the One M9 sits far more comfortably in our palm, and mostly on account of its notably smaller physical footprint and aggressively rounded rear. Indeed, courtesy of its larger display, the Nexus 6 is both considerably taller and wider, making for a shaky ride as far as one-handed usage is concerned. At 6.49 oz (184 g) and 0.4 inches (10.06 mm), Google's Nexus 6 is also heavier and even slightly thicker than the One M9, which tips the scales at 5.54 oz (157 g) and features a 0.38 inches-thick (9.61 mm) profile.
Display
HTC shuns the 'more is always better' philosophy by refusing to jump on the Quad HD display bandwagon.
HTC and Google seem to differ in their view of what an appropriate display size means for their respective flagship devices – at 5 inches, the One M9 offers a great deal less screen real estate when compared with the 6-incher of the Nexus 6. That's not all, however, as the Nexus 6's AMOLED panel is also more pixel-dense and offers a resolution of 1440 x 2560 (493 ppi) – a considerable lead on the One M9's 1080 x 1920 pixel resolution S-LCD3 display (441 ppi). Thankfully for HTC, this ostensible advantage of Google's handset doesn't really mean much in reality, as the human eye has a pretty impossible task spotting any differences in image sharpness. What's more, HTC's more conservative approach translates into less overhead in terms of performance.
When it comes to the color calibration of the two screens, we have a somewhat similar back-and-forth. The One M9's display, then, comes with a color temperature of 8114K (6500K being optimal), which is overly cold (bluish), and doesn't hit the nail on the head quite like the Nexus 6's, which has an excellent temperature of 6551K. Moreover, the One M9 also fares rather poorly in terms of color accuracy, as its panel renders hues with non-trivial deviations. So red is less red at every intensity, yellows are greenish, and magenta leans heavily on blue. In comparison, the also imperfect display of the Nexus 6 fares far better and delivers a more life-like image.
A saving grace for the M9 are its screen's significantly better maximum brightness output (508 nits vs just 270 nits) and excellent gamma (2.21 vs 1.94). The One M9 also offers a dedicated gloves mode that allows you to operate its screen even with your mittens on – a welcome extra for the cold months of the year, and one the Nexus 6 is without.
Display measurements and quality