OnePlus 5 vs Apple iPhone 7 Plus
23

Introduction
OnePlus, a company that started making phones just three years ago, has already built a name for itself with the great value-for-money phones that it makes. The
OnePlus 5
is its best and its most expensive phone so far, yet it still costs a lot less than a mainstream flagship like the 5.5-inch
Apple iPhone 7 Plus
.
The OnePlus 5 looks up to that device (or should we say "copies it") in a lot of ways: most notably, it has a similar design and it uses a dual camera system with support for Portrait mode, the signature feature of the 7 Plus.
With so many similarities, we just had to directly match up the two in a detailed comparison. We look at the design differences, question ourselves which phone has better performance and battery life, and compare their cameras. Read on.
Design
The OnePlus took a few cues from the iPhone 7 Plus, but its curved back and accents give it its own personality. The iPhone is the original, but it has big bezels and a much biggerfootprint that might be off-putting to some, while the OnePlus is more compact. Unfortunately, there is no water-proofing on the OnePlus.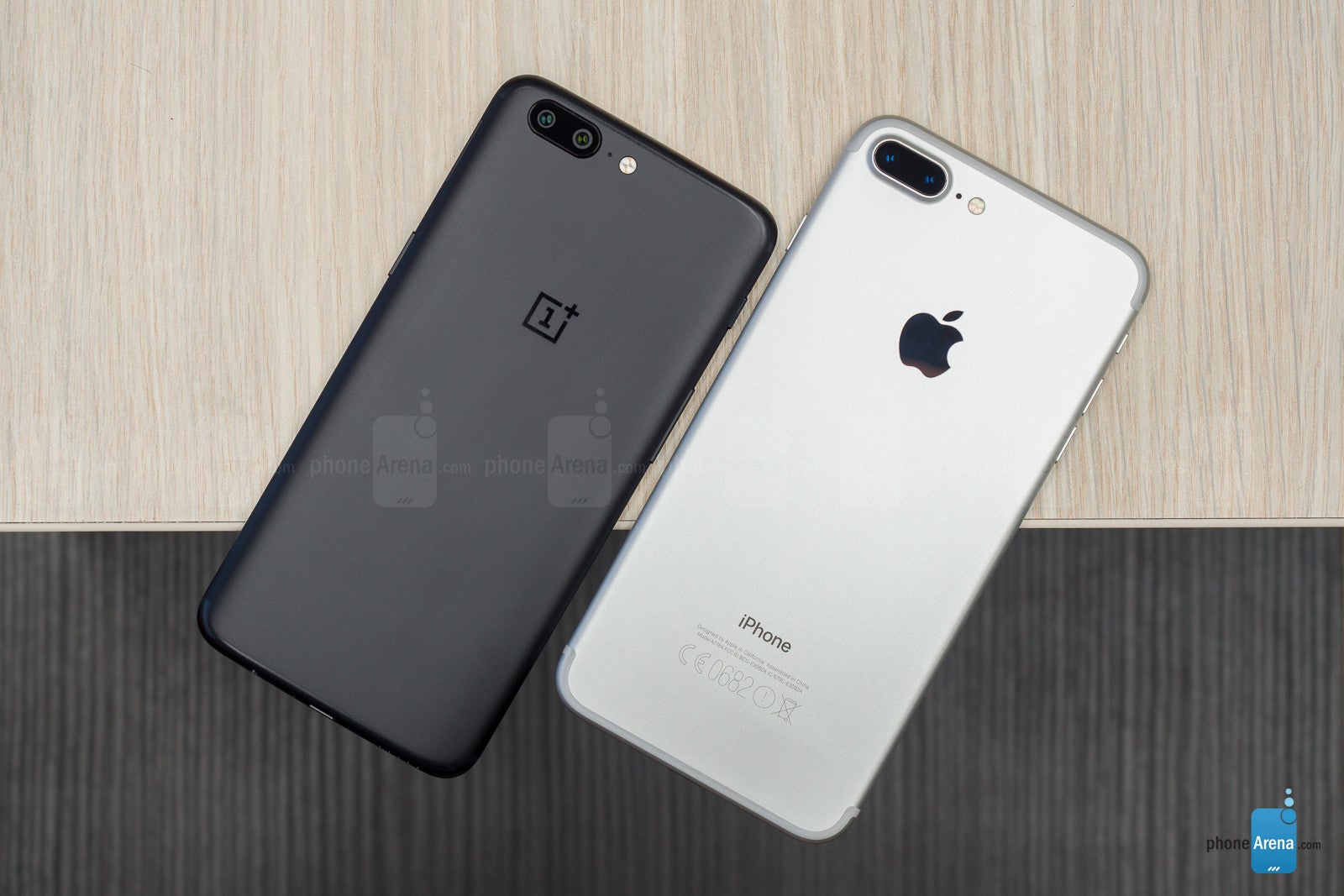 The big surprise with the OnePlus 5 was just how shockingly similar it looked to the iPhone 7 Plus. At least that's what unofficial leaked pictures of the phone would have had you believe. After you see the phone in real life, you realize that the similarity is there, but it's not as shocking and in-your-face as those images might have convinced you.
Both the OnePlus 5 and the iPhone 7 Plus are made out of aluminum, with the buttons also made of metal. Buttons feel clicky on both, with a lot of travel, but it takes a little more effort to press a button on the iPhone than on the OnePlus. The OnePlus also features a slight curve on its back, which makes it fit more comfortably in the hand. Both phones are slippery, but the OnePlus more so. We recommend using a case on both for extra protection.
In terms of physical size, the OnePlus 5 has smaller bezels and a narrower footprint, which makes it more ergonomic. The iPhone, on the other hand, is noticeably bigger than the OnePlus and in fact, one of the largest 5.5-inch phones around, which might inconvenience some people.
What the OnePlus 5 still lacks is water-protection. The iPhone 7 Plus is officially IP67 water and dust protected, meaning that it is guaranteed to withstand water damage for as much as 30 minutes under 3 feet deep fresh water. Not having water resistance is not a dealbreaker, but it's definitely a drawback in our books.
Both phones have their fingerprint scanners conveniently located in the front, right below the display. They are both styled to look like physical keys, but you cannot actually press either. Tapping them brings you to the home screen on both and both feature fingerprint readers that are fast and accurate, but it is the OnePlus 5 that feels faster.
Display
Two gorgeous displays: a 5.5" LCD one on the iPhone, and a 5.5" AMOLED one on the OnePlus.
Both the OnePlus 5 and the iPhone 7 Plus have 16:9 displays with a resolution of 1080 x 1920 pixels. No bezel-less full screen magic here. A Full HD display is a reasonable choice of resolution: going above that gives very little (if any) real-life improvement, but would take a toll on battery life and performance. The two screens differ in technology, though: we have an AMOLED screen on the OnePlus and an LCD one on the iPhone 7 Plus.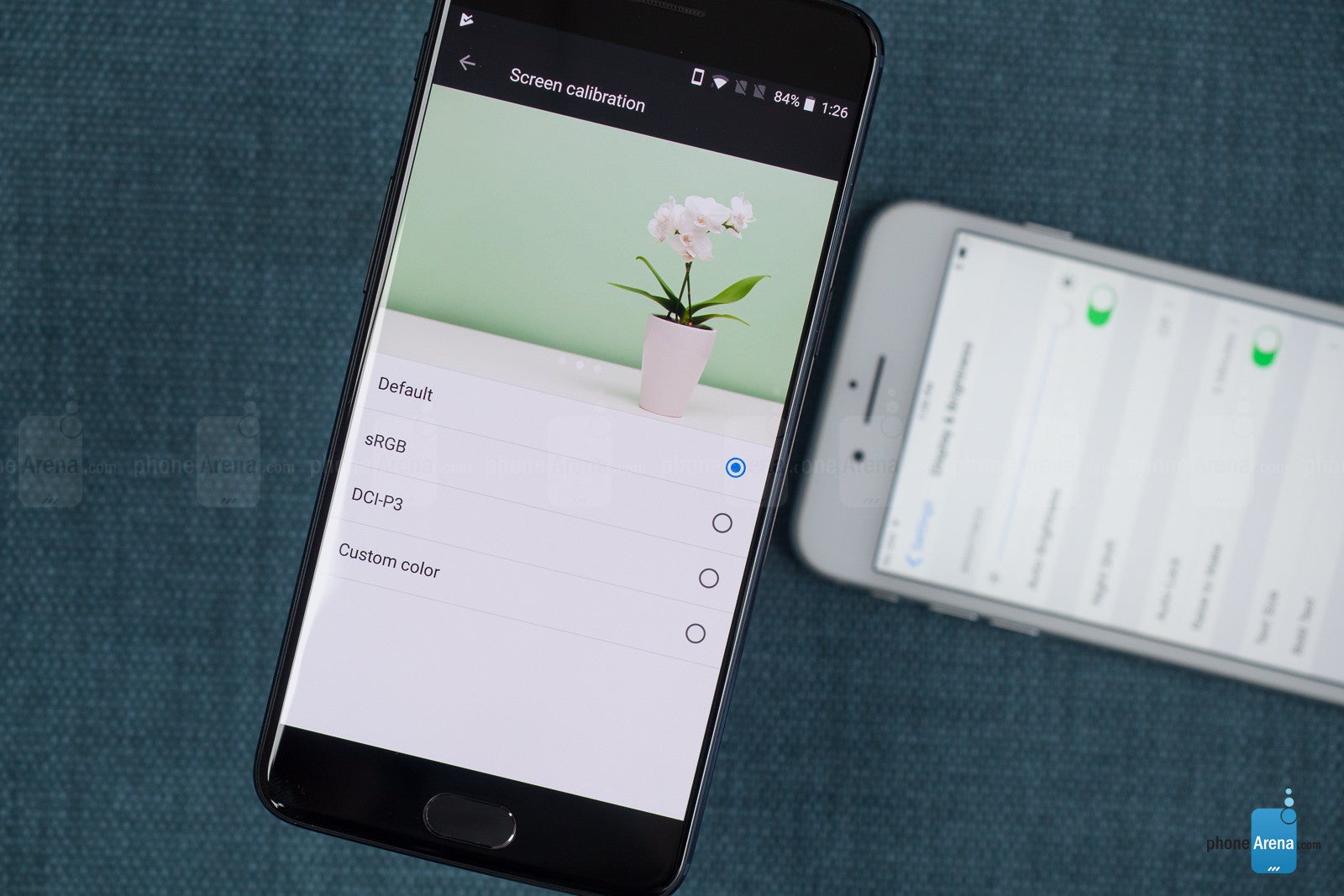 The AMOLED on the OnePlus 5 has a couple of advantages over the LCD one on the iPhone: deeper blacks and better viewing angles being the two major ones, but an LCD screen does not suffer from ghosting artifacts over the years and is usually brighter and easier to see outdoors.
In terms of color reproduction, both phones do a great job. The iPhone 7 Plus is a bit better for one simple reason: Apple's iOS supports color management and makes full use of the wider DCI-P3 color profile. Put simply, the iPhone knows when a content needs to be shown in wide color and delivers those punchy colors when needed, while Android still lacks system-wide color management. You do get partial color profiles on the OnePlus, though, and colors do look fine on it as well. You can choose between sRGB and DCI-P3 for those punchier colors.
The iPhone also has 3D Touch, a dedicate layer beneath the display that allows it to tell pressure. This comes in handy in most first-party apps and in many third-party ones. It's particularly useful in the keyboard: 3D Touch it to have it transform into a trackpad that allows very precise positioning of the cursor. The OnePlus lacks such a functionality, instead replacing it partly with the clumsier long press in Android.
Both phones also come with 'Night' mode, a built-in blue light filter that helps night birds fall asleep easier and not get distracted by a phone display's blue light. The effect is customizable on both, but feels a bit more subtle and well made on the iPhone.
The OnePlus also ships with a new 'Reading' mode that turns the screen black and white, and makes it sharper. It's easier on the eyes and emulates an e-book look, and we appreciate having it.
Display measurements and quality