Samsung Galaxy Note 8 vs Apple iPhone 7 Plus
27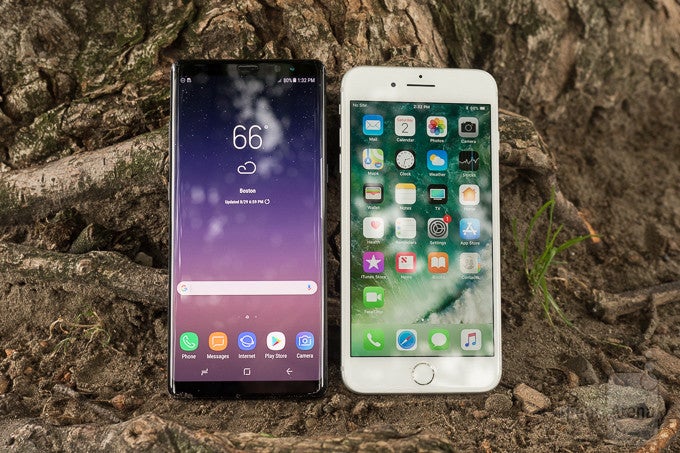 Introduction
The flames have been extinguished. The ashes of the past – forgotten. Mistakes – forgiven.
A new Galaxy Note is here. And boy is it a beast. Hungry. Raw. Yet, deep inside, you can see it's also gentle, humble. It's the kind of beast you don't want to mess with.
But then, there's another one. Older, charismatic, proven – this one, you don't even compete with; it's there to inspire you, show you the way. It's the iPhone 7 Plus.
And yet, here we are in the company of these plus-sized beasts, and it's obvious this is quickly going to get messy. Also, beautiful! Because what we have here is nothing less than two of the finest personal computing devices ever made. Ladies and gentlemen, this is the comparison you've been waiting for:
Samsung Galaxy Note 8
vs
Apple iPhone 7 Plus
!
Design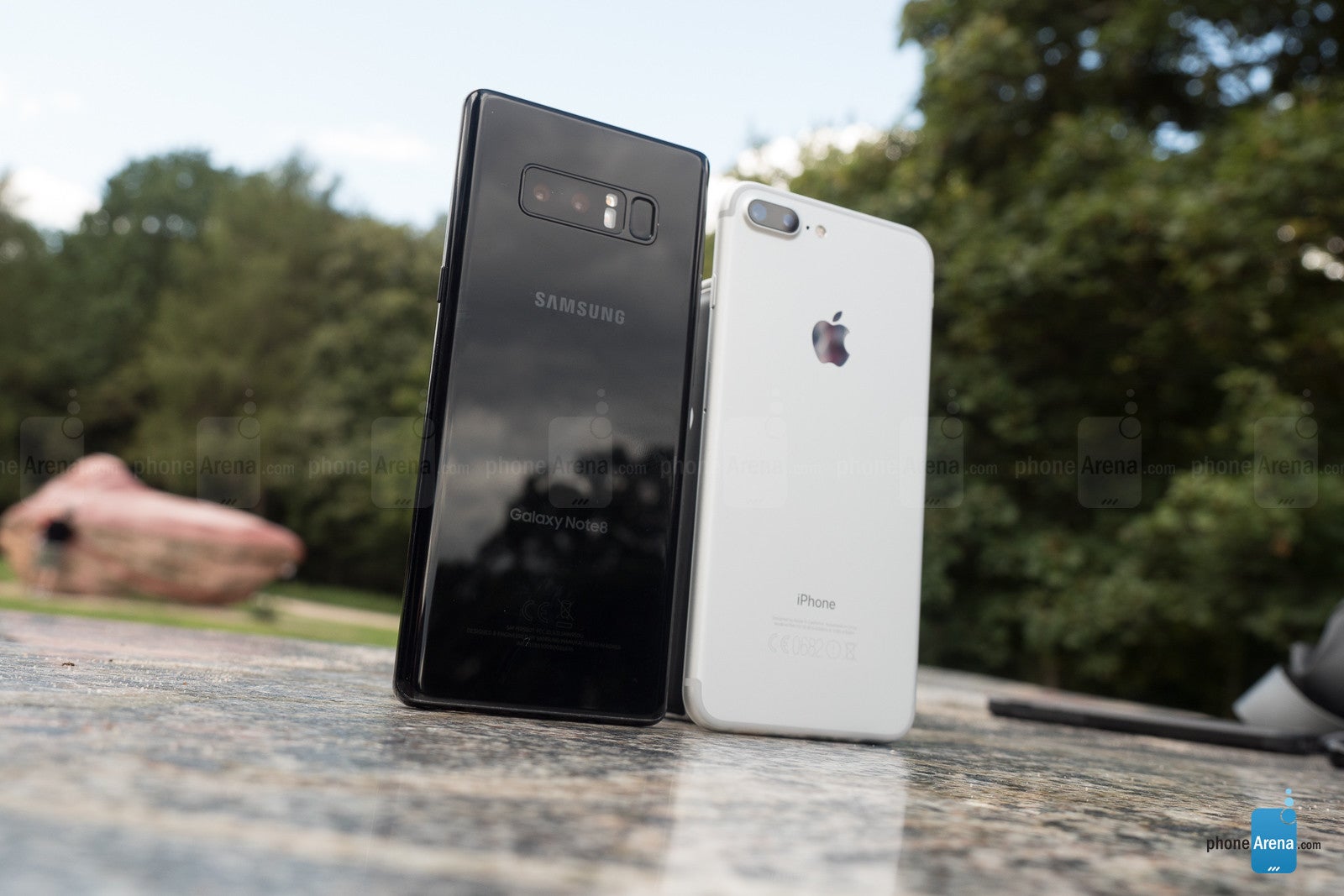 Samsung and Apple have different approaches when it comes to exterior design. Samsung prefers iterative, year-to-year updates, while Apple usually comes up with a forward-looking design which it then uses for at least a couple of years. Right now, Apple's iPhone 6 / 6s / 7 design is obviously close to running its course, which puts it at a disadvantage against Samsung's current Note 8 styling, for a couple of reasons:
1) Samsung has significantly reduced the bezels around the screen, and in the case of the Note 8, things are pretty symmetrical, so it looks great. Apple's iPhone 7 Plus, on the other hand, doesn't utilize frontal space too efficiently, by today's standards, keeping considerable top and bottom bezels, making the device larger than it needs to be. It still looks very nice, but is something that's going to be addressed in the next iteration of the iPhone. Not only do thinner bezels look more modern, they also mean the manufacturer can choose to fit a larger display in the same space, which is exactly what we have in this case, with the Note 8 having a significantly taller panel, allowing for more content to be shown at a time.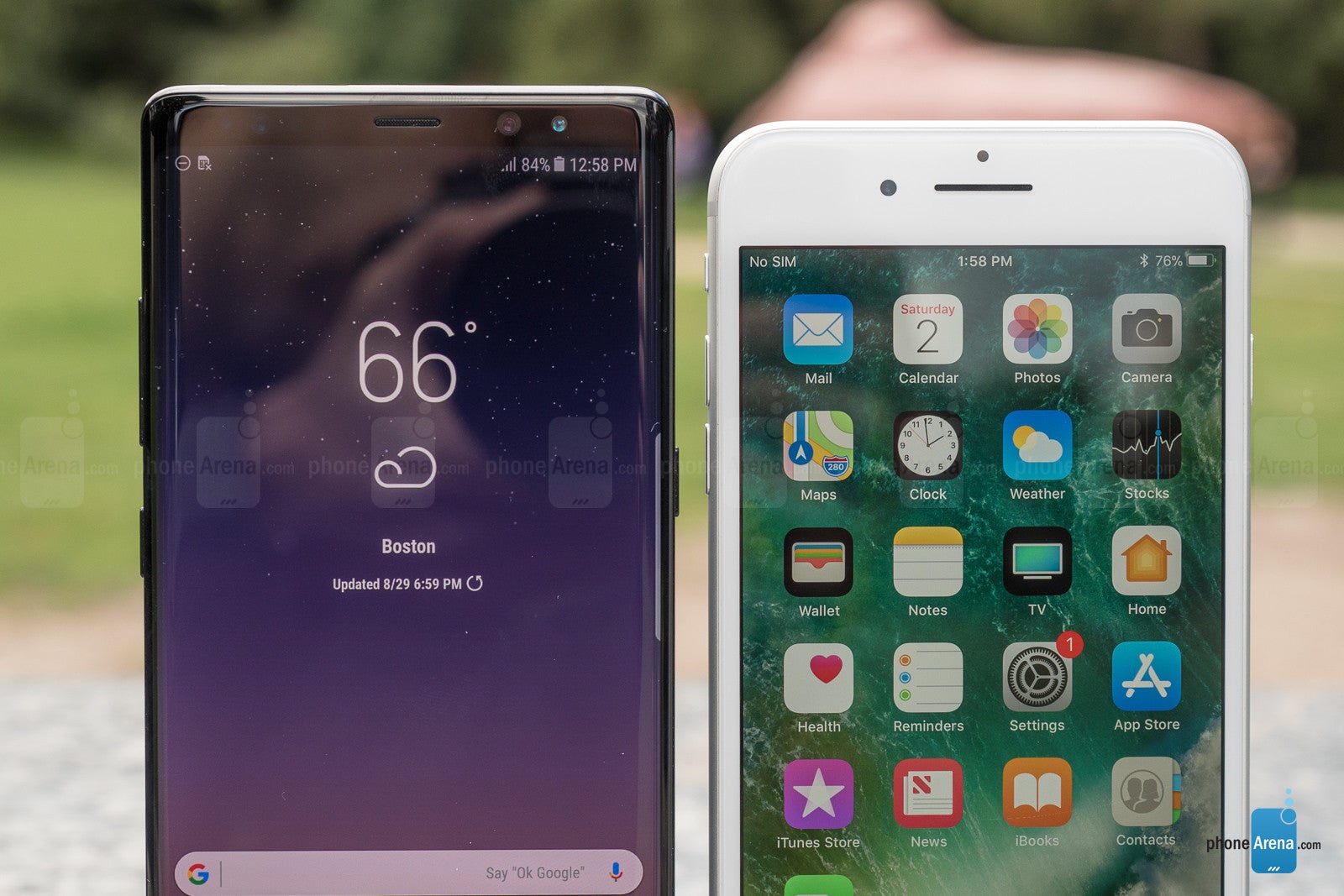 2) The other major difference is found with the materials in use: Samsung was never into the whole metal game, so back in 2015, it made the switch from plastic straight to glass, using metal only for the side frame of its handsets. Its initial attempts with glass weren't entirely convincing, but it had time to refine its styling, so now the Galaxy Note 8 comes in this nice assortment of mature color tones, with the whole phone surrounded by an equally nice polished metal frame. It's all very glossy, nice and easy to grip, and, of course: way easier to crack or break, compared to the iPhone 7 Plus' metal housing. However, the iPhone 7 Plus' clean, matte metal unibody (except for the Jet Black variant) now looks somewhat dry and not as extravagant as the Note 8's shiny exterior.
Both the Galaxy Note 8 and iPhone 7 Plus are certified as water- and dust-resistant, with IP68 rating for the Note 8 and IP67 for the iPhone 7 Plus. The actual difference in these certifications isn't considerable. It's great to have the confidence that both handsets should easily survive a spill of a drink (or a few!) on them. Beautiful and tough – these guys seem to have conquered all frontiers!
Display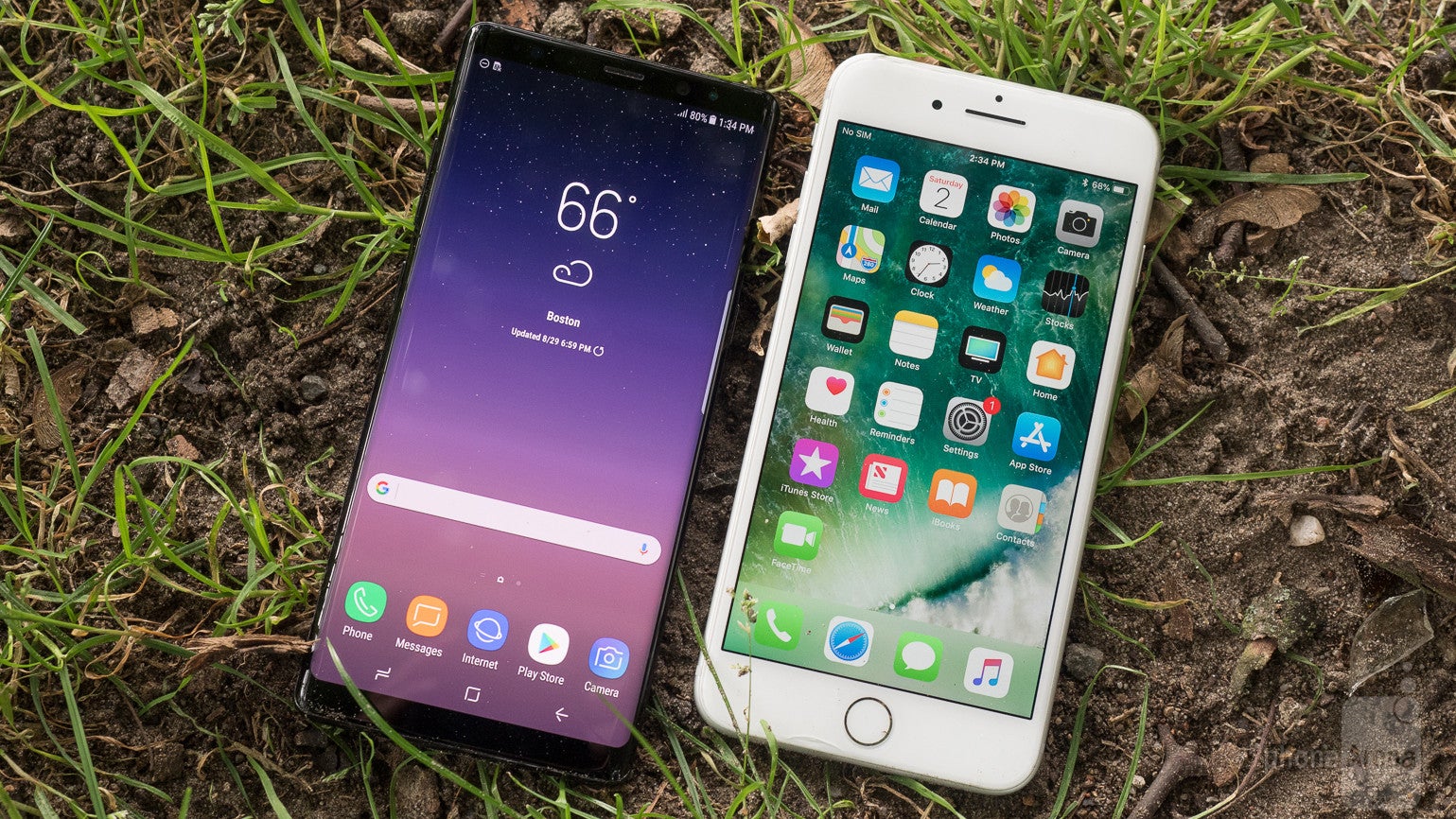 At 6.3" and 9:18.5 aspect ratio, the Note 8's AMOLED display stands tall like the Burj Khalifa. Fun fact: Samsung's engineering and construction division was among the main contractors who built Burj Khalifa. But let's get back to the phones.
The iPhone 7 Plus has a comparably massive 5.5" 9:16 LCD display. The main difference is that the Note's one is taller, allowing for more content to be displayed vertically. The great thing about the Note here is that it manages to fit this expansive screen in a body of similar size to that of the iPhone 7 Plus. The Note 8 also features a higher screen resolution, but it's mostly overkill, and even Samsung has chosen 1080px resolution to be the default one – same as what you get on the iPhone 7 Plus.
Color balance is great with both smartphones. The Galaxy Note 8 can be either unnaturally vibrant, or very precise, depending on the screen color mode that you choose. The iPhone 7 Plus also has a fantastic screen; perhaps a tad colder than needed, but still lively and accurate. Compared to the Note 8's OLED technology, the 7 Plus' LCD doesn't appear quite as vivid, but it does retain its color accuracy way better when viewed at an angle.
Display measurements and quality
Recommended Stories