Google Nexus 7 vs Amazon Kindle Fire
30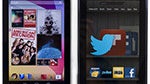 Introduction:
Eight months ago, the Amazon Kindle Fire ignited an explosion in the tablet universe, as it came to the table bearing one competitive price point that was regarded as unheard of at the time. Essentially, it opened the flood gates for a totally new segment of tablets. After soaking up the spotlight for some time now, there now seems to be a newcomer that's looking to shake things up even more – and at the same time, it's going to try to extinguish the Amazon Kindle Fire's luminous flame. Considering that the Google Nexus 7 is flaunting an exact price point of $200, while boasting newer internals and a fresh experience, it's seemingly ready to grab the spotlight away from under Amazon's offering.
Design:
Seriously, these two couldn't be any more similar to one another in terms of design – especially when their footprints are nearly identical. We can't say we're fans of either designs, seeing that they take the safe approach of donning conventional appearances, but we prefer the Google Nexus 7 just by a smidgen due to the fact it's much more comfortable to hold. Specifically, the outer edges of the tablet curve towards the rear to offer us a more natural feel when grasping it. Moreover, the Google Nexus 7 is both lighter and skinnier than the Amazon Kindle Fire, which again contributes to its more natural feel in the hand. Thankfully though, both employ some modest choice of materials that complement their decent constructions.
Between the two, we prefer the dedicated power button of the Nexus 7, mainly because it's somewhat more distinct than the button on Kindle Fire. At the same time, we like the convenience of being able to modify the Nexus 7's volume by pressing on its

physical controls

. In contrast, adjusting the volume on the Kindle Fire is done through its software.
Meanwhile, some of the other commonalities between these two budget tablets include their microUSB ports, 3.5mm headset jacks, unremovable batteries, and no physical storage expandability.
Display:
Hands down, the Google Nexus 7 has the sharper looking display between the two – even though they both size up at 7-inches, the

Nexus 7

benefits from its higher

WXGA 1280 x 800 resolution

, while the

Kindle Fire

packs a smaller

resolution of 1024 x 600

. From afar, it's rather difficult to discern which is more detailed, but upon closer inspection, it's quite evident that fine details are sharper with the Nexus 7. In fact, it's most apparent in the web browser as we view our site in zoomed out view. Interestingly, even though they both employ IPS LCD panels, the Nexus 7's display has a cooler tone, while the Kindle Fire has a warmer one. However, considering that viewing angles and contrast levels are better on the Google Nexus 7 as well, it undoubtedly solidifies its superiority.




Recommended Stories