Google Nexus 6 vs Apple iPhone 6
42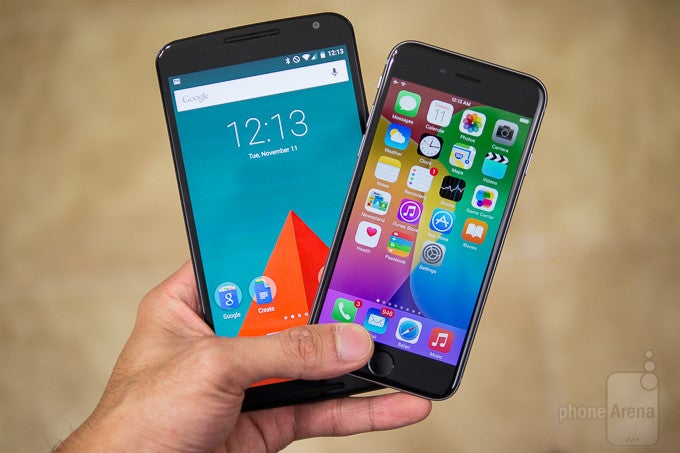 Introduction
Apple brought us two new smartphones this year, both of which are similarly spec'd, but there's no denying the obvious about the company's intentions. The trends, so far, have placed a lot of emphasis on these so-called phablets, so it doesn't shock us to see Google following the trend with the
Nexus 6
. Undoubtedly, it's one beastly of a phone from head-to-toe, but it's going to take some considerable push to combat the
iPhone 6
's popularity – one that's highly regarded as one of the best all-around phones out there.
Design
The compact size and premium look of the iPhone 6 keeps it in good light over the gargantuan size and plastic construction of the Nexus 6.
The Nexus 6 sports a sturdier construction than its predecessor, something we all appreciate no doubt, but it still doesn't contend with the meticulous, premium design of the iPhone 6. Essentially, it's that modern day mash-up between metal versus plastic – where the iPhone 6 exudes that elegant look with its aluminum chassis, while the Nexus 6's plastic body seems more likely to endure minor bumps and bruises with little repercussions. The biggest disparity with their designs, however, fall into the excessive size of the Nexus 6. It's a handful in itself, which makes the iPhone 6 considerably easier and more comfortable to hold.
Due to the premium finish of the iPhone 6, its power button and volume controls feel more solid – whereas the Nexus 6's set are thin and less distinct. Over on the Nexus 6, we really appreciate that it features dual front-firing speakers, which are more ideal because they disperse audio towards us. Meanwhile, the iPhone 6 differentiates itself by incorporating a Touch ID finger print sensor into its home button. Honestly, it's a special amenity that has its usefulness in securing the device and making payments via Apple Pay.
Display
Sure, the Nexus 6's display is amazing for its size and impressive QuadHD resolution, but the iPhone 6's 4.7" screen is brighter and more color accurate.
Seriously, we still can't get over the impeccable detail of the Nexus 6's obnoxiously large 5.96-inch 1440 x 2460 AMOLED display – a considerably details advantage over the iPhone 6's 4.7-inch 750 x 1334 IPS LCD panel. In all fairness, though, the two are effective enough to make out from a normal viewing distance, but upon closer inspection, there's no denying the significant amount of detail and sharpness that the Nexus 6's display delivers.
Outclassed in that one particular area, the iPhone 6 boasts its own set of impressive qualities. For example, its IPS LCD display is far more potent with its excellent 606 nit brightness, which blows away the 270 nits put out by the Nexus 6. All told, we're able to view the iPhone 6's screen under direct sunlight – whereas with the Nexus 6, its screen washes out tremendously, making it tough to see. In addition, the iPhone 6 is also better at reproducing colors, where its tones are more natural looking, in comparison to the over-saturated look of the Nexus 6.
Display measurements and quality