Camera Comparison: Samsung Galaxy S4 Zoom vs Galaxy S4, HTC One, iPhone 5
68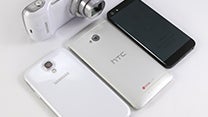 Introduction:
Is it a smartphone? Is it a camera? Actually, it is an amalgamation of both, and it is known as the
Samsung Galaxy S4 Zoom
. This peculiar device has the guts of a modern-day smartphone, and as a matter of fact, it packs enough punch to be anyone's daily driver. But at the same time, it also offers camera features rarely seen on something that can make phone calls – 10x optical zoom, optical image stabilization, xenon flash, and tons of manual camera adjustments are all in its arsenal.
So why are we even bothering to compare its photographic capabilities with those of other smartphones, as high-end as they may be? Well, because putting the latest smartphones through their paces is our job, for starters. Also, we have a strange feeling that the Samsung Galaxy S4 Zoom, despite having a 16MP camera sensor, may not be that radically superior to the handsets it will be competing against on the market. Our intuition could be wrong, of course, but whether that's the case or not will become clear once we're through with this extensive smartphone camera comparison.
The smartphones we've chosen to run against the Samsung Galaxy S4 Zoom are the
Samsung Galaxy S4
, equipped with a 13MP camera, the
HTC One
and its 4-megapixel "UltraPixel" camera, and the
iPhone 5
with its 8MP snapper. All three contenders are known to be very capable in the camera department and they will surely give the S4 Zoom some heated competition. A dedicated digital camera is also in play – a
Panasonic Lumix GH2
with its kit 14-42mm lens, serving the purpose of a reference device.
To keep things fair, all photos you're about to see have been snapped on automatic settings, unless noted otherwise. In other words, no special shooting modes or scenes have been applied in order to let each camera decide for itself what settings it should use, depending on the scene being captured. All pictures have been taken using nothing but a pair of steady hands, with the exception of indoor photos, for which we used a tripod.
Overall Presentation:
So without any further ado, let's take a look at what these four smartphones are capable of. Here we have a handful of photos that we took with them in a variety of lighting conditions. All images have been scaled down to a resolution of about 2.7MP (with a width of 1920px) as that size should suit the majority of consumers' needs. The goal of this is to present the photographs from a typical user''s point of view. That''s how the average Joe would view and use them – posted on a social network or a photo sharing web site, for example. And by the way, a digital photo of this size is perfectly suitable for making 6"" by 4"" hard copies.
As expected, the Samsung Galaxy S4 Zoom produces great results. Its images are very detailed, with well-balanced colors and accurate exposure. Besides, the Zoom handles dynamics really well, which makes its photos more lifelike. But interestingly, the Samsung Galaxy S4 does not lag behind the Galaxy S4 Zoom in terms of image quality at this resolution. In fact, some of the S4's photos pack slightly more detail. Close behind these two is the iPhone 5 with its detailed, but a bit noisy images. The HTC One is an average performer and its images would have looked better if its camera didn't sharpen them as much as it did. Also, it has a hard time capturing bright or white objects. This can be seen well in its night photos where well-lit areas appear much brighter than they should be. But that aside, the One's photos are still pretty usable.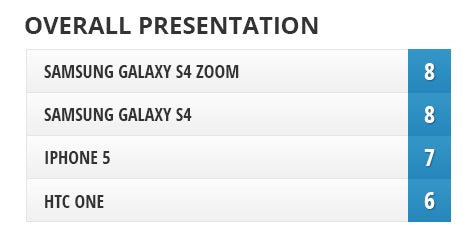 Recommended Stories