Camera Comparison: Samsung Galaxy Camera vs Galaxy S III, Galaxy Note II, iPhone 5, Nokia 808 PureView
99+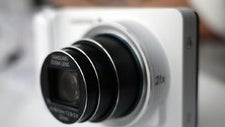 Introduction:
Over the years we've done our fair share of cameraphone comparisons, but the one we have for you today is unlike any other. That's because among the contestants we have a real, dedicated point-and-shoot camera – the Android-powered Samsung Galaxy Camera, which will be competing against some of the most capable handsets currently on the market.
Now, we know what you're thinking: no phone can possibly perform better than a real camera, right? Well, don't draw any conclusions so fast. The Samsung Galaxy Camera is running against the
Samsung Galaxy S III
,
Galaxy Note II
,
iPhone 5
, and the
Nokia 808 PureView
, which can all take excellent photos and videos under a broad range of conditions.
But before we dwell any further, we must inform you that in order to keep the challenge fair for all devices, we've set their resolutions to 8 megapixels for photos and 1080p for videos. All photographs have been taken in automatic mode, or with the least manual adjustments possible (read: an occasional tap to focus if a camera happens to struggle with close-ups). With that out of the way, let's begin with the first category in our camera comparison.
Details:
Get ready for a surprise, folks! Turns out that the Samsung Galaxy Camera does not perform that well when it comes to image details. In fact, the photos that were taken with it contain the least amount of detail when viewed at 100% zoom, contrary to what we were expecting to see. Sure, they aren't terrible, but even the Samsung Galaxy Note II and Galaxy S III fare somewhat better in this category. Both of them, however, are beaten by the iPhone 5 and its detail-rich images, although Apple's smartphone does not lead by much. The undisputed leader as far as details go is the Nokia 808 PureView, which captures incredibly detailed photos nearly free of that annoying digital noise.
1. Nokia 808 PureView
2. iPhone 5
3. Samsung Galaxy S III and Samsung Galaxy Note II
4. Samsung Galaxy Camera
Recommended Stories