Best Bluetooth headsets: Jawbone ERA vs Plantronics Voyager PRO HD vs Jabra Supreme vs Jabra Extreme2
12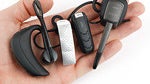 Introduction:
Bluetooth headsets – they make our lives easier by letting us use our phones without the need to actually hold them. But when you finally set your mind on getting one and start looking for the headset that is best for you, making the right choice can be difficult. Well, we decided to pick four top of the line headsets and share with you their advantages and weaknesses. Introducing the
Jawbone ERA
,
Plantronics Voyager PRO HD
,
Jabra Supreme
and
Jabra Extreme2
! Priced between $80 and $130, all of the four brag with their superior sound properties and wide arrays of features. But as we know, talk is cheap. Would you rather know how the four Bluetooth headsets perform in real life? Read along to find out.
Specs, box contents, pricing
Before we begin, let us examine what each one of these Bluetooth headsets comes equipped with. How much each one of them weighs and how long their battery lasts are also two important factors. Last but not least, their price tag should not be forgotten, because after all, these four gizmos do not come cheap.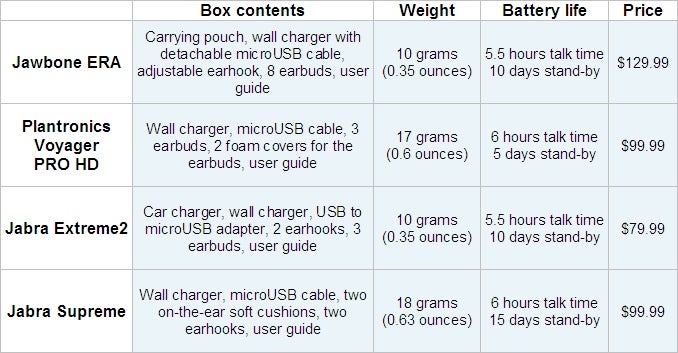 As we can see, the Jawbone ERA is the best equipped headset of the bunch, which should come as no surprise as it is the priciest of all. It is also among the lightest sharing the top spot in that category with the Jabra Extreme2. As far as battery life is concerned, all of the four should provide the decent 5 and a half to 6 hours of talk time.
But enough idle talk and gazing at specs. It is time to take these gizmos out of their boxes and take a closer look at them.
Design:
Out of the four Bluetooth headsets that we are reviewing today, the Jawbone ERA is hands down the best looking one. Everything from its meticulously designed retail packaging to the two-layer texture on its outer side goes to show how much attention to detail has been paid when crafting this masterpiece. The Jabra Extreme2 is also aesthetically pleasing thanks to its unobtrusive design. That does not mean, however, that the Jabra Supreme and the Plantronics Voyager PRO HD are bad looking, but let's just say that you wouldn't want to be seen wearing them at a posh cocktail party.
Recommended Stories