Asus MeMo Pad HD 7 Review
16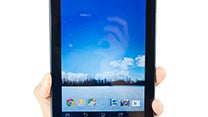 Introduction
They might not have a strong backing in the smartphone arena, but hot damn, Asus is increasingly becoming a top contender in the Android tablet space. Already notable for its high-end models, like its Padfone and Transformer lines, Asus knows what it takes to become a formidable figure. At the same time, though, they've made great strides in the entry-level market too, which is evident by its partnership with Google for its Nexus 7 line. Taking the bull by its horns, Asus is doing things all by itself this time around with the
MeMo Pad HD 7
– something that won't be forgotten because of its super low list price of $150.
The package contains:
microUSB cable
Wall Charger
User Manual
Warranty Card
Design
In the back of our mind, we weren't expecting the design of the MeMo Pad HD 7 to be extraordinary, especially taking into consideration its low price. Regardless of that, we can't help but remind ourselves about its similarities to the first generation
Nexus 7
more than anything else. It might not be the skinniest or lightest 7-incher out there, but it still proves to be easy on the hands when held – though, its build quality is a bit sketchy, seeing that its seams creak as we grasp it. Even though this all-plastic tablet might look bland, it's nice that it's available in other bright colors to give consumers some variety. Still, we can't take our mind away from its overall cheapo feel.
Don't think for a moment that the Asus MeMo Pad HD 7 is skimping out on the goods due to its super affordable cost! In addition to finding all the usual culprits around its trim, like its power button, volume control, 3.5mm headset jack, microUSB port, speaker grill, and microphone, we also find a handy dandy microSD card slot, front-facing 1.2-megapixel camera, and a 5-megapixel rear snapper.
Display
It's not as dazzling as the new screen on the Nexus 7, but the 7-inch LED backlit 1280 x 800 IPS display of the MeMo Pad HD 7 is pleasing enough with its quality. Visually, it produces enough details to make fine text in the web browser more than legible to the eye from a normal distance. However, it exhibits just a bit of distortion at certain viewing angles – albeit, it's never too distracting quite frankly. Colors also have a warmer tone to them! Thanks to its good brightness output, it doesn't wash out too much when viewed outdoors with the sun present. Overall, it's a pleasant looking display that does justice to the price point.