Apple iPhone 8 Plus vs OnePlus 5
9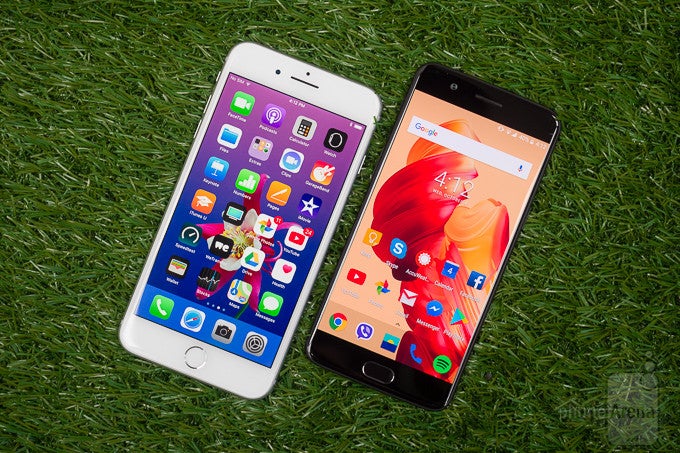 The
iPhone 8 Plus
has arrived with a bang, aiming for a spot on the winning podium. A ton of competition from the Android realm is also vying for a place there, with one of the best bang-for-buck competitors being the
OnePlus 5
, a rather affordable handset that's boasting some serious hardware muscle inside as well.
Which one is a better fit for your empty pocket? We are set on a course to find out!
Design
The leitmotif here is glass versus metal. Apple is going back to its roots by fully employing a full glass back on the iPhone 8 Plus and a series 7000 aluminum frame, which feels quite premium to the hand. Water-resistance is also here to stay, which is a big plus.
Meanwhile, the full-metal OnePlus 5 is premium in its own way, with clean lines and classic design. It's subjective which one would feel better in your hand, but there's no denying that the glass back of the iPhone adds up to the overall grip, whereas the OnePlus 5 could be quite slippery in certain scenarios and the rather thin side frame is definitely not very helpful. However, the OnePlus 5 is much easier to handle and use due to the smaller dimensions, especially with the way heavier iPhone 8 Plus.
Display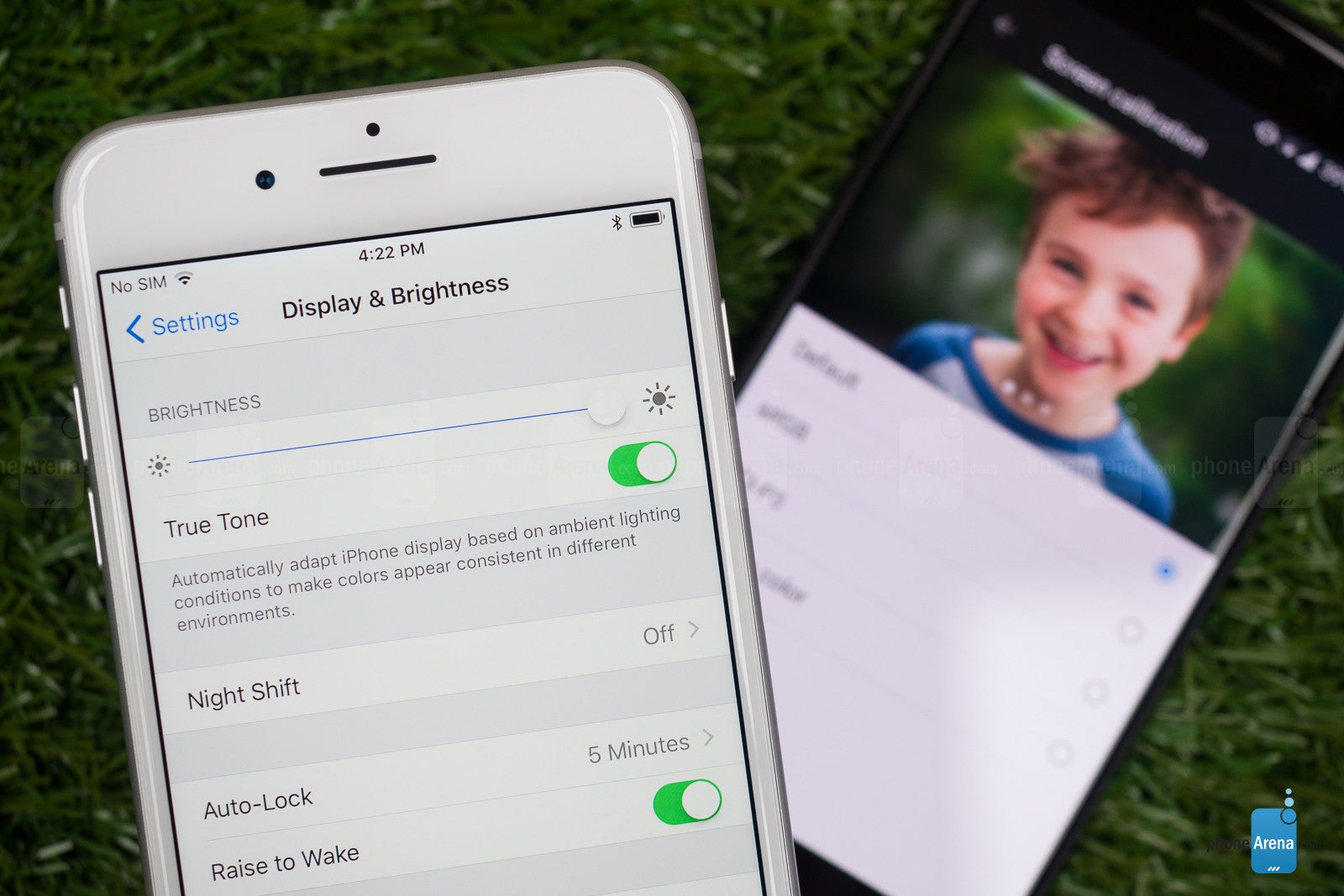 Having Apple's most advanced LCD display on board, it's no wonder the iPhone 8 Plus pretty much shines when it comes to overall color accuracy and presentation. The 5.5-inch Full HD display at the front is crisp enough and has excellent contrast reproduction for an LCD display. It's an HDR-enabled, wide-color display and supports True Tone, meaning it adapts to the environmental lighting.

On the other hand, the OnePlus 5 packs a similar 5.5-inch Full HD display on its own as well, but the big difference here is that it's an AMOLED one. It is also fully compliant with the DCI-P3 wide-color gamut. Thus, it can boast some excellent contrast and punchy colors, but overall, it falls short of the iPhone 8 Plus as far as overall color accuracy is concerned.
Display measurements and quality
Interface and functionality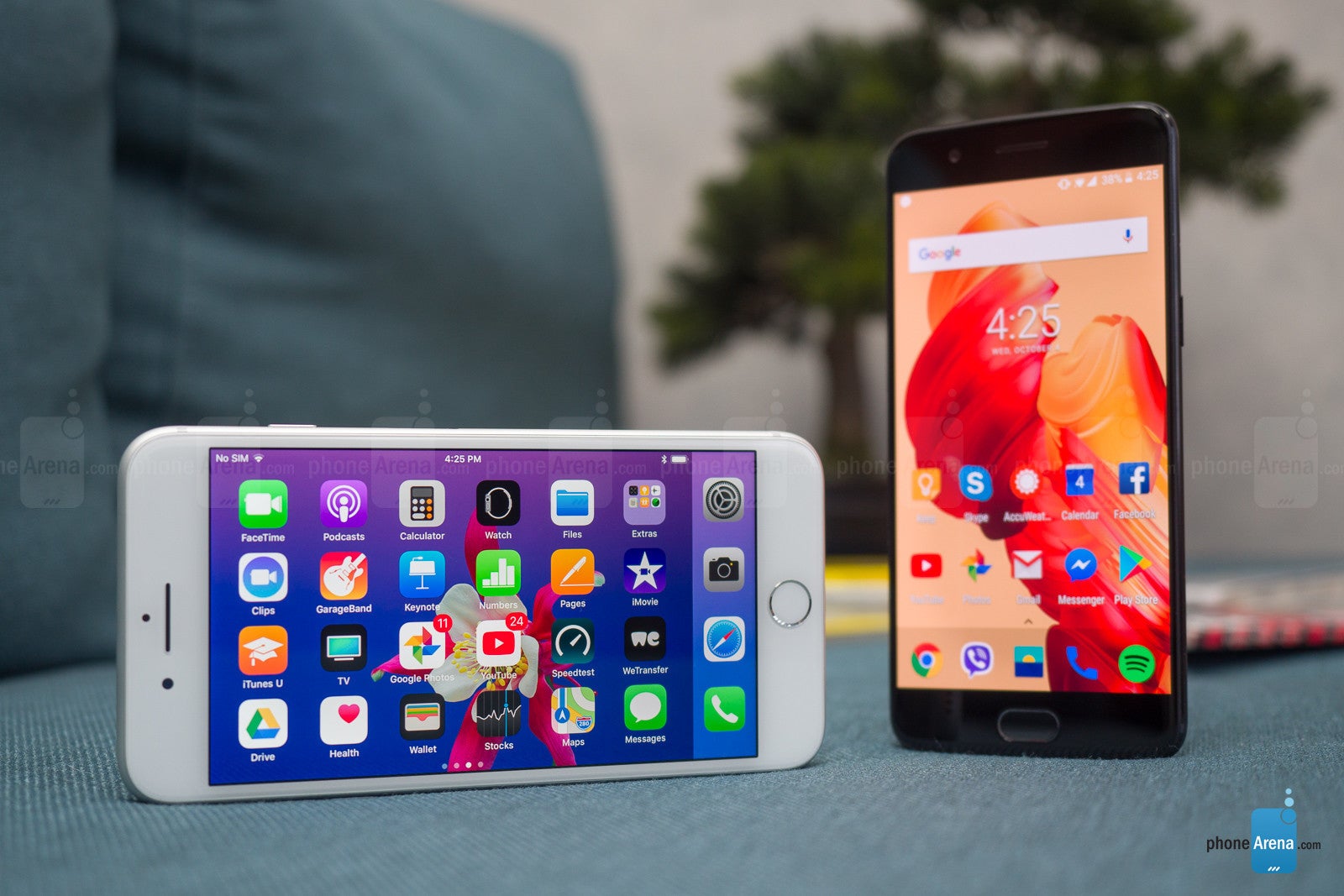 With the iPhone 8 Plus rocking the latest version of iOS and the OnePlus 5 rocking a rather stock build of Android 7.1 Nougat, the user experience is as good as it gets. With the core difference between iOS and Android ecosystems aside, each phone has its own set of particular software skills that make it a viable alternative depending on your own needs.
iOS is definitely better-looking than the somewhat bland and utilitarian interface of the OnePlus 5. Still, the latter is more open to user customization and could easily transform into a beautiful swan if you try hard enough.