Apple iPhone 6s Plus vs Samsung Galaxy S6 edge+
44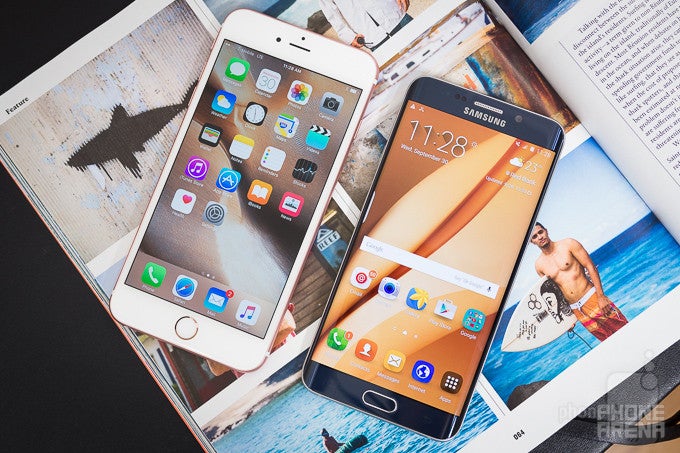 Introduction
The 5.5-inch
iPhone 6s Plus
comes to the scene as the second-generation phablet by Apple after the original
6 Plus
. While there are almost no visible changes to the outside, under the hood, the iPhone 6s Plus has abundant upgrades: the new Apple A9 system chip, a 12-megapixel camera with 4K video, more megapixels for the selfie camera, and 3D Touch that allows the phone to sense how strong you press on the screen.
At the same time, Samsung has rushed to the finish line and released its new
Galaxy S6 Edge+
phablet earlier this year; it offers a similarly rich set of features with an even bigger, 5.7-inch display with a fancy curve on both edges, a beautiful design that mixes glass and metal, as well as a powerful, in-house Samsung Exynos chip.
The battle of these two, however, is more than just a battle of devices: it's a battle of platforms and ideas, the iPhone with iOS 9 and an outstanding selection of free first-party apps and a rich ecosystem, on one hand, and the Edge+ with the open Android with its endless customization options on the other. This year, the battle of both devices and ecosystem is more heated than ever, but is there a winner?
Design
Both excel in terms of looks: Apple builds the iPhone with a unibody design, while the Galaxy S6 Edge+ is a stylish concoction of metal and glass.
With the 's' series of phones, Apple traditionally makes little if any changes to the outwards appearance of phones, instead focusing on under-the-hood changes. The iPhone 6s Plus is also a part of that tradition: it's practically impossible to tell it apart from its predecessor, both featuring a metal unibody with a sleek profile. Pick one up, though, and you can easily tell that the 6s Plus is heavier (it's a hair thicker too). In fact, it's noticeably heavier than most smartphones of its size.
The Samsung Galaxy S6 Edge+, on the other hand, is also a stylish affair with its metal frame sandwiched between two pieces of toughened glass. Despite its larger, 5.7-inch display, it somehow manages to be both narrower, shorter and thinner, which is quite important for the ease of use of a phablet. It's also noticeably lighter (nearly 20% lighter than the iPhone!), another important advantage for such a large phone.
In terms of buttons, both phones come with metal keys that provide enough click and travel to be comfortable to press. There is a fingerprint scanner built in the home keys of both handsets, and in both cases we find them similarly fast and reliable in daily use.
Display
The Galaxy S6 Edge+ comes with a 5.7-inch Quad HD Super AMOLED display, while the iPhone 6s Plus sports a 5.5-inch Full HD IPS LCD screen, and both look great in terms of colors. The iPhone's 3D Touch, however, adds something that Samsung can't match.
The big highlight of the iPhone 6s Plus is support for 3D Touch on its large, 5.5-inch display with a resolution of 1080 x 1920 pixels. 3D Touch opens up a new layer of interaction with your phone: you can now press harder on the screen to get additional options and the phone tells between a hard and a softer press.
The Samsung Galaxy S6 Edge+ features a slightly bigger, 5.7-inch display that ups the resolution to 1440 x 2560 pixels (Quad HD). Unlike the iPhone's LCD screen, the S6 Edge+ features the latest of Samsung's Super AMOLED displays and this means you get those typical perfect blacks and outstanding viewing angles.
When it comes to colors, both look great: everything looks lively on both, but there are some slight differences. The iPhone 6s has colors that look a bit bluish, on the cold side, while the S6 Edge+ has slightly more overwhelming greens, and you can take a look at the benchmarks below to see that both shy a bit from being perfectly natural, but the issues they have are rather minor niggles.
Brightness is a bit higher on the iPhone 6s Plus at 593 nits, while the S6 Edge+ clocks in at 502 nits, which makes the iPhone screen a bit more comfortable to read outside on a sunny day. At night, it's the other way around: the Galaxy can fall down to 1 nit and with Android's screen dimmers, you can dim the screen to very low levels for comfortable night reading, while the iPhone can only go down to 5 nits, which is fine, but still a tad stressful on the eyes for night use.
Display measurements and quality
Recommended Stories